Best Places To See Cherry Blossoms
Posted On January 13th, 2023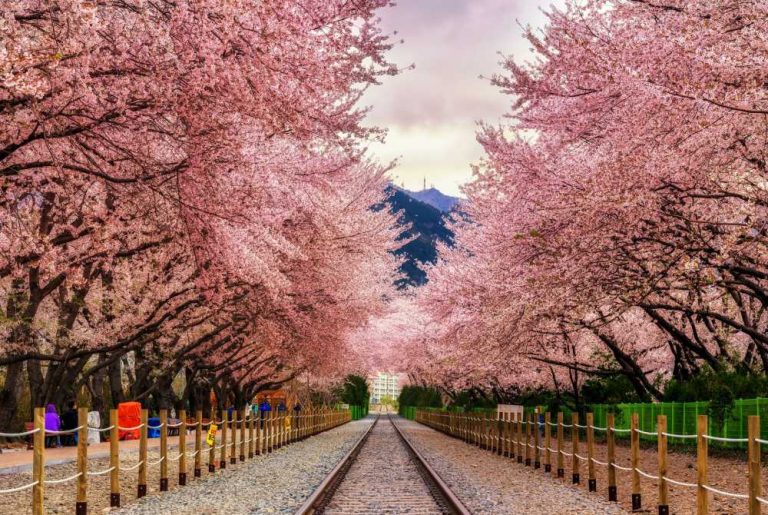 When pink skies of cherry blossoms, or sakura (as they're called in Japan), start blooming, that's a sure sign that spring has finally arrived. It's one of those fantastic natural wonders, which makes it all the more charming when you catch a glimpse of these pink beauties. But how can you be sure to witness them at their highest peak? If you're missing cherry blossom season in your country, don't stress, countries worldwide, from Canada to New Zealand, organize their celebration to the month-long display all year. These cities are the best places to see cherry blossoms all at once.
Top places to see cherry blossoms
There are many places to see cherry blossoms around the world. Check our list below.
Yangmingshan National Park, Taiwan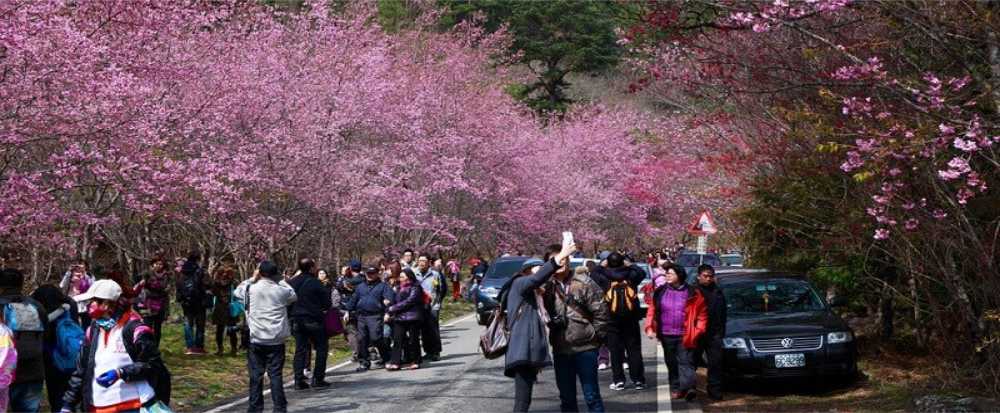 Next time you're in Taipei with your partner between February and March, you should maximize your trip by visiting Yangmingshan National Park. You'll find a tranquil sea of cherry blossoms adorning the vast hiking trails. It's a welcome break from the bustling streets and bright city lights. And the best part? It's only around a 40-minute bus ride from downtown Taipei!
Chiang Mai, Thailand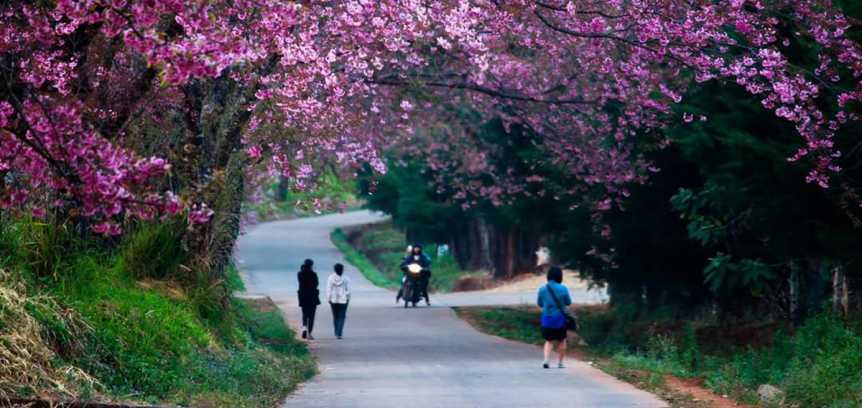 Chiang Mai is also one of the best places to see cherry blossoms. Make your way north to Chiang Mai Province, where delightful pink blooms thrive in the chilly climate between late December and February. In Doi Suthep-Pui National Park, you'll see the spectacular wild Himalayan cherries (or Tiger Queen, nicknamed by locals). These are found explicitly in Ban Khun Chang Khian, a Hmong village with an agricultural research center run by Chiang Mai University. Planting these trees was an initiative by the facility to draw more visitors in, and it worked!
Meanwhile, Doi Inthanon National Park houses a similar facility, the Khun Wang Royal Agricultural Research Centre. Walk along a pathway encircled by cherry trees mixing with the dense scenery. It's also located near the top of Doi Inthanon, the highest peak in Thailand!
Tokyo, Japan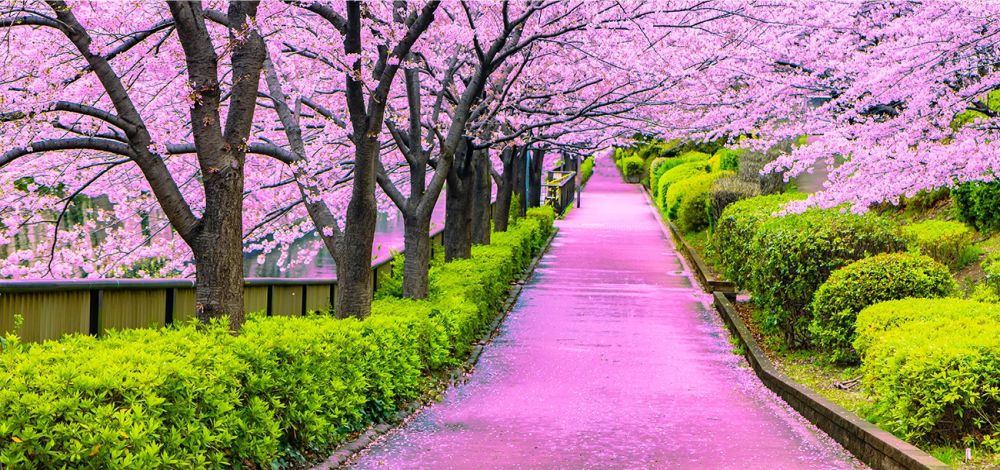 Cherry blossom viewing season is a perfect time for introspection. The splendid, fleeting sakura blossoms are a reminder of life's impermanence. While Hanami is an ideal time for contemplation and soul-searching, appreciating the sakura's beauty is the central event of this beautiful tradition. Grab your favorite book and head to Shinjuku Gyoen Park in Tokyo, Japan, to reflect under the cherry blossoms. This sprawling urban Garden draws significant public for cherry blossom season from late March to April, so get there early if you desire solitude.
Paris, France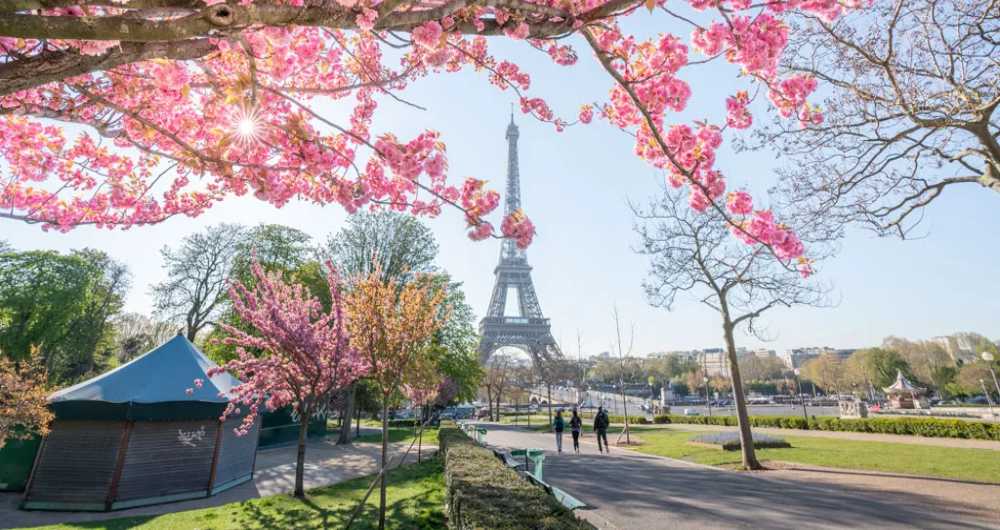 Our all-time favorite spot for early morning Eiffel Tower pictures year-round is a significant spot for cherry blossoms in Paris. The expansive walkways of Trocadéro serve incredible Eiffel Tower views and come from mid of March to late April. This place bursts to life with cherry blossoms. How's that for a bonus? Be sure to set your morning alarm for "Bright and Early." It is one of the best places to see cherry blossoms.
Amsterdam, Netherlands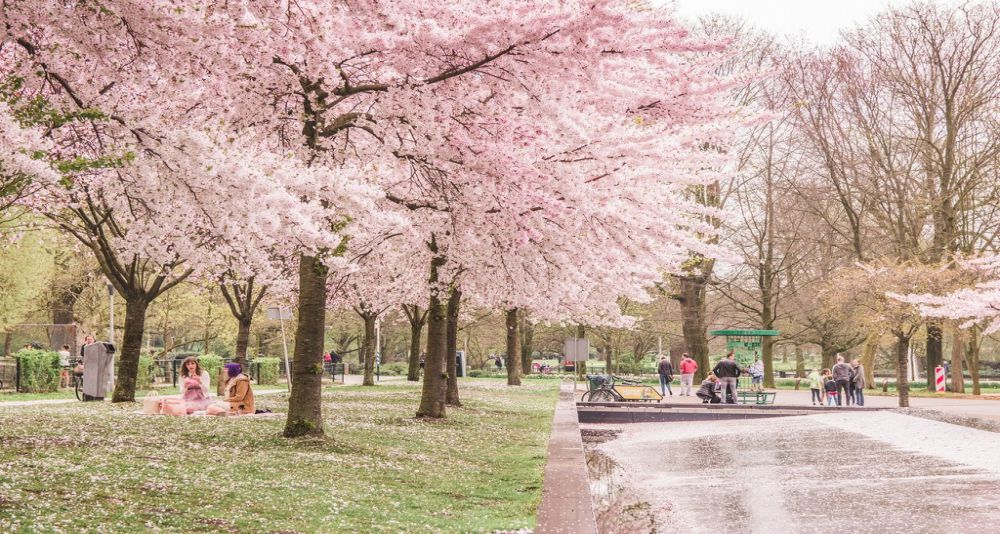 Visiting Amsterdam during the spring season is generally reserved for a flower of different varieties, the beautiful tulips that pop up around the city. But while you're there glancing at the tulip goodness, you can also sneak in some cherry blossom viewing. The more, the merrier applies to flowers, so visit Keukenhof Gardens between March 21 and May 19 for all the cheery, colorful blooms.
New York City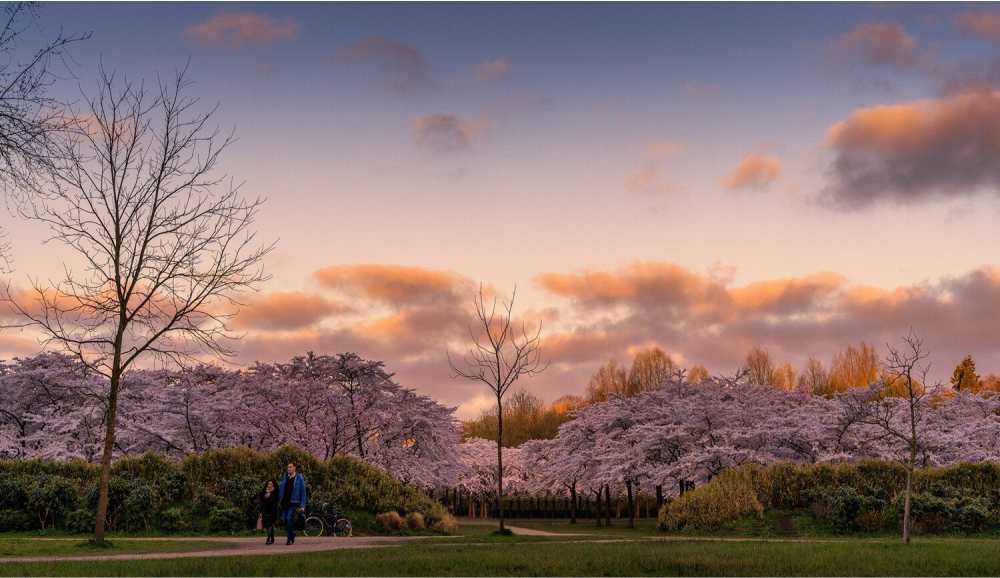 In Union Square Park, Central Park, and Randalls Island Park, you'll find beautiful pink and white fairy dust all over NY City. Head to the Garden to check out the cherry blossoms blooms through May. Just pre-check to see which trees are at their peak—and once you're there, take benefit of the Seasonal Highlights Tour.
Bonn, Germany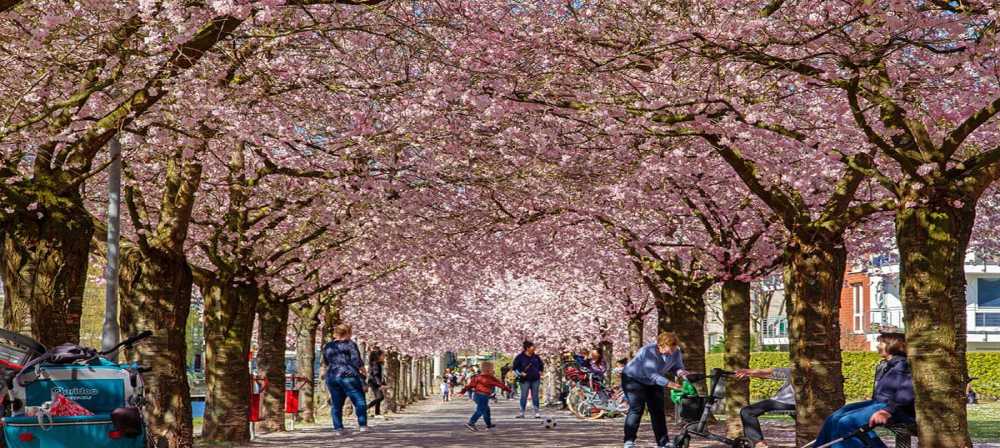 In Bonn, extra vibrant cherry blossoms trees arch over the roadways to make tunnels of blooms. So even if you arrive late, the carpet of bright pink cherry blossoms petals underfoot makes for a stunning consolation prize. Bonn is one of the most beautiful places to see cherry blossoms.
Meghalaya, India

The India International Cherry Festival is organized in the fall. Each November, Meghalaya's Khasi Hills honor the Himalayan cherry blossoms with a three-day celebration, even if the flowers sometimes show up on line: These are a particularly surprising bunch, often blossoming weeks earlier or later than anticipated. You could do worse than the Himalayas if you're going anywhere waiting for blossoms to see.
Vancouver & Victoria, British Columbia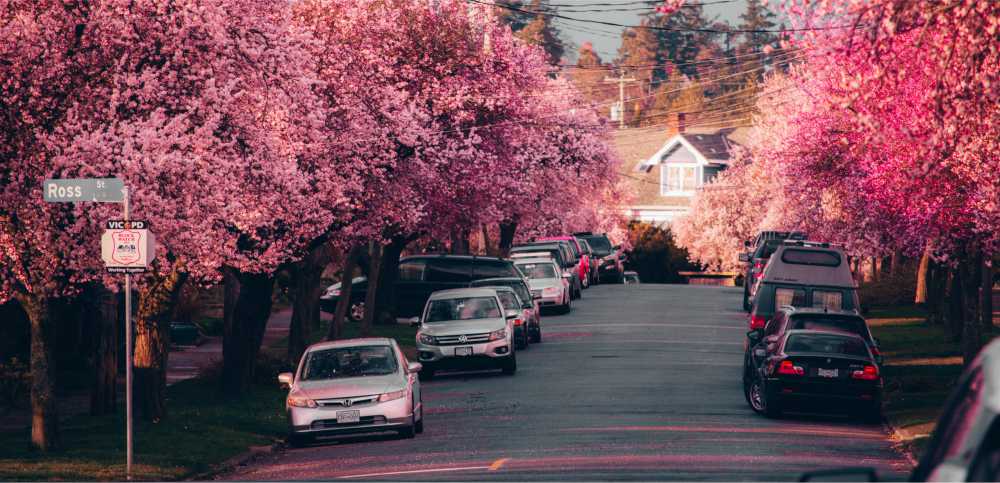 As the rainy season gets over, Vancouver's cherry blossom festival honors the floral display with diverse events. A favorite is enjoying traditional Japanese activities such as tea ceremonies, ikebana, Japanese cuisine, and much more at the VanDusen Botanical Garden, which honors Canada's long-standing good friendship with Japan. If you find yourself in Victoria, you'll likely be greeted by the cherry blooms between February and May. Roaming along Moss and View Street, framed by gorgeous pink blossoms, will undoubtedly add life to your springtime step. Visit one of the best places to see cherry blossoms.
Dublin, Ireland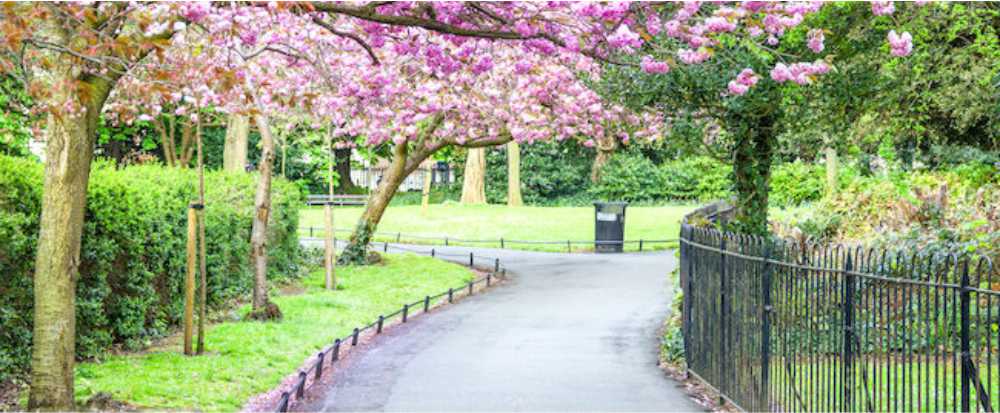 Footpaths encompassed in a blanket of cherry blossoms feel like confetti honoring the end of an extended Irish winter season. St Stephen's Green, Trinity College, and the National Botanic Gardens are all famous places to see cherry blossoms. Herbert Park is just outside the city center, a secret spot to stroll amongst the highest concentration of pink cherry blossom trees in Dublin, Ireland.
Martha's Vineyard, Massachusetts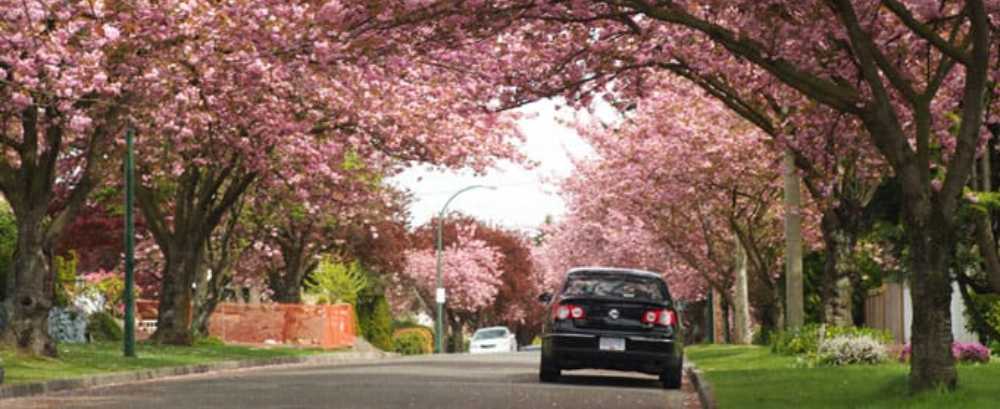 The cherry blossoms feel at abode in Martha's Vineyard's retro and panoramic streets. The historic cottages and fabulous seaside breeze pair with a picnic under one of these cherry blossoms trees to welcome spring on the east coast. We can't think of a better way to welcome the warmer weather than food, drink, and companionship under the blossoming branches.
Portland, Oregon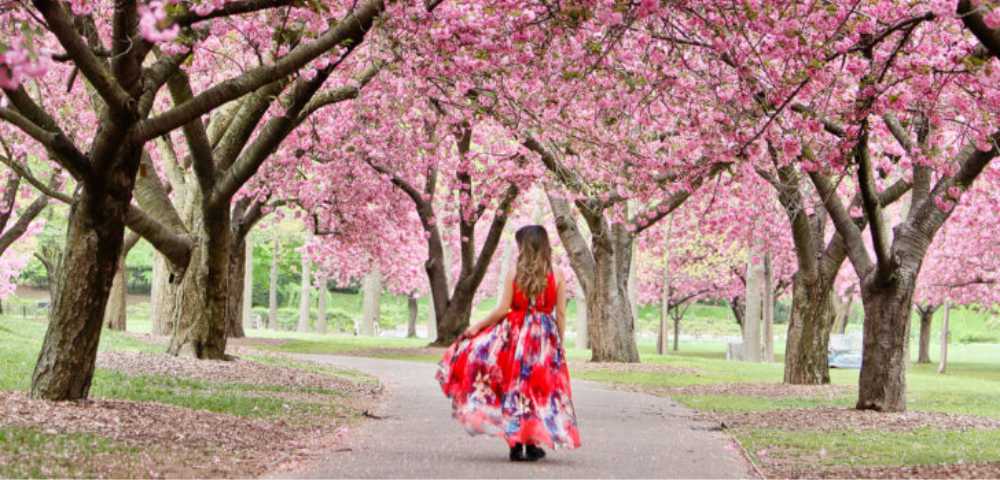 An early wake-up call for beautiful sunrise at Waterfront Park is well worth walking among the awesome cherry blossoms displayed without the public because they will come. One hundred cherry trees are at the waterfront as you make your path toward the steel bridge, and it's the best spot to see the trees planted in ideal, pleasant rows. It's among the best places to see cherry blossoms. Pay a visit to Hoyt Arboretum, Laurelhurst Park, or walk across one of the many trees sprinkling the city as you explore the beautiful streets of Portland.
Extremadura, Spain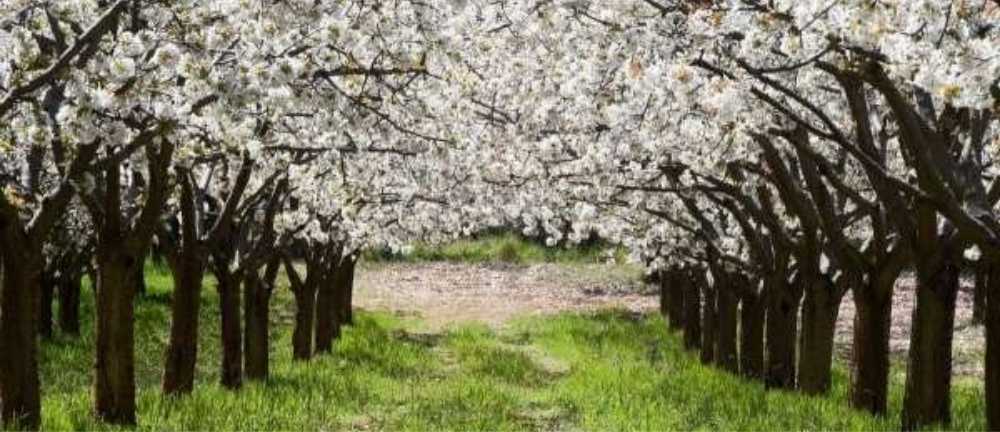 The Jerte Valley in the Extremadura zone of Spain is home to more than 2 million cherry trees. In late March, the rural valleys are wrapped in white petals for ten days–their dry season makes this one of the briefest blooms in the world.
Macon, Georgia

Macon's ten-day Cherry Blossom Festival began in 1952 when William Fickling Sr. discovered that the trees in his background were similar to the ones surrounding Washington, DC's naval basin. Fickling started growing trees around his community and gifting them to his friends and co-workers. The town honors its 350,000 cherry trees in late March with a yearly pageant, fair, and concert.
London, England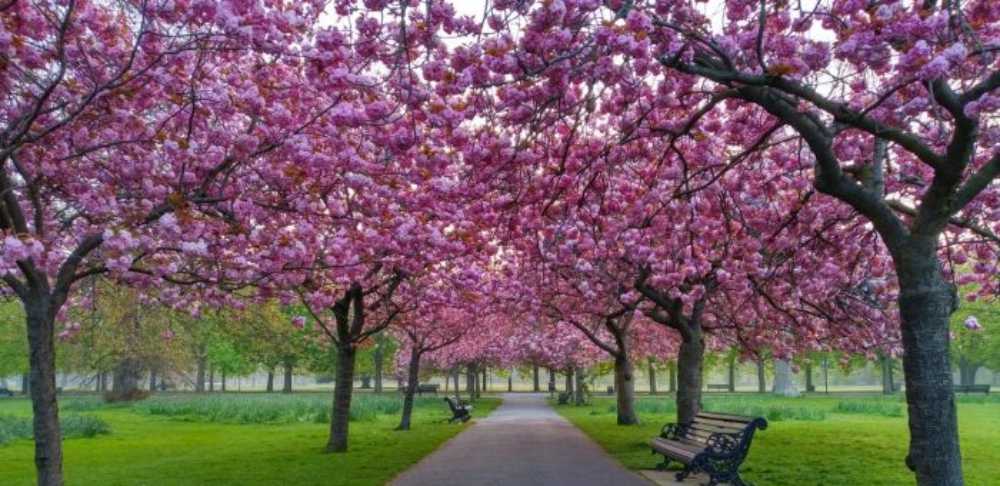 Several parks around London are residence to the cherry blossom bloom in late March, emerging around the same time as the magnolia tree. The pink blends make for a beautiful picnic in Greenwich Park, dwelling to a rose garden and cherry tree tunnel. All these make London one of the best places to see cherry blossoms.
FAQ's
Which is the best place to see cherry blossoms?
Some beautiful places to see cherry blossoms are Tokyo, Paris, Washington, Amsterdam, NYC, Dublin, etc.
Which is the largest cherry blossom festival in the world?
The Ueno Cherry Blossom Festival is the world's largest cherry blossom festival, organized in Japan.
---
---
STAFF'S PICKS &
Related Posts