Delicious Dishes in Dubai Cuisine That You'll Relish
Posted On December 12th, 2022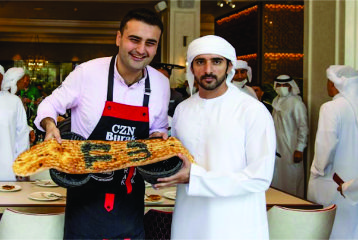 Dubai is the crown of the United Arab Emirates, a nation unlike nearly anywhere else on Earth. Whether you're visiting Dubai for business or fun, you'll need to refuel with food. Dubai's culinary diversity makes it a desirable destination for tourists. Here is a list of ten delicious dishes in Dubai you must try the next time you land in the heart of the UAE since this post is about where to eat in Dubai. So these are some of the most well-known foods in Dubai. There are delicious vegetarian and non-vegetarian options available for all types of travelers. View some of the delectable cuisines you may sample while visiting Dubai. Some of these delicious dishes in Dubai are traditional and made with locally grown ingredients, giving you a taste of the nation's culture. The top dishes from Dubai that foodies will adore are on our shortlist.
Top 10 delicious dishes in Dubai
Pizza

Local pizza called Manousheh is a good option for those with intense palates, especially if you're looking for delicious dishes in Dubai. It is the ideal option for a sumptuous breakfast. Stretched dough or flatbread topped with exotic ingredients like olive oil, earthy zaatar herbs, and salty Akkawi cheese. It is recommended as the go-to meal for Dubai's best street cuisine. Be sure to stuff yourself with minced lamb and sweet jam. Both residents and tourists enjoy it.
Chemo Kebab

Visit Chelo Kebab for some delicious dishes in Dubai. Buttery basmati rice with saffron flavoring served with kebabs – Another item on the list of delectable dishes served in Dubai is the Chelo Kebab. It is said to be extraordinarily flavorful and out of this world. It's best if you try these delicious non-vegetarian dishes from Dubai.
Al Harees

One of the most well-liked Dubai traditional foods is Al Harees, typically enjoyed during Ramadan, Eid, and weddings. This delicious recipe will have you yearning for a second helping after baking for several hours with wheat, pork, and a pinch of salt. When you ask the residents of Dubai where you can find the best Al Harees, you'll be astounded at how friendly and welcoming they are.
Ghuzi

This meal, also known as khuzi or ouzi, is cooked with whole-roasted lamb or sheep and is frequently served with veggies and hazelnuts over rice. Given that it is a complete supper, it is undoubtedly among the most delicious dishes in Dubai. Additionally, ghuzi is the national dish of the United Arab Emirates, so a visit to the region would be incomplete without it.
Al Machboos

When prepared, this is a delicacy in Dubai. Do you find this as exciting as we do, rice, onions, and meat seasoned with herbs, salt, and dried lemon? Due to its zesty flavors, this dish is on the list of delicious dishes in Dubai. Try their raita and salad, please, and it should be heaven-like. Considering how plain and simple this food appears, you will be shocked at how amazing it tastes.
Esh Hasarya

Esh hasarya, a dessert in a league of its own, is referred to as "the bread of the harem." It has a cream frosting and a cheesecake-like texture. This cake is so sweet and rich that it almost melts in your mouth, and it's understandable why it's one of Dubai's most popular desserts.
Healthy Tabbouleh

Fresh mint and lemon juice are used to season the tomato, green onion, and cucumber salad known as tabbouleh. No matter how you spell it, it's delicious. Speechless to say it is the fantastic food in Dubai for foodies looking for healthier options. The possibilities will be endless for health freaks. However, these salads are well-known throughout Dubai.
Shawarma

Beyond the UAE, this dish has gained a lot of popularity. An example of a Middle Eastern sandwich is shawarma, which is made with slow-roasted, seasoned meat, typically lamb or chicken. It can be served in an Arabic roti with vegetables, fries, tomatoes, pickles, and garlic sauce, among other sides that seem to go on forever. Although it can be found anywhere, including New York City, Delhi, Moscow, and Tokyo, eating shawarma in Dubai is a must-do experience. It truly is among the delicious dishes in Dubai.
Baba Ganoush

A delicious dip of smoked eggplant mixed with tomatoes, onions, and olive oil is prepared. This Levantine dish is a great food item and has quickly jumped into the list of delicious dishes in Dubai. If you are still looking for this food soon, the locals are more than willing to assist you with directions to a place with this dish on its menu. Don't miss out on tasting this exceptional Dubai food while visiting here on your next vacation! Your soul will thank you after eating flavourful food.
Stuffed Camel

Stuffed camel is one of Dubai's most tremendous and festive delicacies and one of the most extensive cuisines you can consume, according to the Guinness World Book of Records. In Dubai, stuffed camel is a traditional dish. Stuffed camels can be filled with chicken, eggs, fish, sheep, and spices and cooked on a spit over an open flame. However, because it is so extravagant, stuffed camels are only served on special occasions, at festivals, during Bedouin ceremonies, or other significant family or cultural gatherings.
So, plan your trip accordingly to ensure you try these delicious dishes in Dubai. All across the city, numerous local eateries serve the majority, if not all, of them. However, if you want to give it your all, we suggest these great cuisine tours in Dubai. You might also choose this half-day street food trip or this private 10-taste sampling tour. Any trip to Dubai is guaranteed to be exciting. After all, it will be difficult to forget a massive city made of glass, metal, and concrete that emerges mythically from miles of sand and the clear waters of the Gulf. Take advantage of Dubai's cuisine, attractions, and business opportunities the next time you visit. Few flavors have the distinctive taste of Dubai, from camel to rosewater.
FAQ's
What is the national food of Dubai?
The national food of Dubai is meat, fish, and rice.
Can I get cheap food in Dubai?
Dubai has a mixture of both cheap and expensive cuisines.
Is eating pork allowed in Dubai?
Yes, you are allowed to eat pork in Dubai.
---
---
STAFF'S PICKS &
Related Posts