Top Popular Places to Visit in Dubai
Posted On September 13th, 2022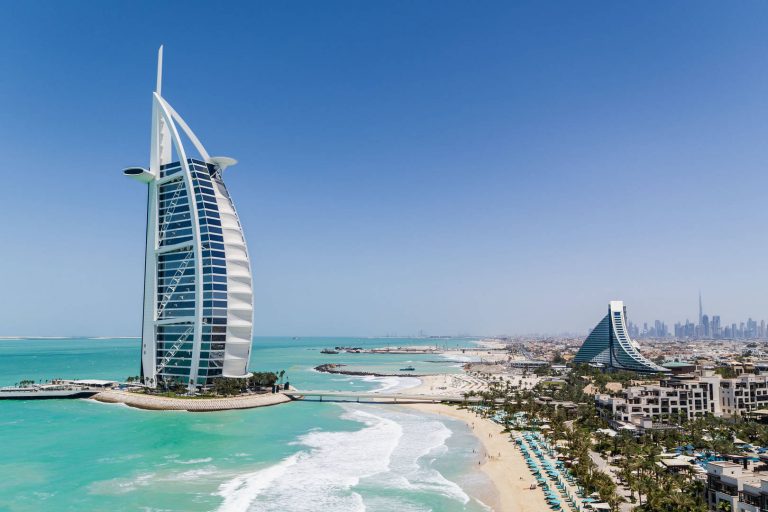 With thousands of tourists visiting this Arab city every year, the entertainment city of the world, Dubai, needs no introduction! Ultra-modern architecture, exotic and lively nightlife, and magnificent bird-eye views of the beautiful skylines, Dubai is synonymous with grandeur and a pompous lifestyle. This means you would be spoiled by choices of tourist places in Dubai on your upcoming Dubai vacation.
Dubai in UAE is famous for its nightlife scenes, beaches, high-rise buildings, grand shopping malls, luxury hotels, unique museums, and zoos, and much more. We present to you some of the most happening Dubai tourist places that every traveler must explore. Dubai is an example of what hard work and dedication can do to a city. It has come a long way from being a port to one of the most popular tourist spots in the world. You can witness the numerous places to visit in Dubai on your next vacation. Keep reading and get to know about the fantastic Dubai attractions and photos.
Best Time to Visit Dubai
The best time to visit Dubai is during the winter, from November to March, especially when the weather is pleasant and you can enjoy sightseeing throughout the day. The weather is hot and humid in the summer, and you must plan your trip in winter.
If you want to witness New Year celebrations and attend the Dubai Shopping Festival, the duration between December end to mid-February is the perfect time to visit Dubai.
Best Tourists Places in Dubai in 2023
From Burj Khalifa to Ferrari World, Dubai houses various spectacular attractions that will make your trip memorable. Here is a detailed list of the most famous places to visit in Dubai that you should not miss out on your journey. Keep scrolling down and read to know more.
Burj Khalifa – Architectural Wonder
Burj Al Arab – Impressive Structure
Jumeirah Beach – Refined Waters
Mall Of the Emirates – A Vision to Behold
Dubai Mall – Lavishness Exemplified
Sheikh Saeed Al–Charm Overloaded
Wild Wadi – Dive
Dubai Creek – Magnificence at Its Peak
Deira Souks – Everywhere Gold
Dubai Aquarium – Home to World's Largest Suspended Aquarium
Desert Safari – Take a Camel Ride
Dubai Miracle Garden – Largest Flower Garden
Famous tourist places in Dubai
Burj Khalifa
Do we need to say more? Burj Khalifa, the landmark building, is on every traveler's list of tourist places in Dubai. The stunning bird-eye views from the 124th floor of Burj Khalifa is an experience of a lifetime, with the desert covering one side and the turquoise blue ocean on the other. If you are visiting Dubai, you cannot miss seeing this place which finds its position on the top list of tourist places in Dubai.
Tip: Consider your visit to Dubai incomplete until you've witnessed the CityPlace from up above!
Ideal for – Every single traveler
Timings: Open 24 hours
Location of the place: 1 Sheikh Mohammed bin Rashid Blvd, Downtown Dubai
Burj Al Arab
This place tops the list of Dubai tourist places to visit in 2022. It is the 4th tallest hotel in the world and one of the highly expensive 7-star hotels. Burj Al Arab is beautifully lit in the evening by choreographed lighting and offers myriad experiences exploring the Dubai attractions.
Ideal for – Photographers and the highly affluent ones.
What's Special? The Skyview bar offers the most beautiful views of Palm Jumeriah.
Ideal for: Family, Friends, Kids
Location: Jumeirah St, Umm Suqeim 3, Dubai
Timings: 9.30 am – 8.30 pm
Jumeirah Beach
Jumeirah Beach is among the most popular places in Dubai, ideal for all travelers. This beach is ideal for all beach bums and sunset lovers. With many exotic hotels lined up throughout the road leading to the beach, the best facilities and majestic sunset views at the beach make for a perfect destination.
Ideal for: Family, Friends, Kids
Location: Jumeirah, Dubai
Timings: 7:30 am – 10 pm
Mall Of the Emirates
This place indeed deserves to be on the list of the best places to visit in Dubai. It is equipped with almost everything under one roof. Be it the food from every part of the world to the international brands to shop for, or the exclusive Dubai Ski, which consists of an awesome ski setup and a penguin enclosure. It is at a temperate of -4 degrees Celsius. The mall of Emirates surely must be on your list of the best tourist attractions in Dubai.
Timings: 10 am-12 am
Location: Sheikh Zayed Road, Dubai
Dubai Mall
Prominently known for its shopping festivals, 'Dubai shopping festival' and 'Dubai Summer Surprises,' this Dubai mall is for the shopaholics who are sure to be spoilt for choices. One of the best Dubai visiting places, Dubai Mall provides entry to Burj Khalifa, houses the famed Dubai Aquarium, and is loaded with an array of entertainment options – a gaming zone, ice skating rink, and theater. You can buy souvenirs for the people back home from this mall or shop for jewelry, and the choices are endless. It is, without a doubt, one of the best places to visit in Dubai.
Ideal for: Family, Friends, Kids
Timings: 8 am – 12 am
Sheikh Saeed Al
Visiting Dubai is incomplete without visiting the house of Sheikh Saeed Al Maktoum, which houses the Dubai Museum of Historical Photographs and Documents, giving a sight of Dubai's history. The house is the epitome of Arabic architecture, which has a splendid design and luxurious interiors.
Timings: Sat-Thu 8 am-8:30pm, Fri 3-8:30pm
Ideal for: Family, Friends, Kids
Wild Wadi
Wild Wadi is a famous amusement park in front of Burj Khalifa. It is packed with fun-filled rides of more than 25 types. This is a perfect place to enjoy with your family while learning about the Arabian folklore on which Wild Wadi is based. Undoubtedly, this is one of the best places to visit in Dubai in 2022.
Timings: 10 am – 6 pm
Ideal for: Family, Friends, Kids
Location: Opposite Burj Al Arab, Umm Suqeim 3, Dubai
Dubai Creek
This place is one of the best places to visit in Dubai for couples. The creek is natural seawater that cuts through the center of the city. People visiting could take a boat to view the port on the other side. The beautiful view of the town, enriched by Dubai's history, makes it one of the most romantic tourist places in Dubai.
Ideal for: Family, couples, and friends.
Location: Dubai Creek, Dubai, United Arab Emirates
Timings: 8 am – 11 pm
Deira Souks
Attention Shopaholics. Your heaven for unlimited shopping is correct at the most popular tourist place in Dubai – Deira Souks. Get the essence of Dubai's business culture. There is a market for all types of spices to souks for just gold or the textile souks – shop to your heart's content from the vast array the city has to offer.
Ideal for: Women!
Timings: Daily: 10 am-10 pm, Fri 4 pm – 7 pm
Dubai Aquarium
Have you been to an underwater zoo? Yes, one exists! Dubai Aquarium is one of the famous tourist attractions in Dubai, which has different activities, like an underwater zoo, glass-bottom boat tours, cage snorkeling, and shark diving. It's a unique mix of experiences. So, be sure to have fun at this most popular Dubai tourist place.
Opening Hours: 10am-10pm
Admission: Adults 70AED, Children 55AED
Location: Dubai Mall, Sheikh Zayed Road
Desert Safari
While the number of places to visit is abundant, the number of activities around Dubai is just as riveting. The desert safari in Dubai is one of the best you could ever experience and exploring the deserts meshing into the abyss is something you can't miss out on. This is one of those best activities that one can try not just with their friends but also with the entire family.
Ideal for: Friends, Family, Solo
Timings: 3:30 pm till 9:30 pm
Location: 10th St Al Quoz Industrial Area 4, Dubai
Dubai Miracle Garden
If you love flowers and nature in general, you will love the Dubai Miracle Garden without a shadow of a doubt. If your itinerary doesn't include this specific place while you are in Dubai, it is time to change that. The beautiful greenery with the lively color of the flowers is more than enough to leave you awestruck. It is the most extensive natural flower garden in Dubai; the best part is that the same is grown in a desert. The place includes distinctive models of some of the most popular establishments in Dubai. The models change shape and have suitable lighting to make them even more beautiful.
Ideal for: Friends, Family
Timings: 9 am till 9 pm
Price: AED 55
Location: Al Barsha South 3 – Dubai – United Arab Emirates
Dubai is a destination where even the most peaceful traveler would end up having fun! And with so many exciting and entertaining tourist places to visit in this fantastic city in United Arab Emirates (UAE), you can imagine how wonderful your vacation can turn out to be. So, plan a trip to Dubai right away, and make sure to visit these tourist places in Dubai with your loved ones.
1.       Is visiting Dubai expensive?
Visiting Dubai can be cheap or expensive depending on the accommodation and activities one chooses to experience here.
2.       Which are the best places to see in Dubai for free?
Dubai is packed with many wondrous places to see with your loved ones. While there are many places to explore here, do not forget to check out Fashion Avenue, Dubai Fountain, Dubai Beaches, and Manmade Waterfalls, as these are some of the best places in Dubai that you can visit for free.
3.       How many days are sufficient for Dubai?
5 to 6 days are enough for exploring and touring the best places of Dubai with your near and dear ones.
---
---
STAFF'S PICKS &
Related Posts