Which is best Naldehra or Narkanda ?
Posted On December 4th, 2022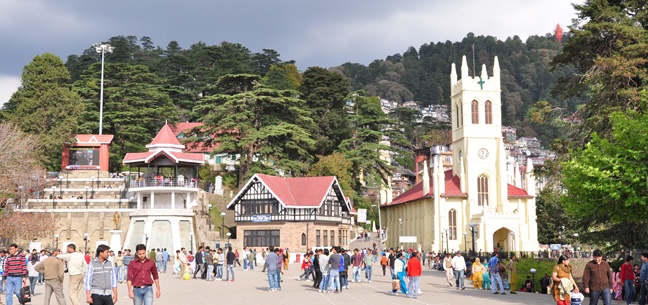 There are so many places that you can visit from Shimla, and two of the best ones are Narkanda and Naldehra. Both of these places are small hill stations with incredible natural beauty. It is quite tough to rank which is best Naldehra or Narkanda. Both these places are like one-day trips from Shimla. It just takes 2-3 hours to arrive at Narkanda or Naldehra from Shimla. But for our readers, we have listed some of the best places you can visit in Narkanda and Naldehra and decide for yourself which of them is the best.
Naldehra

The British Viceroy, Lord Curzon, developed the hill station of Naldehra. The word 'Naldehra' comes from two words 'Nag' and 'Dehra'. The literal meaning of this word means 'The land of snakes'. Naldehra is a much quieter hill station and is best for solitude and tranquillity. The gorgeous landscapes of Naldehra are made of pine forests, mountain valleys, green rolling hills, and the gushing Sutlej River. There are not many shopping places here. But, you can certainly do several things like horse riding, golfing, nature walks, river rafting, etc. Naldehra is famous for its 9-hole golf course which is its most famous attraction. Apart from this, some temples in Naldehra are among the sightseeing attractions.
Places to visit in Naldehra
Naldehra Golf Course
Mahakali Temple
Mahunag Temple
Shaily Peak
Chabba
Tattapani
Narkanda

Out of the many places near Shimla, Narkanda is a hill station of tremendous scenic beauty. Narkanda is famous for its skiing and people wait for the first snowfall in Narkanda to ski on the snowy slopes. But skiing is just one among the several other things that you do in Narkanda. The apple orchards in Narkanda produce juicy apples. The winter landscapes in Narkanda consist of snow-white mountain slopes, forests, and icy mountain ranges of the Himalayas. There are some ancient temples here which are a must-visit. Narkanda has some luxury hotels and resorts as well as cheap homestays. People who love adventure will love visiting Narkanda. Trekking, hiking, shopping, and sightseeing are some of the things that you can do here in Narkanda.
Places to visit in Narkanda
Hatu Peak
Tannu Jubbar Lake
Stokes Farm
Mahamaya Temple
Hatu Mata Temple
Jau Baug, Kacheri
Derthu Mata Temple
Koteshwar Mahadev Temple
Kacheri
Sightseeing – Naldehra vs. Narkanda
Sightseeing in Naldehra is limited to some 4-5 places such as Naldehra Golf Course, Mahunag Temple, and Mahakali Temple. But Tattapani and Chabba are small villages that offer wonderful scenery and relaxation. You can do horseback riding and trekking to Shaily Peak. Narkanda, on the other hand, has around 6-7 places for sightseeing. Narkanda is a much bigger hill station than Naldehra if we were to view it from a sightseeing angle. The best sightseeing places in Narkanda are Hatu Peak, Mahamaya Temple, Tani Jubbar Lake, Hatu Mata Temple, Stokes Farm, Jau Baug, and Kacheri.
Things to do – Naldehra vs. Narkanda

There are many more things to do in Narkanda than in Naldehra. Naldehra is best for the more relaxing type of activities like playing golf, nature walks, horse riding, and some hiking. You can even go river rafting in the Sutlej River in Naldehra. But Narkanda has more activities to do. Some of the exciting things you can do in Narkanda are nature walks, trekking, hiking, shopping, skiing, sightseeing, and horse riding.
Food – Naldehra vs. Narkanda

There are many dhabas in Narkanda where you can have reasonably good food at cheap rates. There are more expensive restaurants and eateries in Narkanda where you can fine-dine delicious dishes. Even in Naldehra, you will find restaurants in hotels. Even in Naldehra, you will find street-side cafes and restaurants with a range of food options like North Indian, Chinese, Italian, Tibetan, Mexican, Continental, etc.
Accommodation – Naldehra vs. Narkanda

Both Narkanda and Naldehra have good hotels and homestays. You will also find cottages and villas with modern luxuries and elegant interiors. There are both cheaper and more expensive hotels in both of these places. Some hotels are more luxurious like The Chalets in Naldehra. However, you will also find decent homestays in Naldehra within an affordable budget. If you are high on budget, the best option is Naldehra. But Narkanda, being, a more popular hill station, has more accommodation options. The Wilderness Resort, Koti Resort, and Tethys Ski Resorts are some luxury resorts in Narkanda. If you want to stay in luxury, then your best option would be Narkanda.
Shopping – Naldehra vs. Narkanda
You won't find much shopping to do in both Narkanda or Naldehra. Instead, you can do shopping in Shimla, which has many shopping places. However, you will find some small shops in Narkanda and Naldehra too has some small shops.
Adventure activities – Naldehra vs. Narkanda
Surprisingly, you can do some adventure activities in both Narkanda and Naldehra. Tattapani near Naldehra is best for white-water rafting in the Sutlej River. Narkanda is best for skiing. If you are a fresher at skiing, then you will get skiing instructors who can guide you in learning about skiing. There are some luxury ski resorts in Narkanda where you can go skiing in the snow.
Trekking – Naldehra vs. Narkanda
If you want to do some trekking near Shimla, then you will find many trekking places in Narkanda and Naldehra. The wooded forests of pine and deodar in both these places are best for nature walks too. Shaily Peak is in Naldehra where you can go trekking. You will pass through waterfalls, rocky terrain, deodar forests, and wildlife on the way. You can trek by foot to the top of Shaily Peak or take a horse ride. Hatu Peak is one of the trekking places in Narkanda. Hatu Peak Trek is a blessing for adventure seekers as they can pass through isolated villages and mountain landscapes of Shimla hills.
Distance from Shimla
Both Naldehra and Narkanda are very close to Shimla, the capital city of Himachal Pradesh. You can catch a cab from Shimla and visit both of these places.
Naldehra is 23 km by road from Shimla and it takes approximately 1 hour to reach Naldehra from Shimla.
Narkanda is 61 km by road from Shimla and it takes approximately 2-3 hours by road to reach Narkanda from Shimla.
Conclusion
Which is best Naldehra or Narkanda is a question that depends on what you want to gain from these two places. Both Naldehra and Narkanda are very scenic places near Shimla. Naldehra is a much more relaxing and quieter hill station compared to Narkanda. It offers more solitude and a tranquil atmosphere. But Narkanda is touristier than Naldehra. There are many places in Narkanda where you can go for sightseeing and adventure activities. However, it can rightly be said that both, Naldehra and Narkanda are bestowed with incredible natural beauty and peace.
FAQ's
Which is superior, Naldehra or Narkanda?
The Mahindra Resort in Shimla is really located in Mashobra, about 10 kilometres outside of Shimla. Naldehra is a few more kilometres down that route. If you don't have a vehicle, Narkanda would be the greatest option.
Is a trip to Narkanda ?
One of the best weekend escapes from Delhi is Narkanda, a hidden gem 63 kilometres from Shimla. This hill station receives a lot of snow in the winter and links Shimla to the Kinnaur and Spiti valleys. As a result, it is among the best locations in Himachal to witness snowfall close to Delhi.
---
---
STAFF'S PICKS &
Related Posts