Best Wedding Destinations in Rajasthan
Posted On January 9th, 2023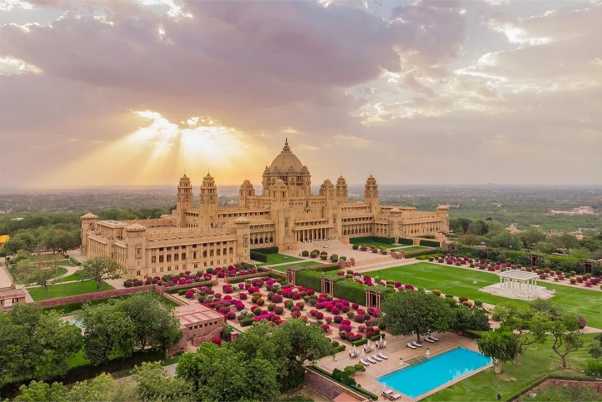 When it comes to royal wedding destinations in India, Rajasthan is tough to beat. The magnificent forts and palaces make it a mesmerizing hub to host your big day. The thought of being a royal bride or a stunning groom at your fairytale marriage excites everyone. Nothing beats Rajasthan regarding the best wedding destinations in India. Our curated list of the best royal wedding destinations in Rajasthan will guide you to make an excellent choice.
What Are the Top Wedding Destinations in Rajasthan?
If you are searching for the best wedding destinations in Rajasthan, check out the list below.
Le Méridien Jaipur Resort and Spa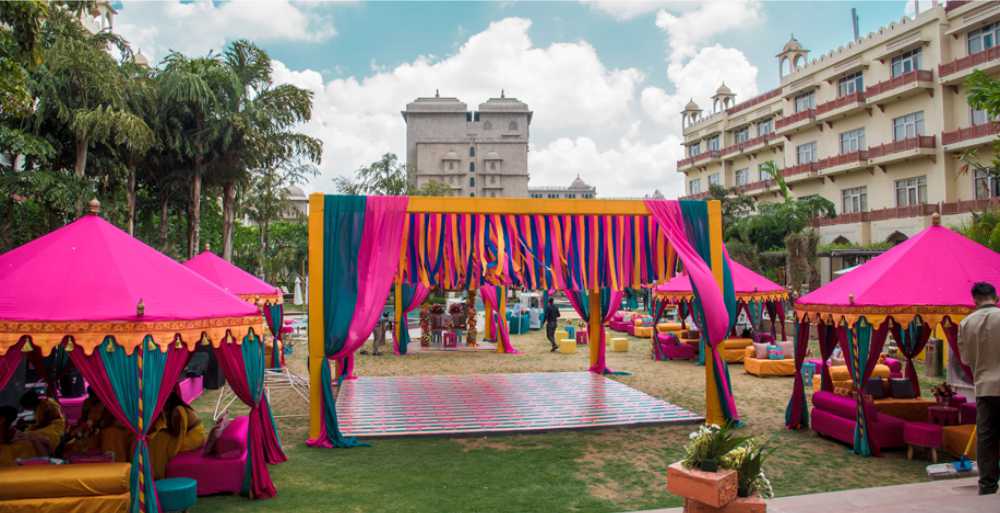 Paying tribute to India's exquisite architecture and design, the Le Méridien Jaipur Resort and Spa is a grand wonder housing peacock arches, beautiful gardens distributed across 20 acres, and stunning venues. Undoubtedly, it is one of the top wedding destinations in Rajasthan.
Umaid Bhawan Palace, Jodhpur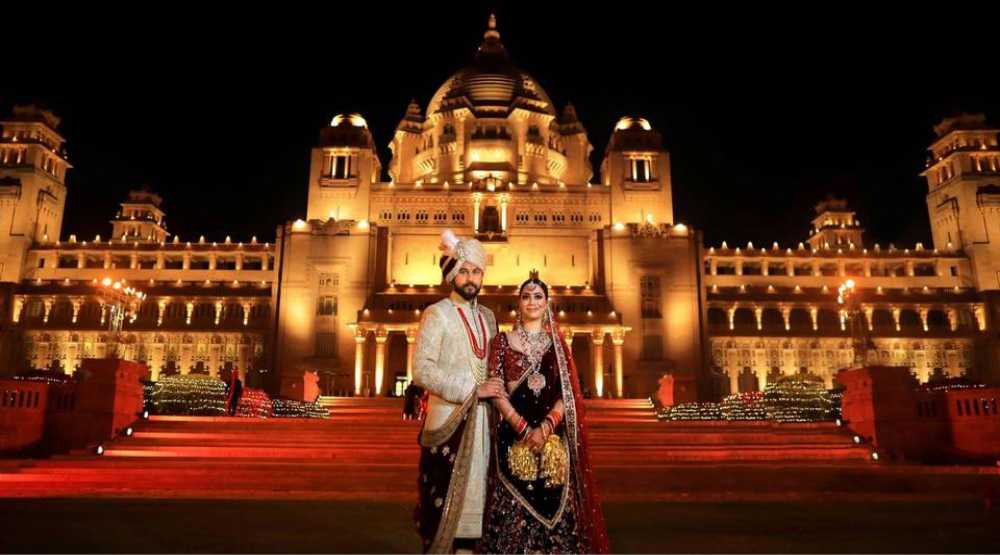 Home of Jodhpur's many royal families and currently the world's largest private residence, the Umaid Bhawan Palace offers sights of the historical Blue City, enormous dunes, and the nearby Mehrangarh Fort. Famous for its rich cultural heritage, yellow sandstone architecture, and lavish amenities, this property, managed by the Taj Group, has become a prime hub for celebrity weddings such as Priyanka Chopra Jonas and Nick Jonas.
Lake Palace Udaipur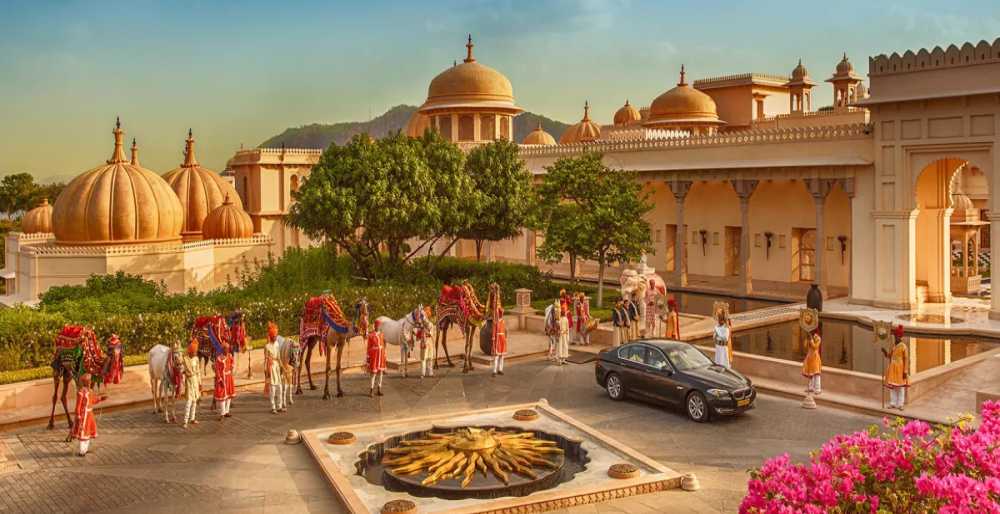 Beautifully located in the middle of lake Pichola, Lake Palace combines traditional Rajput and advanced European style architecture and design. It reflects a fusion of cultures with a pinch of royalty. Lake Palace is where royal people used to live. This heritage palace is now a luxurious hotel for all who wish to experience a wedding destination in Rajasthan. The palace has rich heritage touch, retaining its original charm and culture. The lawns are verdant green with beautiful gardens, ideal for outdoor ceremonies or fabulous cocktail parties. There are big halls that can be used for royal banquet dinners indoors.
Rambagh Palace, Jaipur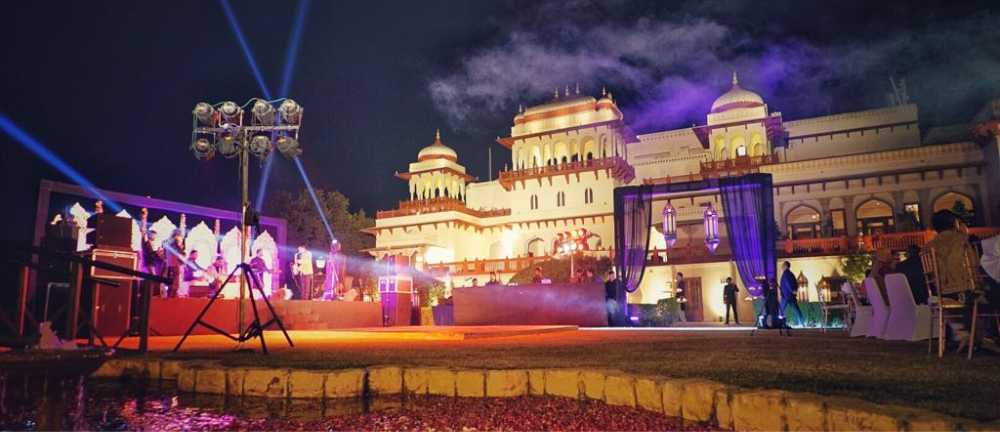 The Rambagh Palace is one of the best wedding destinations in Rajasthan for a wedding ceremony. The palace was built in the 18th century and has been an eyewitness to many celebrations. It's a breathtaking place that will be a perfect setting for your memorable day. The Rambagh Palace in Jaipur is an iconic building before a royal residence. It is now a luxury hotel run by the Taj Group and used for organizing weddings and other social functions. The palace has been one of the famous venues for a wedding in Jaipur.
Shahpura Haveli, Jaipur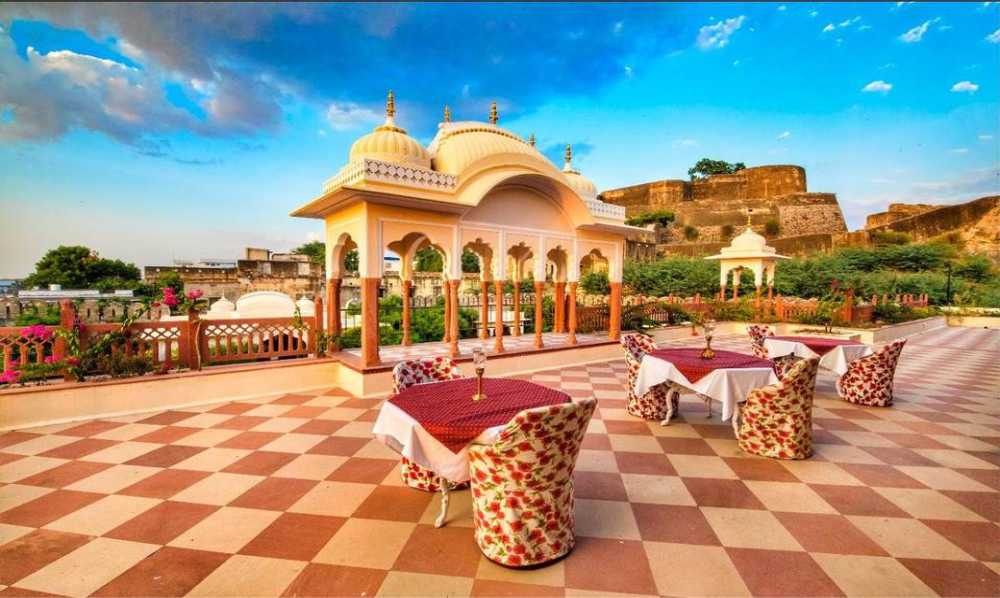 This is one and the only picturesque Wedding destination in Rajasthan, which is different from other wedding destinations. The property provides the best services and facilities. This property is very much conscious of the surroundings and is an eco-friendly hotel. Shahpura haveli pays extra focus to eco-friendly practices and carbon footprint. This heritage property has made some strict rules and policies for water and electricity usage. This hotel utilizes eco-friendly materials without compromising quality and hospitality. Hosting pre and post-wedding functions in Shahpura haveli will give you a unique experience.
Gold Palace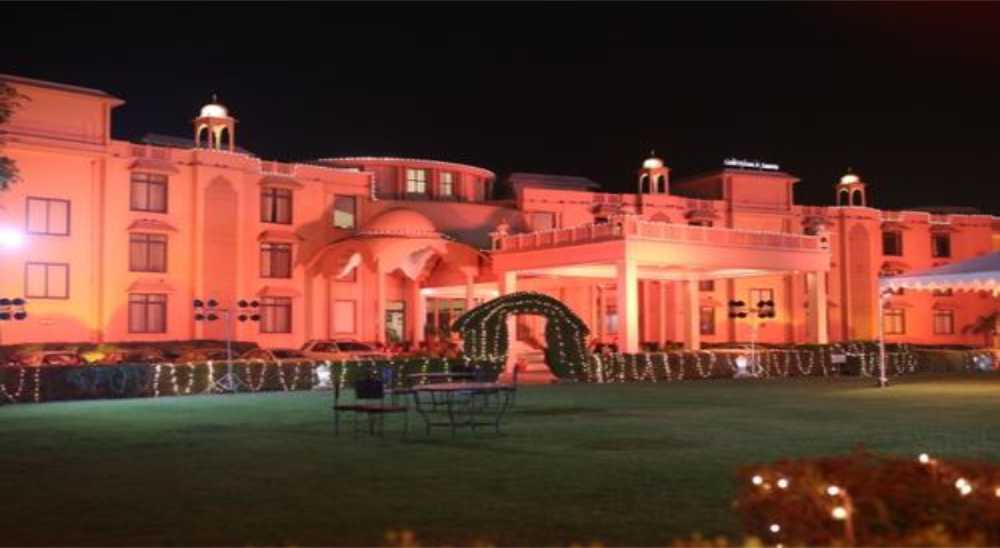 The royal background, calm ambiance, tasty food, and the services are the things you can surely expect at Gold Palace. It offers different venues where one can plan pre and post-wedding functions. Gold Palace has the best and most professional staff members and wedding planners. They will ensure that all your demands are met. They know exactly how to bring a smile to the face of the bride and groom and their guests.
Taj Jai Mahal Palace, Jaipur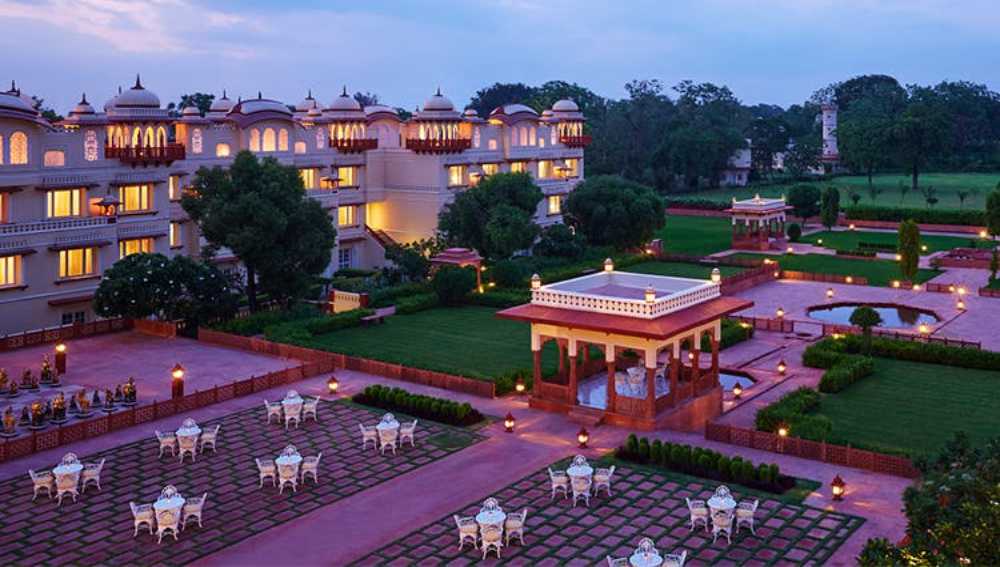 Built amidst the stunning Mughal gardens, this 260 year's classic palace turned into a hotel is the most stunning one out of all the Jaipur wedding destinations. Its Indo-Saracenic designs and intricate details in every corner. It is an excellent backdrop to capture the beautiful memories of your special day. This luxury hotel has indoor and outdoor setups like a celebration lawn, poolside venue, fountain lawn, Durbar Hall, and palace. It can easily accommodate around 100 to 3000 guests. Thus, it is one of the best wedding destinations in Rajasthan.
Fairmont Jaipur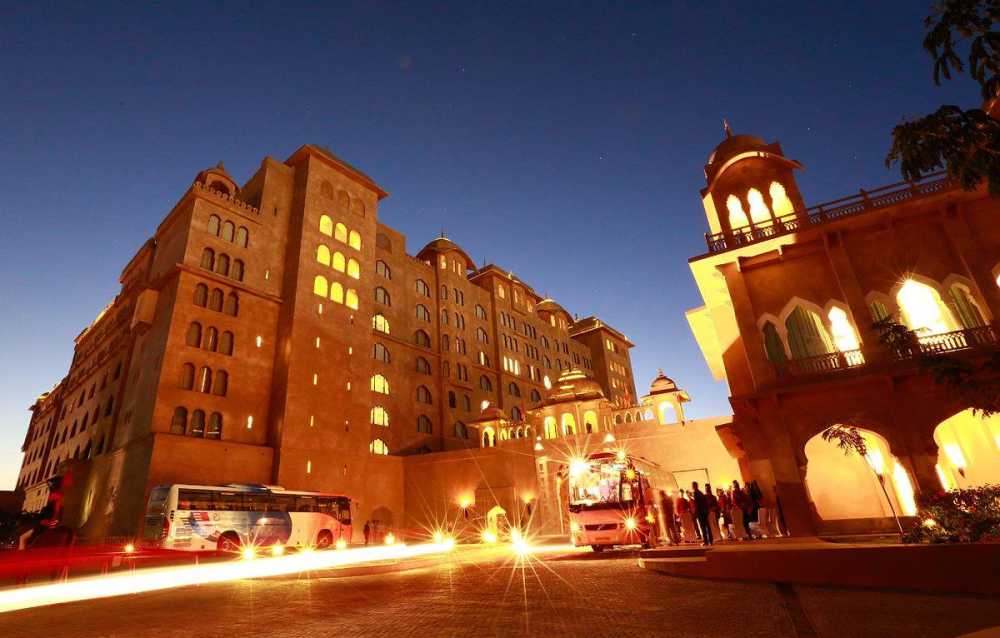 Set amidst the Aravalli Hills, Fairmont Jaipur is the most splendid hotel for your royal destination wedding. Its modern setup with a touch of traditional Rajasthani culture will make the ideal backdrop for when the bride walks down the aisle. Be it a traditional royal wedding or a themed one, stay assured, as this luxurious hotel will leave no stone unturned in making it the most special day of your life! This magnificent hotel has many venue options, such as the majestic Charbagh and The lavish Ballroom for your special day.
The Ummed Jodhpur

The Ummed Jodhpur, a Marwar palace with traditional Rajasthani cultural elements, is tucked amidst extensive gardens. Its low-rise buildings surround the expansive and massive courtyard. Everything makes guests feel like royal beings, from the stately driveway to the beautiful rooms.
The Westin Pushkar Resort and Spa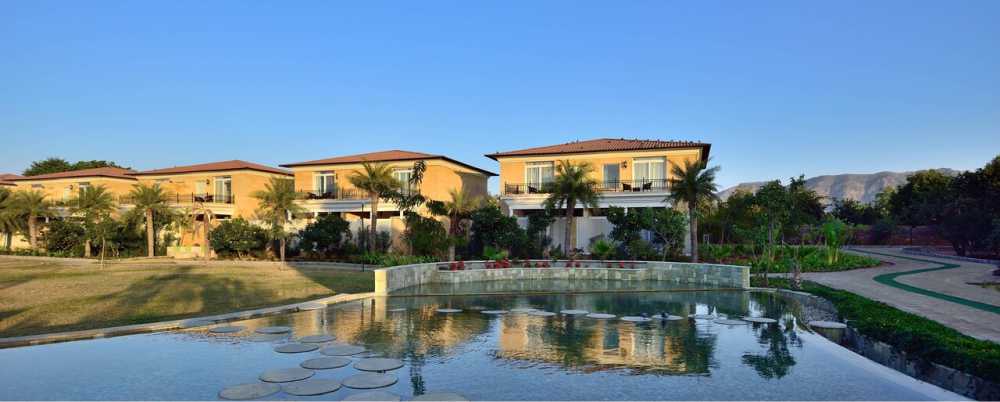 For a beautiful wedding that is advanced in style and luxury, visit The Westin Pushkar Resort & Spa. Surrounded by the magnificent views of the Aravalli and golden dunes, this superb property is popular for its seemingly Charming lawns, a world-class spa, and warm ambiance. Apart from the luxurious villas with private plunge pools, the majestic hotel offers recreation activities like camel rides and archery. It is also conveniently close to many popular tourist places in Pushkar city.
Fort Khejarla, Jodhpur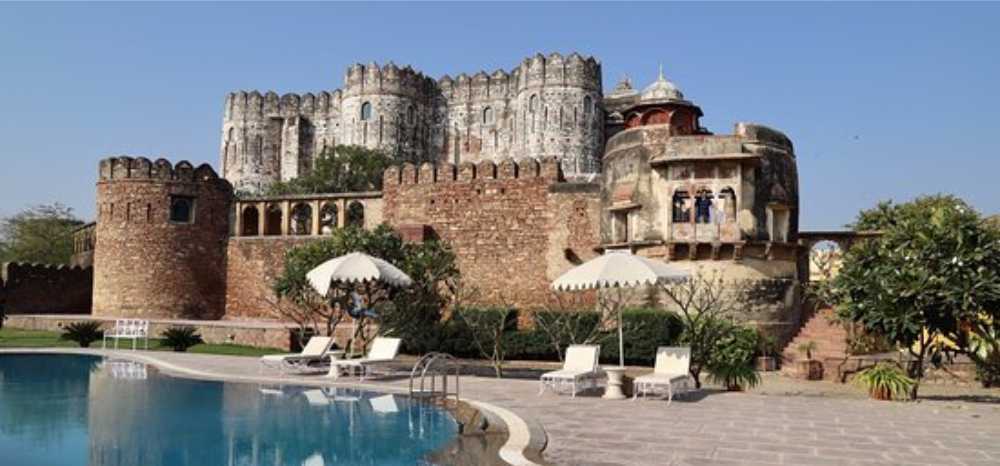 Several years of history have made Jodhpur's Fort Khejarla a majestic showcase of Rajput culture and lifestyle. Handled by the royal family of Kherjala, this magnificent property with red sandstone pillars, stone carved beautiful rooms, windows with latticework, jharokhas, and stunning exteriors is excellent for a high-powered small or big wedding. The interiors of the hotel offer beautiful settings with all modern comforts, fancy decor, and a homely ambiance. Book the property for a truly intimate wedding, making your guests feel like royal beings.
Conclusion
Matches are made in heaven, but an extra effort is needed to make their weddings a grand celebration. In India, every wedding is a massive celebration. Each culture has traditions and rituals; everything is covered with functions, songs, music, and many other festivities. Today, destination weddings are one of the emerging trends in the massive arrangements of marriages in India. This list will help you in finalizing your wedding destination in Rajasthan.
FAQ's
Is a wedding destination costly in India?
Wedding destination in India is relatively inexpensive, and you can book any venue per your budget.
Is there any wedding destination in South India?
Many wedding destinations in South India, like Kerala, Chennai, Bangalore, Kovalam, Madikeri, etc.
---
---
STAFF'S PICKS &
Related Posts