Best Mesmerizing views In India For Hot Air Balloon Rides
Posted On December 13th, 2022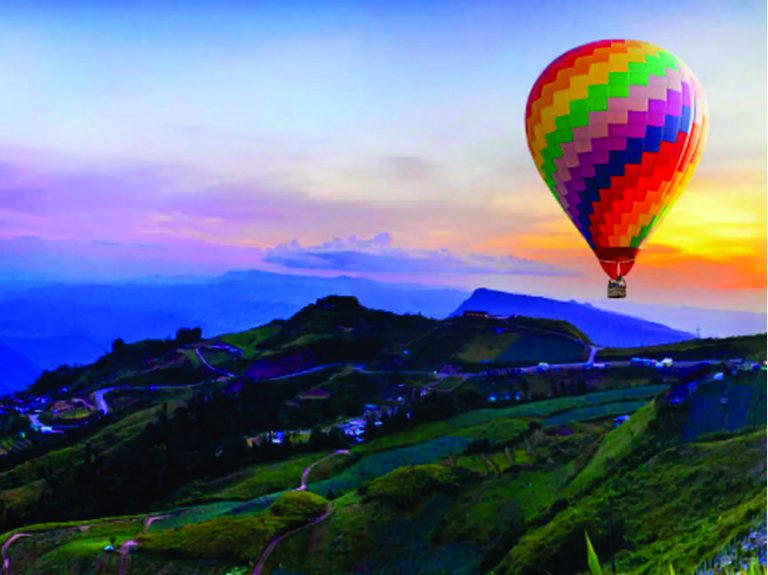 Rides in hot air balloons sound exciting and interesting. Your face will be warmed by the stunning sight of the sun's golden warmth. On the other hand, you will feel like you are on cloud nine when the chilly wind touches your face. By picking the ideal spots, you can glam up your hot air balloon rides. Making plans for the adventure tour with your family is advised regardless of where you live.
Since hot air ballooning is not offered in many locations across the nation, you can enjoy in this sport. Here is a list of the top places in India to fly in a hot air balloon:
Bhopal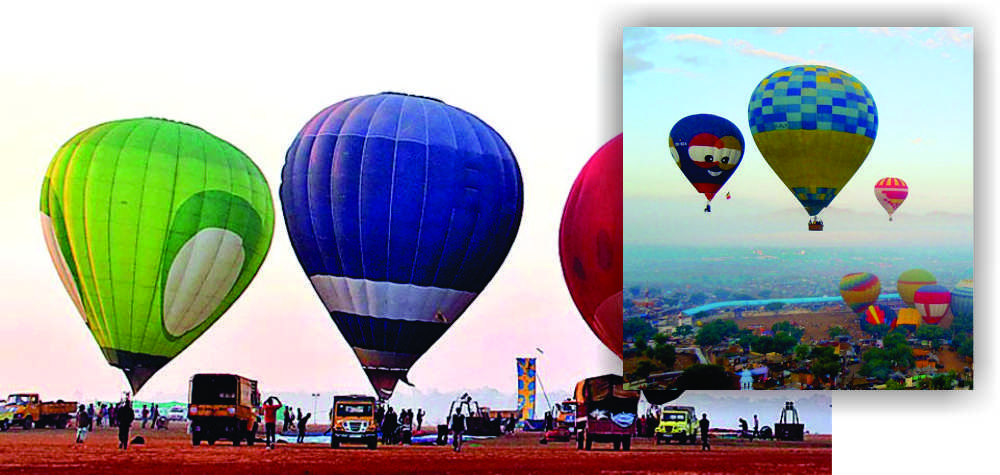 Also referred India as the "City of Lakes," is home to Jeet Stadium, where hot air balloon tours start and end. In Bhopal, India, hot air ballooning is still a young sport. Additionally, this is a city-based seasonal activity that just happens when the wind and weather cooperate. Usually, visitors are picked up from their residences and returned there after the activity is finished. It's among the funnest and most heart-pounding activities offered by Bhopal Tourism.
Where in India : Bhopal, city, capital of Madhya Pradesh state
Estimated Height : 800-4000 feet
Estimated Duration : 1hr
Price : INR 9,800 to INR 15,000 per person
Best Time to enjoy ride : March to October
Manali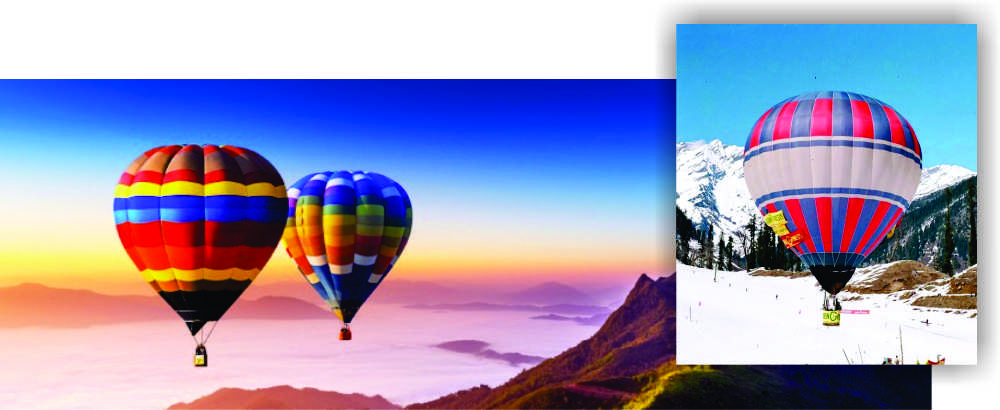 If taking in the vista of the hills makes you happy. Imagine flying over the Himalayas and observing how the landscape becomes smaller as you ascend! Doesn't that sound amazing? This is exactly what Manali hot air balloon flights do to you. Despite being in its early stages, this movement has drawn a lot of tourists.
In Manali, riding a hot air balloon is comparable to skydiving. By engaging in these adventure sports, you may make the most of your trip to Himachal.
Where in India : Manali is a town, near Kullu town in Kullu district in the Indian state of Himachal Pradesh
Estimated Height : Approximately 300 feet
Estimated Duration : 7 minutes
Price : 900 per person
Best Time to enjoy ride : October to December & May to July
Goa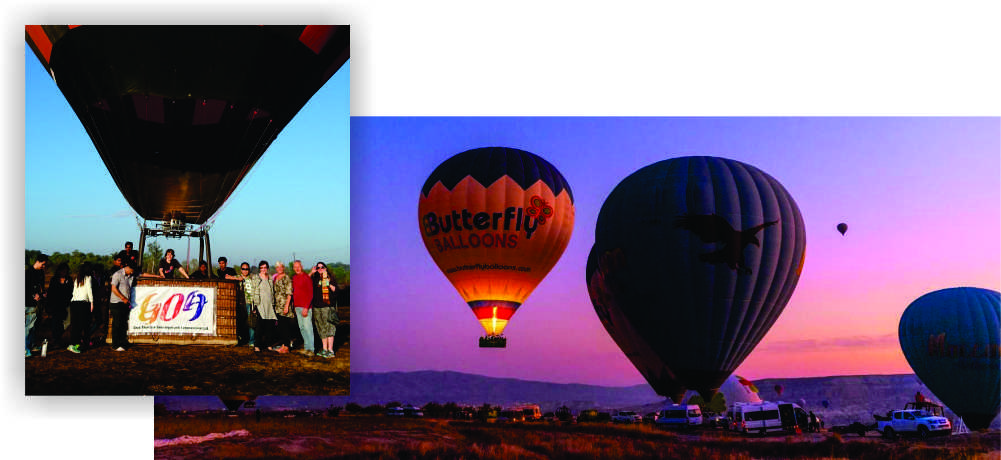 In both the summer and the winter, riding in a hot air balloon over the ocean is one of the most romantic things to do in Goa. One of India's top destinations for hot air balloon excursions is Goa.
You'll appreciate viewing the Arabian Sea from a hot air balloon's cosy warmth and vibrant colours. With your friends or family, you'll be able to soar through the air in a roomy, opulent basket. Get your camera ready for some stunning sea cliff shots.
Where in India : Goa is a state on the southwestern coast of India.
Estimated Height : approximately 2000 feet
Estimated Duration : 60 minutes
Price : 14000 per person
Best Time to enjoy ride : Oct0ber to March
Uttar Pardesh

The Indian character is represented by Uttar Pradesh. It is home to sacred rivers, old cities rich with wonder and knowledge, and historic religious monuments Like Taj Mahal. It describes an India built on long-standing customs, an India with a lengthy history and countless achievements. In addition to being seen from the ground, Uttar Pradesh's treasure trove of monuments, architectural marvels, pilgrimage sites, and wildlife wildness is meant to be seen from the air as well.
Do you dream of soaring through the skies like an eagle while taking in the view and enjoying the breeze on your face? The UP offers breathtaking scenery and hot air balloon rides, so you can cross that item off your bucket list whenever you choose.
Where in India : UP is a state in India.
Estimated Height : approximately 500 feet to 4000 feet
Estimated Duration : 20 minutes
Price : INR 500 to INR 750 per person
Best Time to enjoy ride : September to January
Darjeeling

If paragliding and bird-like flight aren't your cup of tea, there is still a great alternative that will get you airborne in a safe and simple manner. Grab a hot air balloon and take off! Surprised? Imagine flying in one of the three hot air balloons that Darjeeling currently has—there are only three in all of India.
It is a once-in-a-lifetime opportunity to fly over stunning sunsets surrounded by the Himalayas. Being so near to nature and taking in views of the valley, hamlet, and castles allows one to truly appreciate its beauty. the additional benefit of having numerous opportunities to shoot the breathtaking sights around for everlasting memories.
Where in India : Western side of the state of West Bengal in India.
Estimated Height : Maximum altitude of approximately 300 feet
Estimated Duration : 60 minutes
Price : 1500 per person
Best Time to enjoy ride : October to may
Maharashtra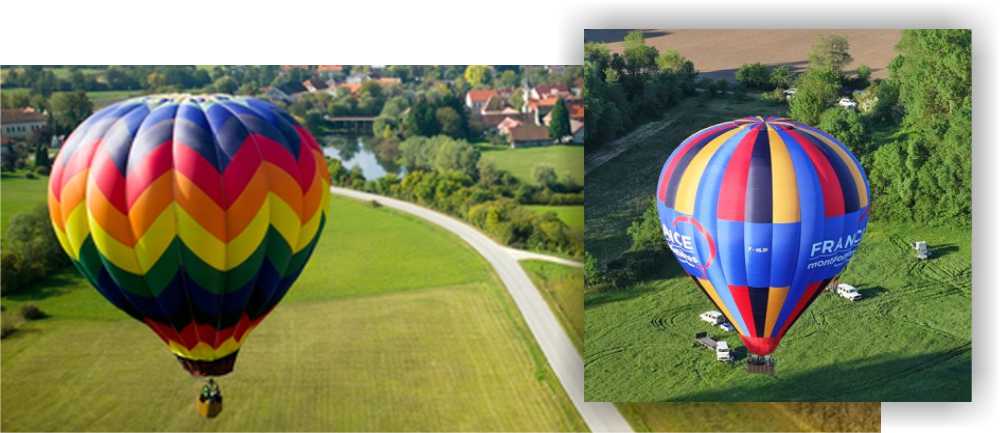 Hot Air Balloon Safari rides are perfect in Maharashtra, a well-known holiday destination in India with stunning natural beauty, a picturesque coastline, and large areas of flora. Flying through the air and letting yourself be carried away by the wind is the most daring thing you can do. Hot Air Ballooning is one of the best things to do in Maharashtra and is especially enjoyable in the well-known hill town of Lonavala,
Where in India : Maharashtra is a state in India
Estimated Height : maximum altitude of approximately 1200 feet
Estimated Duration : 60 minutes
Price : 12000 per person 6000 for children under 12age
Best Time to enjoy ride : October to may
FAQ's
In which nation are hot air balloons most popular?
Turkey's Cappadocia. One of the most well-liked hot air ballooning locations in the world is
Cappadocia.
Are hot air balloons more safe than aeroplanes?
The FAA determines that hot air ballooning is the safest kind of air transport and is infrequently involved in aviation incidents from a statistical perspective (The Aviation Accident Database)
Are rides in hot air balloons warm?
Many travellers worry about being cold because of the altitude. Although you might lose a few degrees, the burner still adds heat, as Aldous points out. If you're afraid of heights, don't worry.
---
---
STAFF'S PICKS &
Related Posts