Top 10 Places to Visit in Udaipur
Posted On October 20th, 2022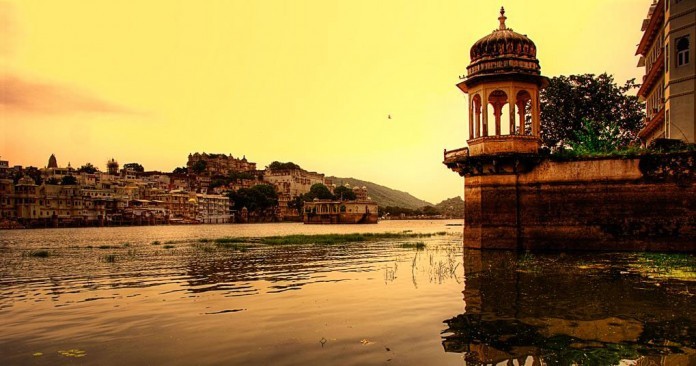 Udaipur is probably, one of the most royal cities in Rajasthan. Once upon a time, Udaipur used to be a prosperous capital of the Mewar region. Maharaja Udai Singh II, who was a Rajput king, founded Udaipur in 1559. There are so many lakes in Udaipur and these lakes make Udaipur look so romantic. You can visit almost 10 lakes in and around Udaipur alone. However, there are massive forts, ancient temples, luxurious palaces, and sprawling gardens that you can visit in Udaipur. Let's look at the top 10 places to visit in Udaipur.
Udaipur City Palace
The City Palace is on the banks of Lake Pichola. Over 22 generations of Mewar kings built City Palace over 400 years. City Palace is not just a single palace, but many palaces, which are connected to each other with long corridors. Many of these palaces are turned into museums. Some are converted into luxurious hotels. Each palace has its charm and artistic brilliance. Some have delicate mirror work while other has elaborate carvings and sculptures. The paintings, textiles, glasswork, and marble craft, are marvelous things to see in City Palace.
Lake Palace
Lake Palace is famous for its scenic beauty and exceptional architecture. This magnificent royal palace is so beautiful that it appears to float on Lake Pichola. Maharana Jagat Singh II built Lake Palace to spend romantic moonlit nights with his royal ladies. Today Lake Palace is a world-class 5-star hotel. Lake Palace has spacious rooms, royal suites, orchards, gardens, pavilions, balconies, fountains, and courtyards. Guests can see magnificent sunrise views from their rooms. The rooms have fine décor, richly ornamented interiors, and luxurious furnishings. Some scenes from the James Bond movie 'Octopussy' were shot in Lake Palace.
Jag Mandir
Jag Mandir is very beautiful in its architecture. It is one of the top 10 places to visit in Udaipur. Jag Mandir is also popularly known by the name of Lake Garden Palace. Maharana Amar Singh started the construction of Jag Mandir in 1551 and successive kings added more structures to it. Jag Mandir was built on a natural island in Lake Pichola. The impressive elephant idols on the entrance jetty welcome guests to Jag Mandir. There are magnificent palaces inside such as the Gul Mahal and elegant gardens and marble sculptures. Today Jag Mandir hosts parties and social events.
Monsoon Palace
Monsoon Palace is built on a hill near Fateh Sagar Lake. Sajjan Garh Palace is another very popular name of Monsoon Palace. It was called Monsoon Palace because it was originally built as an astronomical laboratory to watch monsoon clouds. Maharana Sajjan Singh built Monsoon Palace in 1884. Marble stone was primarily used in the construction of Monsoon Palace. It has high walls, grand rooms, winding staircases, chandeliers, and carved sculptures. Colorful lights illuminate Monsoon Palace at night. This time is best to view the beauty of fountains and jharokhas in Monsoon Palace.
Ahar Museum
When we talk of the top 10 places to visit in Udaipur, we cannot ignore Ahar Cenotaphs. The maharajas who ruled over Mewar built these memorials in honor of their ancestors. These memorials were built more than 350 years ago in a place called Ahar near Udaipur. There are 250 such cenotaphs at the site. All these memorials have elegant architecture and look very elegant. Chhatris is a common feature that you can see in all these cenotaphs. The chhatris are like a small domes on top of the cenotaphs. Some rulers were even cremated here.
Jagdish Temple
Jagdish Temple ranks among the top 10 places to visit in Udaipur. The wonderful temple is worth visiting due to its elegant structure and Rajasthani architecture. People still visit Jagdish Temple to offer their prayers to Lord Vishnu. There are 32 marble steps to reach the temple. The marble stone architecture is very detailed and exceptional. You can see fabulous carvings everywhere in Jagdish Temple. The Shikhar or the tall tower itself is very elegantly sculpted out of marble. Icons from Hindu mythology can be seen in this temple. There are idols of Krishna, Ganesha, Lord Jagannath, Surya, Goddess Shakti, and Lord Shiva in the Jagdish Temple.
Fateh Sagar Lake
One of the many lakes in Udaipur is Fateh Sagar Lake. This beautiful lake is an artificial lake which is named after Maharana Fateh Singh. Fateh Sagar Lake is the second largest of all the famous lakes in Udaipur. Fateh Sagar Lake is famous for its boating. Another interesting feature of Fateh Sagar Lake is its three islands. One island, which is the largest, has a park called Nehru Park. There are water jets and a public park on the second island. On the third island, there is the famous Udaipur Solar Observatory.
Lake Pichola
Pichola Lake is one of the top 10 places to visit in Udaipur. This lake was built in 1362 by gypsies and is named after a village called Pichola. Boating is one of the things that you can do in Lake Pichola. Pichola Lake is famous for its four islands where the rulers built famous palaces, temples, bathing ghats, and mansions. Lake Palace and Jag Mandir are famous palaces on these islands. Boating at sunset in Lake Pichola is a beautiful experience. You can see the entire landscape of Udaipur with its hills, palaces, and temples from this lake.
Gulab Bagh and Zoo
Gulab Bagh is a big garden with a variety of rose plants and lots of greenery. This is one of the oldest gardens that was built in Udaipur. It also ranks among one of the most beautiful gardens that was ever built in all of Rajasthan. Gulab Bagh Zoo is other attraction inside Gulab Bagh. Exotic animals such as tigers, leopards, bears, rhinos, ostriches etc are kept in enclosures. In addition to this, there is a library, a pond, several step wells, and palaces. Children can enjoy a toy train ride also in Gulab Bagh.
Bagore ki Haveli
Bagore ki Haveli is one of the vintage mansions that you can visit on your trip to Udaipur. This elegant and sprawling mansion is on the banks of Lake Pichola. Bagore ki Haveli is a palace with over 138 rooms, balconies, and courtyards. The royal ladies used to live in Bagore ki Haveli in olden times. The rooms are decorated with the finest colored glasswork, Rajasthani paintings, frescoes, delicate carvings, and ornate decorations. You can have a glimpse of the bedrooms, prayer rooms, and bathrooms, of these royal ladies. Today, there is a musical and dance program in the evenings at Bagore ki Haveli.
FAQ
1. What is the best possible time to visit Udaipur?
Winter is the best season to visit Udaipur. The months from November to February are best for sightseeing and shopping in Udaipur.
2. What should be the ideal duration to visit Udaipur?
You will need a minimum of three days to visit Udaipur.
3. How to reach Udaipur?
There are regular flights from Mumbai, Delhi, Jaipur, Hyderabad, and Kolkata to Maharana Pratap international Airport in Udaipur. Express trains from Mumbai, Delhi, Ahmedabad, Gwalior, and other cities stop at Udaipur Railway Station. Udaipur is connected via national highways and you can travel via luxury coaches, state-owned buses, and rental cabs to Udaipur.
---
---
STAFF'S PICKS &
Related Posts