Explore the best of French food in Paris
Posted On December 6th, 2022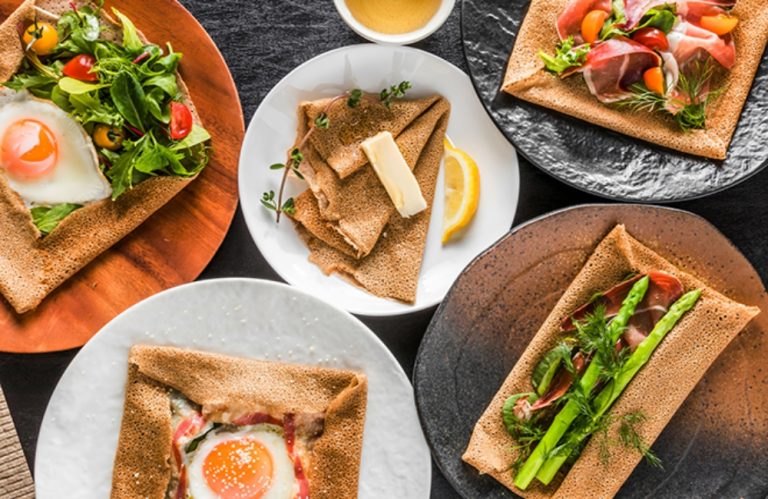 Any vacation to Paris offers the chance to make unforgettable, exquisite memories. French food in Paris encourages us to enjoy the culinary tradition. It continues to enthrall diners worldwide, whether looking for novel and intriguing flavors or returning to old favorites. We are accustomed to the delectable cuisine of France. On each trip to Paris, we find ourselves waxing lyrical about the numerous delicious occasions we have. Here are just a few of the delicious French food in Paris that we can't miss eating while visiting Paris. France is well known for many things, including its gastronomy. For your benefit, you can take advantage of it while in Paris. Other Parisian foods will make you hungry and wonder why you have yet to try them.
Best French Food in Paris
A list of famous French food in Paris is provided below.
Crêpe

It's impossible to avoid catching the French mania for the wafer-thin pancakes known as crêpes when in Paris. Crêpes are available at street carts, kiosks, and eateries, ranging from casual to elegant. As we go through some of the busiest retail areas, we frequently detect the alluring perfume in the air. Famous sweet crepes include fruit, ice cream, and even Nutella inside. Veggie, ham, cheese, and other fillings are added to savory crepes to create a tasty but healthy meal. It is the best French food in Paris.
Israeli Food

The French are not known for embracing cuisine from other cultures. Israeli cuisine is currently the focus of many chefs in Paris. It is undergoing a gastronomic revolution. At Balagan, chefs Assaf Granit and Dan Yosha and their staff serve vegetable, fish, and meat dishes with precisely timed spices, tahini, and citrus. Grab a stool at the kitchen counter for the best seat in the house. Enjoy the chefs' antics as they serve the best French food in Paris.
French Cheese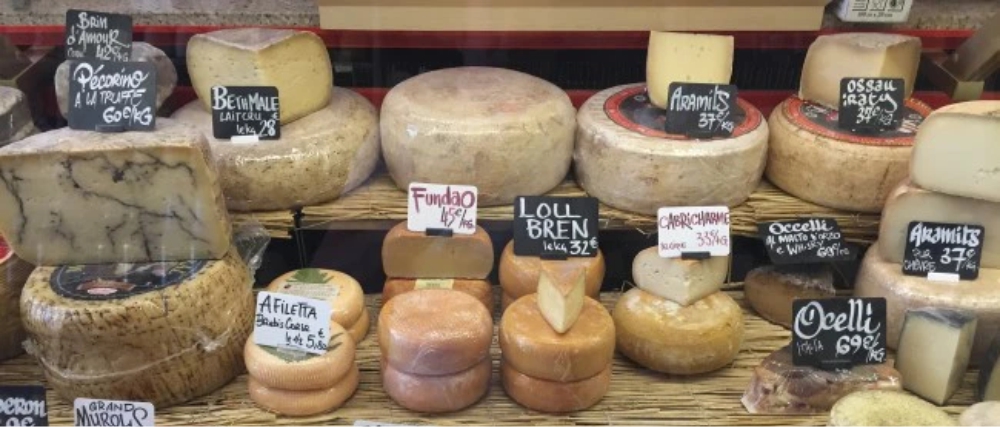 In 1962, French President Charles de Gaulle questioned how anyone could rule a nation with 246 varieties of cheese. Fortunately, the only thing we have to control is our desire for fantastic French cheese. Currently, France offers 1,200 different types of cheese. One of our favorite things in Paris is going to a store and purchasing cheese to sample.
Croissants

Croissant is a must-try French food in Paris. You cannot help but be mesmerized by the aroma of fresh croissants wafting from air vents in the early morning. This is your signal to enter and get your golden prize. Enjoy it while out for a morning stroll while the city wakes up. Asking to make sure your Boulanger still practices that noble, delectable craft is important. Sadly, fewer and fewer French bakeries make their croissants from scratch and instead buy them frozen.
Cassoulet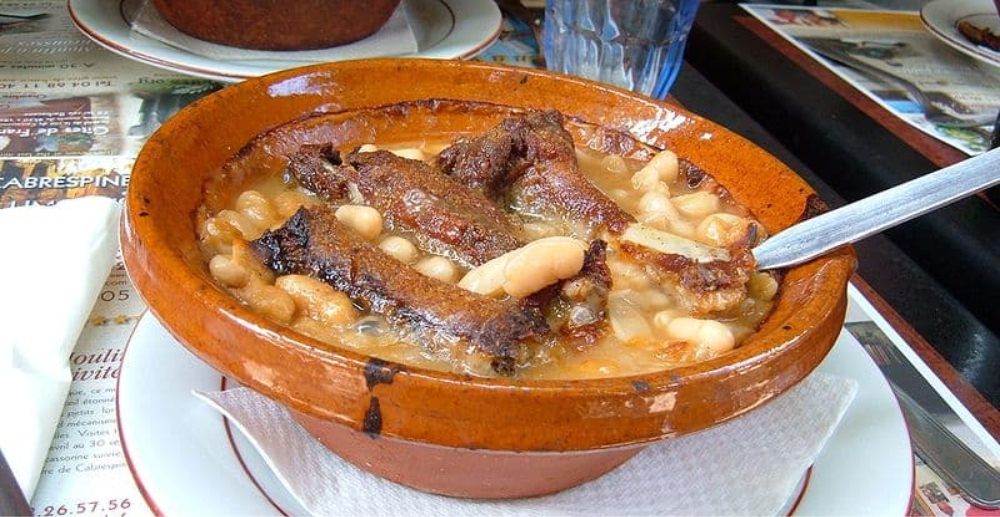 Cassoulet might be the national comfort meal of France. Various ingredients, including beans, sausage, duck, pig, vegetables, and herbs, are used in this hearty stew. Its origins are in Southwest France. It was a typical dish made from whatever was available to feed the peasants as a filling lunch.
Cassoulet is now a meal that is a famous French food in Paris. It might only be available on particular days of the week or as a special. It was when we had it at the Cafe Monte Carlo, a neighborhood brasserie with locals having lunch.
Croque Monsieur

The croque-monsieur is an oozy and crisp grilled ham and cheese sandwich typically moistened by a touch of béchamel sauce. It is a mainstay of the menus of most brasseries and cafés in Paris that provide nonstop service. Get the croque-madame, with a fried egg added on top, if you're starving.
Baguette

It's challenging to fathom visiting Paris and needing a baguette (or many baguettes). This iconic French bread can be seen on Parisians going about their daily lives. We won't claim to know which baguette is the best. Every year the winner of the Best Baguette competition is chosen. So adventurous eaters can try as many as they'd like while in town.
Escargots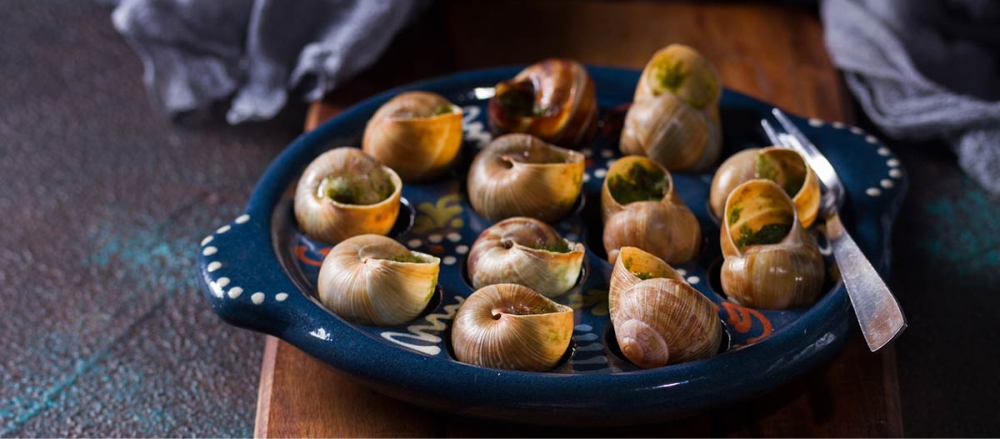 Escargots, believe it or not, are among the most adored French food in Paris. They are typically served as appetizers before a multi-course meal. They are now one of the more well-known strange French meals (at least to the rest of the world). The Burgundy escargots are the best variety, even though there are other varieties. Escargots don't naturally have a flavor; they typically cook in beurre et al. (butter and garlic) and are topped with parsley to give them that flavor. However, they can become rubbery if overcooked.
Macaron

We can't imagine going to Paris and not eating macarons. Tastes like Paris in a bite, these little, airy shells holding a variety of delectable fillings. Bold contemporary tastes and time-honored flavors like pistachio, chocolate, raspberry, and lemon now share the stage. The list is greatly expanded by lavender, rose petals, matcha, passion fruit, salted caramel, red velvet, and many other flavors. Visit Ladurée, the grand dame of macaron shops, and keep the lovely box for nostalgic thoughts of Paris.
Jambon-beurre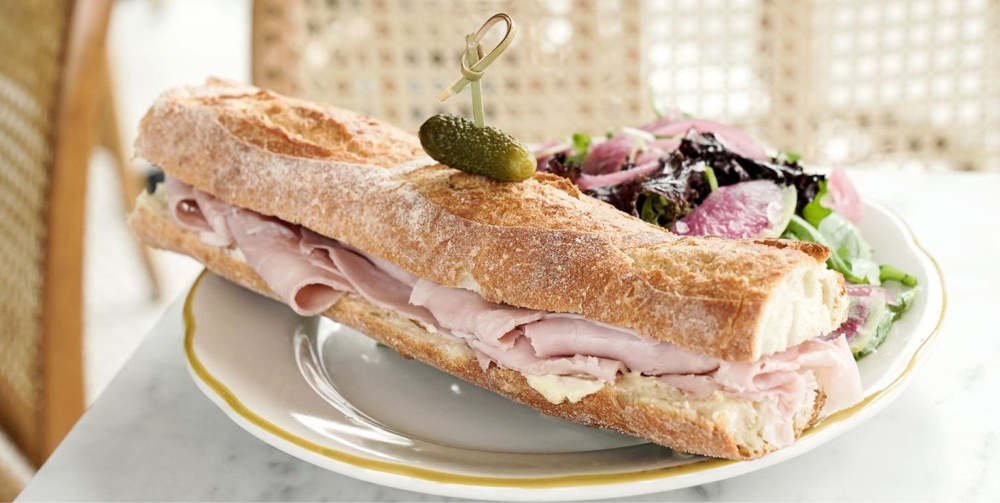 Jambon-beurre, one of the delicious French food in Paris, is now the city's standard sandwich for on-the-go consumption. The Jambon-Beurre is an excellent snack. It's simple to grab and eat while exploring the city. Most cafés and boulangeries have it on hand at their display counters, making it simple to locate. The ham is "jambon de Paris," a pink Parisian ham that has been expertly slow-cooked. It is a ham sandwich on a sliced baguette with butter to give you an idea of what it is. The standard version only includes bread, ham, and cheese. Some boulangeries give it their unique spin using pickles and occasionally salad.
We hope you discovered a new item to add to your list of must-eats in Paris. Everyone will find something delectable in Paris. And we have no regrets if this list made you drool.
FAQ's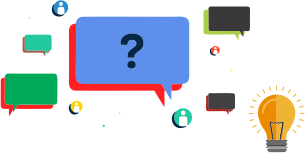 Which are the best places to explore in Paris?
Some of the best places to explore in Paris include Moulin Rouge, Eiffel Tower, Notre Dame Cathedral, Palais Garnier, and Place de la Concorde.
Where can I find street food in Paris?
Marché des Enfants Rouges, Marché d'Aligre, Marché Mouffetard, Marché des Enfants Rouges, and Marché Monge are some of the places where you can find street food in Paris.
---
---
STAFF'S PICKS &
Related Posts