Top 10 wildlife tour destinations in North India
Posted On February 22nd, 2017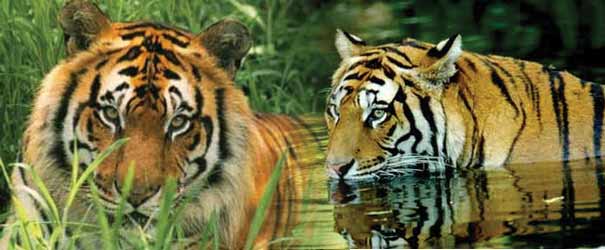 Wildlife is always a matter of great attraction for the nature lovers and they love exploring such destinations where they can enjoy true essence of wildlife. Those who love to explore the nature, never miss any chance to visit wildlife. North India is famous for existences of wide ranges of wildlife sanctuaries and national parks.
There are many national parks which are established in different parts of India for securing the future and life of endangered species and flora and fauna. India as a country is the land of many national parks. Here we can take details of top 10 wildlife tourist destinations in North India.
Corbett National Park:  Corbett National Park has been named after famous wildlife writer Jim Corbett. The park is famous for preserving tigers, Crocodiles and Leopards. Tourists mainly visit this place to watch fierce Bengal Tigers. It's a great place to experience true wildlife.
Valley of flowers national park: Located at the foothills of the great Himalayas, this national park is also a great attraction for the nature lovers. The name suggests that this park is well known for flowers of almost 500 species. Beside flowers, travelers can also observe Himalayan bears, red fox, mountain goats etc. It's a must to visit destination for people who love the wild greenery.
Dachigam National Park: From Srinagar this national park is situated at a distance of 22km. The total area of this park is 141 sq km. The presence of Kashmir Stag is very common here.
Rajaji National Park: In Uttaranchal, this national park is extremely famous for picturesque landscape and existences of wildlife of various species. Jackals, Asian elephants, Indian Hare etc, are some common species here in this park.
Govind National Park: If you are in Uttarkashi, then you should never miss to visit Govind National Park. White tigers are the main attraction of this national park.
Nanda Devi National Park: This national park has become quite famous among the travelers due to the presence of various wildlife species. For bird watching, this park is known as quite famous one.
Great Himapalayn National Park: The national park is rich with different species of mammals, amphibians and birds. The total coverage of this park is 60 km from Kullu.
Ranthambore National Park: Among other famous national parks in North India, Ranthambor is extremely famous. Once this place was the popular hunting grounds for the Maharajas. Birds and animals of different species are the most attraction here. This national park is spread almost an area of 392 Sqkms.
Kanwar wildlife Sanctuary: This wildlife sanctuary is covered with an area of 60.7 sq kms. This sanctuary is placed between Shacha and Satupurna hills in Himachal Pradesh.
Simbalba Wildlife Sanctuary: This wildlife destination is famous for watching Sambhar, chital and birds of various species. The total area of this wildlife sanctuary is 27.88 Sqkms.
Apart from the above 10 there are many other national parks  in North India which can boost your thirst for exploring true wildlife.
---
---
STAFF'S PICKS &
Related Posts