Most Gorgeous Places In North India To Spend Christmas Vacations
Posted On December 21st, 2021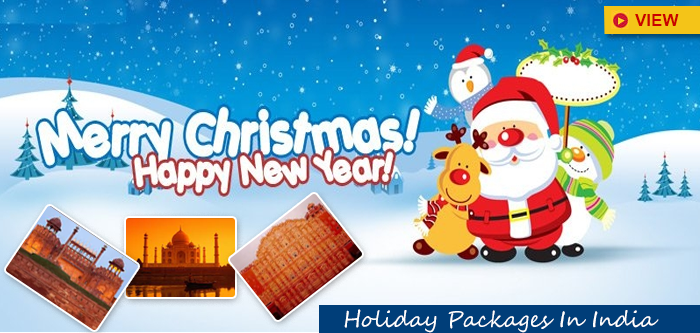 Christmas opens up for a lot of fun and celebrations. And a vacation amid the celebration is a cherry on the cake. Are you also planning a Christmas vacation? Well, then North India will allure you with its pristine locations.
The verdant landscape, snow-covered mountains, frozen lakes, waterfalls define the beauty of North India in December. So, a holiday to the best places to visit in North India for Christmas vacations will be an enchanting experience.
Bask in the exclusive landscape of North India this Christmas
Want to play with snow and enjoy chilly weather during your Christmas vacations? Here is the list of ultimate places in North India to rejoice in the picturesque scenery.
Shimla: Ultimate heaven
One cannot miss Shimla when planning holidays to Himachal Pradesh. It is among the best places to visit in December with family and pals. The picturesqueness of Shimla enhances in December. 
With snow covering the entire landscape, the town looks no less than a wonderland. Go on an ice skating journey or simply snuggle under your blanket and watch the awe-striking snowfall from your hotel room. The fresh breeze, sightseeing places, adventure sports, bird park, wildlife, trekking, and the snowy white atmosphere is beyond beautiful. 
Dalhousie: Alluring scenery
Another picturesque town of Himachal Pradesh is the mesmerizing Dalhousie. It is one of the best places to visit in North India in December. This tranquil hill station has all the charm to bowl its visitors. From the refreshing environment, sightseeing places to mouth-watering cuisine, Dalhousie has in store everything to attract its visitors.
Moreover, it is an alternative to spending holidays in Switzerland. The pine trees, soul-lifting meadows, astonishing scenery, panoramic views, ancient architecture is a blessing to your eyes to witness such a tapestry of nature.
Jaipur: Witness imperial places
Do you want to witness the robust ancient architecture? Want to know about the royal lifestyle of the olden days? So, if you love to explore swanky living then, Jaipur is the place to head.
The age-old palaces, gardens, temples and museums will leave an impressive mark in your memory. Moreover, the folklore associated with every nook and corner of Jaipur will keep travellers intrigued. Plan your holidays to Jaipur and experience one of the best places to visit in North India for Christmas vacations.
Ranikhet: Mystical land
One of the less crowded places to visit in December in India is Ranikhet. Take a break from the touristy places and enjoy the tranquillity of the spectacular environment of Ranikhet in Uttarakhand.
Encircled by the most beautiful attractions, this is the place to get close to nature. The panoramic view, apricot orchards, snow-capped mountains and lakes are more beautiful than you can imagine.
Amritsar: Experience spirituality and spellbinding places
This frenetic marvelous town of Punjab offers several places for spiritual and vibrant holidays. Popularly known for the Golden Temple, the charm of the holy place will instantly charge positivity and peace the moment you step in. 
Moreover, significant places such as Jallianwala Bagh, Wagah Border, Durgiana Temple, Akal Takht and Sadda Pind are prominent tourist places. Furthermore, the maze lanes, bustling markets, and the street food delicacy is the essence of Amritsar's charm. Treat yourself to one of the best Christmas trips in India by visiting Amritsar.
Kashmir: Sprawling astounding beauty
An epitome of extraordinary beauty is what Kashmir is all about. No words can describe its mesmerizing charm. It's only when you visit the place, you can experience the surreal beauty.
The whiff of natural air, organic cuisine, mountain region, houseboats, topographical features of the lake, and different flora and fauna is a heavenly retreat. Furthermore, the view of snowfall and the layer of white snow-covered everywhere make Kashmir one of the best places to visit in North India in winter.
Agra: Simply outstanding
The first thing that hits your mind when discussing Agra is the Taj Mahal. Isn't it? Known for its extraordinary construction, the Taj Mahal is perfect for romancing in your Christmas holidays. 
Other popular things to explore in Agra are historical monuments, palaces, forts, marble crafts and bird sanctuaries. Also, shopping is a great idea in Agra city and don't forget to taste the Petha (popular sweet dish of Agra).
Nainital: Harmonize amid the nature
Want to wake up to the melodious tune of birds chirping? Want to witness lofty mountains, scenic lakes as you wake up? Then, head towards the paradisiacal town, Nainital. The town will give you a taste of living in heaven. Thus, Nainital is a go-to place for all nature lovers.
If you are searching for the best places to visit in December with family then, Nainital will not disappoint you. Go on a boating ride and watch over the view of sunset and sunrise. Furthermore, the dense forests and rich flora and fauna, followed by majestic views is an immersive experience.
Forget about the life drenched with a monotonous routine and head towards the best places to visit in North India for Christmas vacations. These soulful places with their majestic appeal will drain out all your worries.
---
---
STAFF'S PICKS &
Related Posts