Jungle Adventure with Wildlife Tours in India
Posted On September 15th, 2021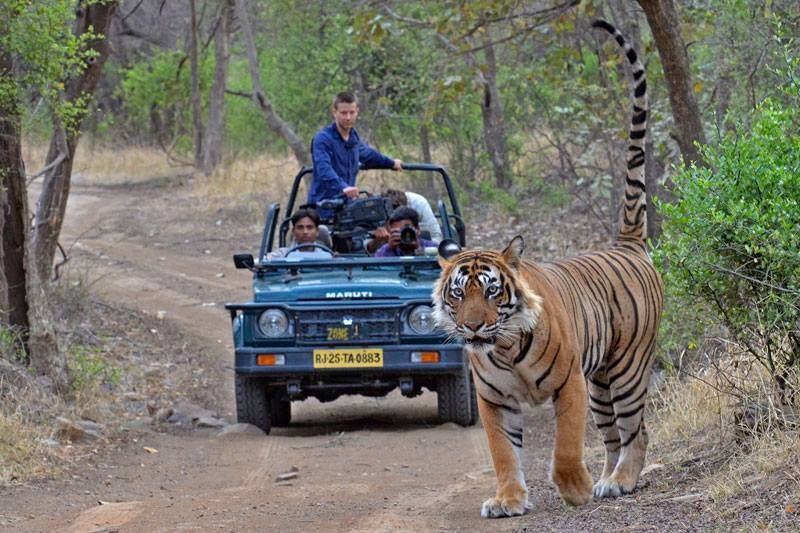 Jungle Adventure with Wildlife Tours in India
Discover what's residing in the jungles of India with the best wildlife tours in India. Witness the lurks of the ferocious tiger, waiting patiently for its prey behind the thick bamboo bushes. The best wildlife tours of India offer an unimaginable experience of witnessing a wide range of wildlife.
A wildlife tour in India offers ample opportunity to encounter some of the wildlife creatures crashing through the grass. You get to witness a thrilling moment of a lion on the hunt, a majestic tiger roaring in the jungle, and whatnot. Wildlife safari in India is nothing less than its African counterpart; it gives you a lifetime of experience. It's a privilege to see nature's inhabitants in their natural habitat, displaying raw emotions. If you have ever nurtured a desire to explore wildlife in India, this blog is for you. Here are some of the best jungle safaris in India to be included in a wildlife tour in India.
Ranthambore National Park

Ranthambore National Park is amongst the best places that you should add to your list of wildlife tours in India. This region consists of hilly terrains, plateaus, and meadows. They offer you a perfect chance to witness the beautiful flora as well. Tiger spotting is the prime attraction here. But while you are on a jungle safari in Ranthambore National Park, you may also encounter jackals, fox, leopard, and mongoose. Embarking on a jungle safari to this Ranthambore National Park tiger reserve lets you witness the blue bull antelope, nilgai, chital, and sambar deer. If we talk about the flora of this place, it is also worth the admiration. Beautiful sights like the lakes, rolling hills, crags, and rivulets define the landscape of this national park. If you are planning a wildlife tour in India, you just cannot miss the Ranthambore National Park tiger.
Best Time to Visit: October to June
Jim Corbett National Park
Corbett National Park is India's first wildlife sanctuary encompassing a total area of approximately 520 square kilometers. Various rare species of mammals, reptiles, and birds comprising a big lake, beautiful hills, plains or grasslands, riverine belts, and marshy land can also be found here. Tourists flock to this national park to witness the tiger in all its majestic beauty. Planning a wildlife tour in India, you must add Corbett National Park to the list. Not just the majestic Tiger; one can also spot other wildlife including barking deer, spotted deer, sambar and chinkara while on a jungle safari in Corbett National Park, Nainital. Crocodiles are also a major attraction in Jim Corbett. But, it's definitely the Royal Bengal Tigers that lure wildlife tours in India.
Best Time to Visit: November to June
Duration: Around 5 hours is needed for a safari ride in Jim Corbett
Jim Corbett safari price: Jeep safari charges for Indians – INR 4500; INR 7500 (for Foreigner travelers); Canter safari charges – INR 1200 (Indians); INR 3000 (Foreigners); Elephant safari charges – INR 3500 (both Indian and Foreigners)
Gir National Park
Gir, in the state of Gujarat, is the land of lions, crocodiles, hyenas, and leopards. Apart from them, you can also spot cobras, boars, nilgais, chitals, owls, eagles, and cats here. And, the vegetation here mainly consists of shrublands. The flora here is incredible in this place. With half the area of the park being covered by teak forest, Khair, amla, and timru, the flora along with the Fauna is also beautiful. Of course, the Asiatic Lions are the lords here ruling the entire area, and they are a spectacular sight. If you are planning a wildlife tour in India, Gir should definitely be there in your list.
Best Time To Visit: December to March
Duration of safari: 3 hours
Safari charges at Gir Wildlife Sanctuary: INR 4300/jeep (Indians); INR 13800/jeep (Foreigners)
Bandhavgarh National Park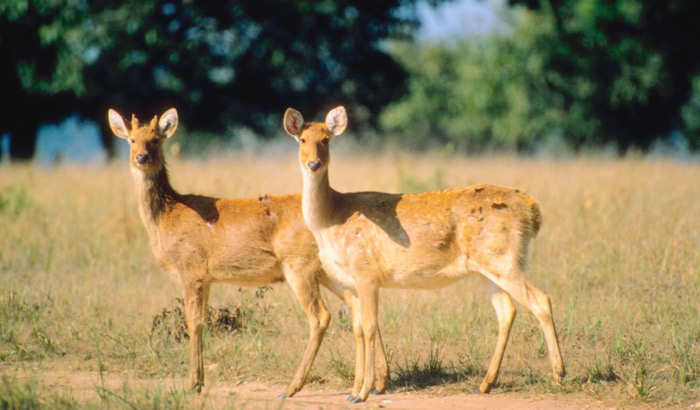 No wildlife tour in India is complete without visiting the Bandhavgarh National Park.  This national park dates back to 2000 yrs, known for its rich flora and fauna, it covers an area of 450 sq. kms. Bandhavgarh National Park is situated in the Umaria district of Madhya Pradesh; known for having the highest density of white tigers. Along with the tigers, there are 250 species of birds and 22 different species of mammals in this park. Tourists come here to witness the fascinating sights of animals like chital, nilgais, Indian bison, chinkara, jackals, and wild boars. The best time to visit this national park is springtime which lasts from January to March. As most packages for wildlife tours in India do include this national park, make sure you do not miss Bandhavgarh National Park in your package.
Best time to visit: October to June
Duration of safari: 3-4 hours
Safari charges in Bandhavgarh National Park: Jeep safari prices – INR 6500/jeep
Wildlife enthusiasts need no reason to plan a wildlife tour in India or book wildlife tours to de-stress or simply get away from a hectic life. Whether you wish to witness the beautiful flora or the majestic Royal Bengal Tigers walk past you, India has very rich and diverse flora and fauna that have always drawn the attention of nature lovers from around the globe. The best wildlife tour in India packages usually covers all of the above-mentioned national parks. f not, make sure you get them included in your package. Trust us! These national parks promise you the best wildlife tour in India. If you are in the mood for nature trips, Japji Travel is one of the best wildlife tour operators in India.
---
---
STAFF'S PICKS &
Related Posts