Redefining luxury train tours of India
Posted On August 12th, 2023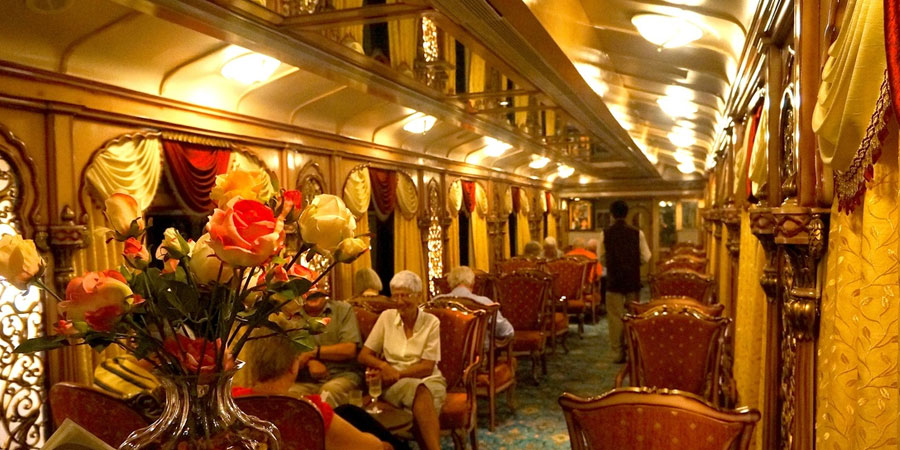 Luxury travel has no bounded definition. The tour across the luxury voyage of Indian heritage and culture on the best luxury coaches are definitely one of the best holiday experience one can expect. Enjoy true Indian royalty and hospitality on the below-mentioned trains and tick this one thing off your bucket list. What could be more exciting than discovering the wonders of our amazing country by indulging in its ancient heritage and lavishness on a train?

The coolest way to discover India is by taking a train ride. They're like the country's busy heartbeats, connecting places. And now, they're even fancier and made super special for the fanciest people and visitors from all over the world. Furthermore, these special trains are like a mix of amazing food, fancy train cars, and a super fancy feeling all around. It's like a super-duper adventure on tracks!
Palace on Wheels:

The most famous luxury train in India, Palace on Wheels was introduced in 1984. Equipped with world-class amenities, it has fourteen fully air-conditioned cabins, two restaurants cum kitchen cars, four service cars, and a single bar cum lounge. Additionally, all the 14 cabins of the train are inter-connected and decorated in ethnic Rajasthani style giving it a majestic appeal. It's en route to Rajasthan- Jaipur, Chittorgarh, Udaipur, Jaisalmer, Jodhpur, Bharatpur, and Agra and takes a week-long journey course. It has been rated as one of the best ten luxurious rail journeys in the world.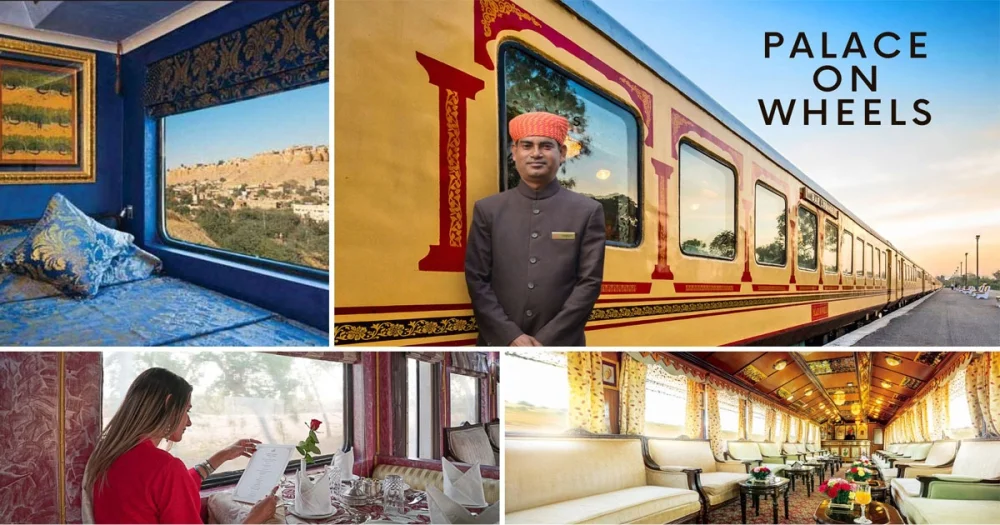 How much does it cost?
The ticket price for entry ranges between INR3.5 lakh to INR5.5 lakh. However, children below 5 years old can enter for free.
Inclusions:
• Firstly, it starts in New Delhi. The Palace on Wheels train takes you on an 8-day thrilling trip across India's famous Golden Triangle, ending back in Delhi.
• Get ready for the journey. Once you complete check-in and meet your porters, enjoy a warm welcome with music and a snack before the train departs.
• Similarly, at each stop the colourful greetings await. The local guides will show you around. Explore places like the pink city of Jaipur, Ranthambore National Park for a tiger safari, Chittorgarh with its historic fort, Udaipur's beautiful lakes, lively Jaisalmer, and impressive Jodhpur.
• The journey culminates in Agra, home of the iconic Taj Mahal, an unforgettable sight.
• Lastly, it takes care of sightseeing expenses, including entrance fees to various parks, and palaces.
Maharaja Express Train

The best-ranked luxury train tours in India are on Maharaja Express Train which operates on five different journeys. Owned and operated by Indian railways, the Royal Indian Trains take care of its booking and marketing services. With a total of 14 guest cabins, it is divided into four categories as Presidential Suites, Suites, Junior Suites, and Deluxe Cabins.

The interior of the train is elegantly decorated with wall-to-wall carpeting, upholstery, rich panelling, semi-precious stones, and antiques. International standards technological gizmos like LCD TV, Direct Dial Telephone, electronic safety deposit, etc. are equipped the room. 7 Nights Heritage of India Journey, 7 Nights Indian Splendour Journey, 7 Nights Indian Panorama Journey, 3 Nights Treasures of India Journey, and 3 Nights Gems of India Journey are its program schedules.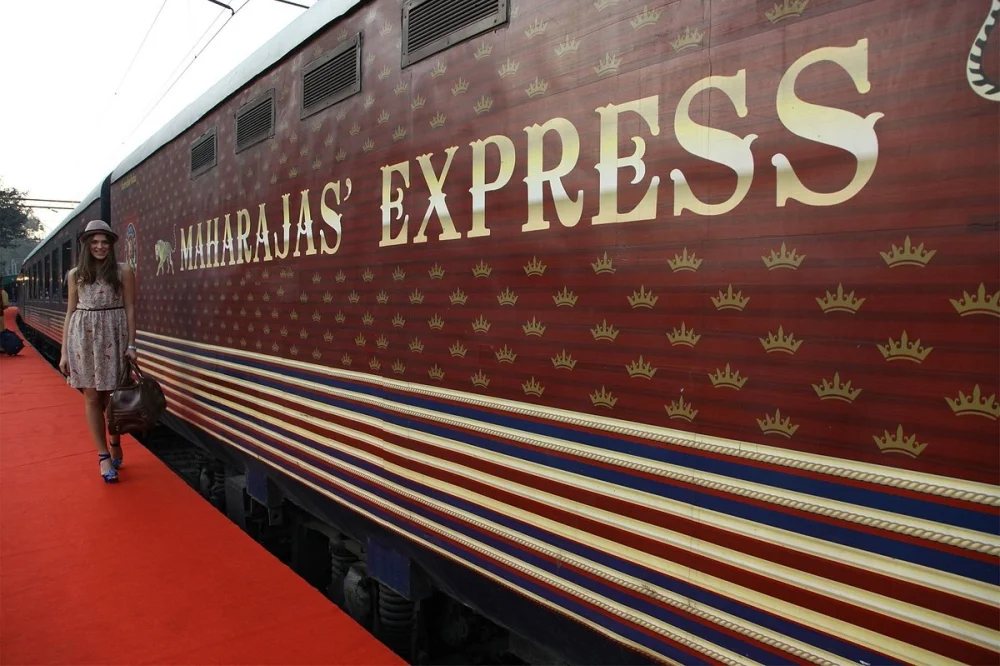 How much does it cost?
Setting off on a long journey that spans around 2780 km, the cost ranges from Rs. 4.80 lac to Rs. 7.80 lac. That's a whopping amount! Isn't it? But we assure you that it is totally worth experiencing such a luxurious trip.
Even though it might sound like a lot of money, this journey is sure to be incredibly special. In fact, I'd go so far as to suggest that traveling on a luxury train is a wonderful option if you're feeling a bit unsure about exploring India on your own. It's like a comfortable and exciting introduction to the country. It is surely redefining luxury train tours of India.
Inclusions:

• On the amazing Maharajas Express train, you get comfy cabins with your own bathroom. Meals are included, and there are nice butlers to help you. You can have unlimited yummy drinks and liquor too. Moreover, the porters carry your things to stations. You also get free tea, coffee, and water.
• Eating on the train is like a big, fancy party! They have two special dining rooms, the Mayur Mahal and the Rang Mahal. The Mayur Mahal is a bit more relaxed and perfect for making new friends.
• While the train goes choo-choo on the tracks, you can watch TV or enjoy the view outside. But if you want quiet reading or napping, earplugs are your superhero. The windows are huge, like big picture frames for looking at the world. Just remember, the train moves even if you're not inside.
• You can pick different cabins for your privacy, but there are also places to play with new friends, like the dining car, the bar, and the souvenir shop. You'll have so much fun talking and sharing stories while you enjoy the train ride.
Royal Rajasthan on Wheels
Experience the contemporary royal style on Royal Rajasthan on Wheels! If Palace on Wheels is traditional for you, get this new feel on the upgraded version of the same at Royal Rajasthan on Wheels. 13 out of the total 14 passenger coaches have three Deluxe Saloons on each coach while the last one has 2 Super Deluxe Saloons. All the saloons are designed with different colour themes and styles. It offers the best of ethnic Rajasthani, Indian, Continental, and Chinese cuisines. It includes a seven-day exploration of the vibrant Rajasthan including the tour of Khajuraho temples, Varanasi with two heritage monuments Taj Mahal & Agra Fort.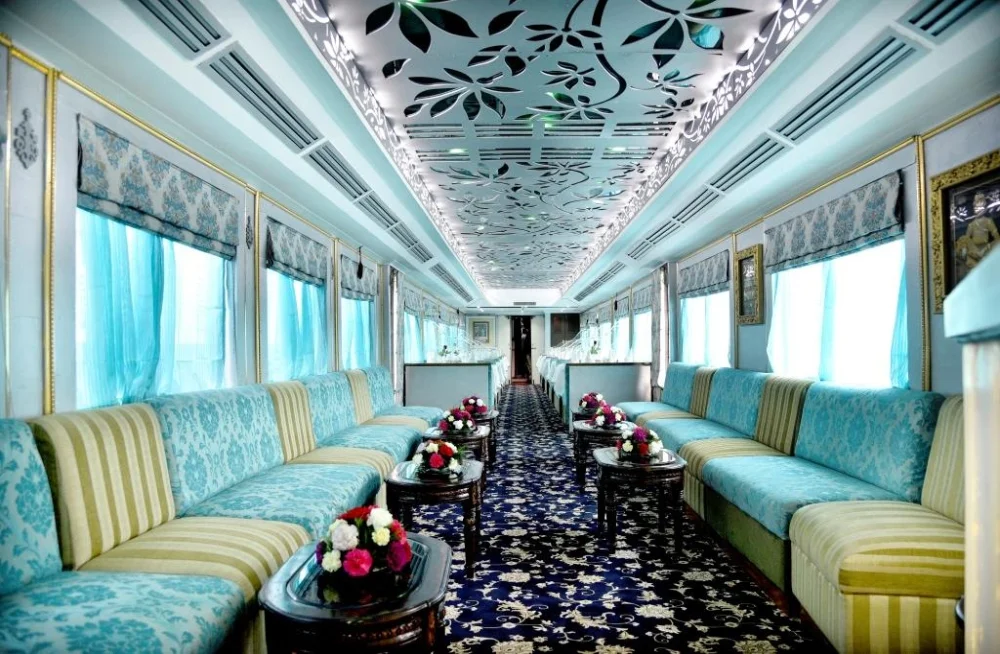 How much does it cost?
It might add up to around INR350000.
Inclusions:

• During the adventure on the train, the Indian hospitality is truly heartwarming. The warm welcome and amazing services make the whole journey feel like royalty.
• This luxury train has 13 fancy coaches, all named after famous palaces in Rajasthan. Also, you can not smoke inside the train. Strictly not allowed!
• To keep you comfy, there are super deluxe rooms with their own temperature control. And if you want to go around, there are air-conditioned buses too. You can listen to music and even make announcements on the train.
• Moreover, you won't get bored because there are lots of books and games to play. Oh, and there's laundry service too! And each room has a safe for your special things.
• For fun, there's TV and the Internet. And guess what? There's a gym and a special spa too! The cabins have the biggest windows, so you can see everything outside.

In contrast, the restaurants have authentic and tasty food like those from Rajasthan. You can buy cool things like handicrafts as gifts. And don't worry, the train takes good care of you and your stuff to keep you safe and happy on your journey. Moreover, it even covers the cost of sightseeing and entrance fees to monuments, parks, and palaces.
Note: You'll need to pay a bit more with a 5% Government GST. Also, there's an extra charge of INR1100 for Commercial Tax per person. And if you're traveling during New Year's, there's a 10% surcharge on top of the regular cost. If you cancel within 30 days of departure, there will be no refund of the ticket value.
Conclusion: Redefining luxury train tours of India
To summarize, imagine this entering a magical world where you can feel like a king. If only for a little bit. These special trains are the result of a special partnership between the government of Rajasthan and Indian Railways. Their luxury is not like any regular trains in India, it's way more special. Moreover, just step onto one. Do you want to experience pure luxury with comfort? If your answer is yes, then travel at least once. It will turn your journey into something you'll never forget. Whether you're looking at beautiful views outside or enjoying all the fancy things inside, this train adventure is absolutely unique. And that's not all – there's even more to discover along the way. So, did you plan your trip?
---
---
STAFF'S PICKS &
Related Posts