Most Famous Monuments and Landmarks In London
Posted On August 11th, 2023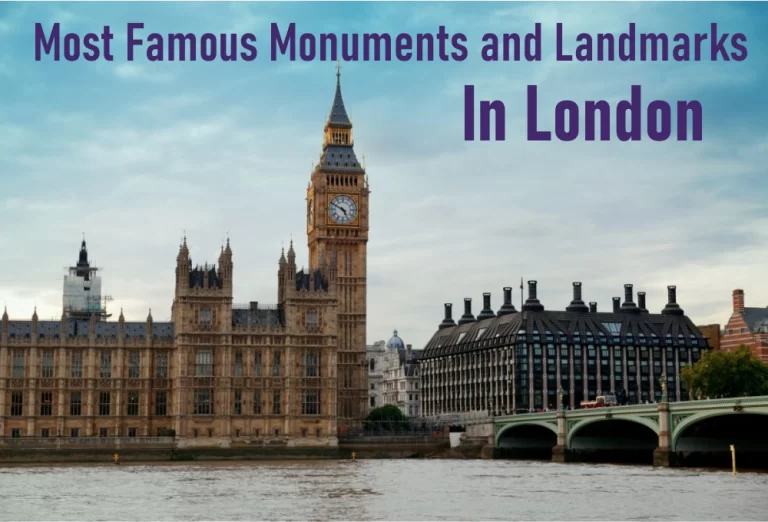 London, a beloved destination for people worldwide, stands as one of the most frequently visited cities on Earth. Boasting world-renowned tourist attractions, architectural marvels, and the illustrious British royal family, it captures the hearts of countless travellers. Over its extensive history of thousands of years, the London skyline has been adorned with an array of distinct landmarks and structures that embody the city's essence.

As you explore this wonderful city, you'll find plenty of exciting and interesting places to see. From tall buildings to beautiful palaces and even a royal family, London has something for everyone! Moreover, its rich history and unique landmarks make it an exceptional place to visit. London is a gigantic and thrilling city filled with countless fun things to do! You can explore museums, royal palaces, beautiful parks, and historic sites. Moreover, there are amazing theatres with fantastic shows to watch! So, get ready for an exciting adventure in London!
Thus, when you come to London, get ready to be amazed and have lots of fun! In this article, we will tell you about the Most Famous Monuments and Landmarks In London. So, let's begin!
1) Buckingham Palace:
Located in the heart of London, the crown jewel of the British estate warmly welcomes visitors during the summer months. The exciting part is that there's always something happening at the Palace! Serving as the official residence of the British Royal Family, it offers you the chance to pay a visit. However, planning ahead is essential, as it can be a bit challenging to arrange.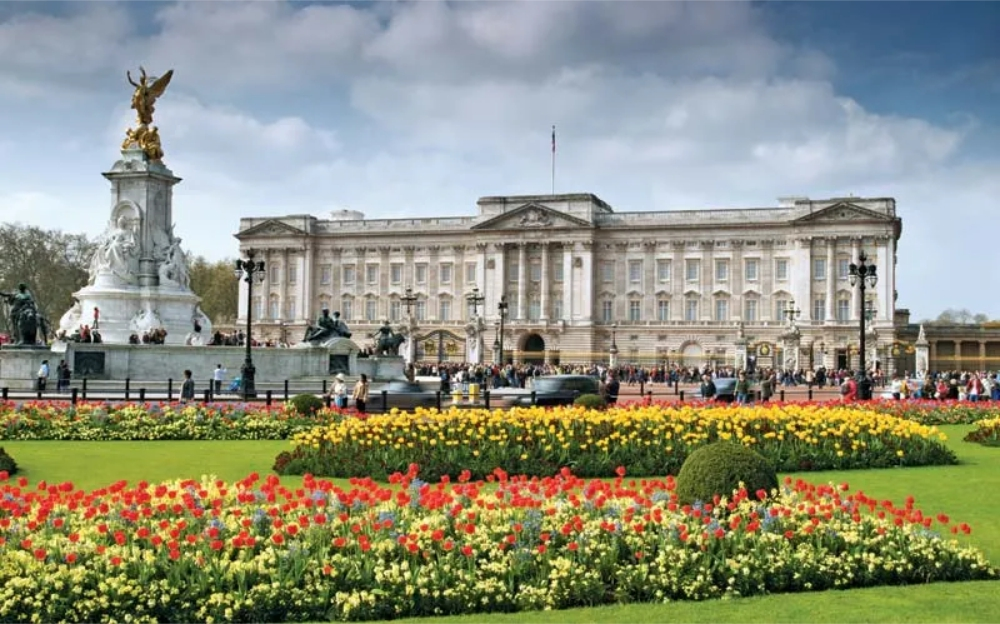 • First, you will visit the Grand Staircase, which looks like something from a fairy tale with its gold decorations and red accents.
• Then, check out the White Drawing Room, where lots of important things happen during special events. It's decorated in beautiful white and gold colours.
• Next, you will see the Throne Room, where special thrones are kept for important people like Queen Elizabeth II.
• After that, you must go to the huge Ballroom, where big parties and banquets are held. There are even special thrones from a long time ago!
• And you can't miss the gigantic Gardens with so many trees, flowers, and even a lake!
Cost and timings:
It may cost you from INR1700 to INR3500 for a tour of the palace. During the summer months, the Palace welcomes the public for visits.
2) Tower Bridge:
In London's east end, right next to the Tower of London, you'll find the extraordinary Tower Bridge. This iconic bridge is often mistaken for the famous London Bridge. It's important to know that the Tower Bridge is truly something special! Standing tall at 213 feet and stretching 800 feet in length, this bridge is a sight to behold. With its two intricately gothic-looking towers, it leaves a lasting impression on anyone who sees it. Moreover, the reason for building this marvellous bridge was that the city's population was growing rapidly, and they needed more bridges to accommodate everyone.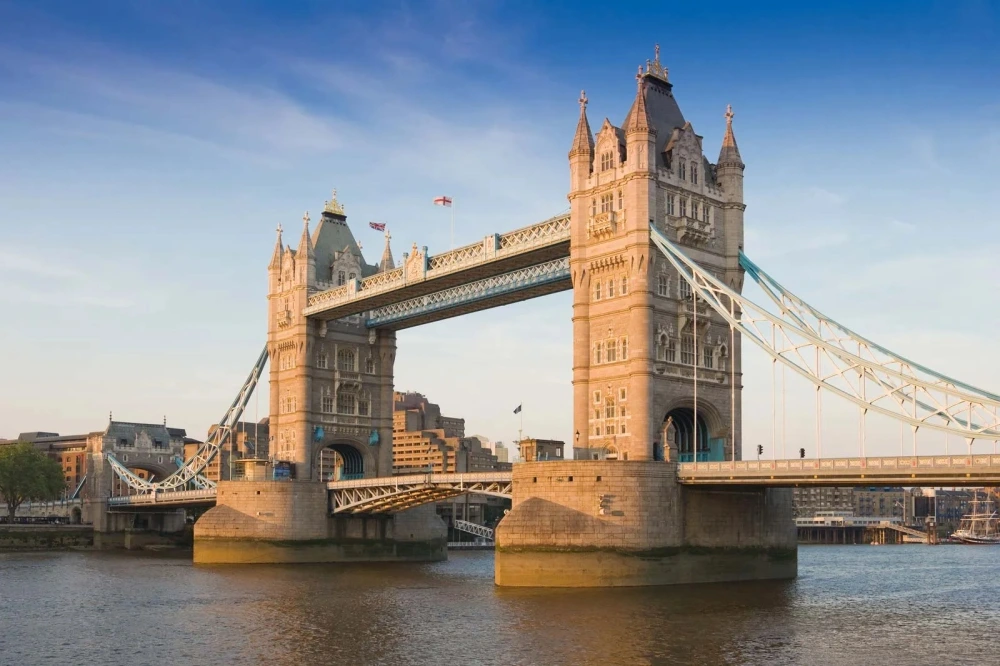 As a result, the Tower Bridge was thoughtfully designed to fit in seamlessly with the historic city and its neighbouring bridges. It was created to look much older than it actually is, which adds to its charm. So, if you ever get the chance to visit London, don't forget to see the amazing Tower Bridge, and remember, it's not London Bridge, but it's equally as incredible!
Cost and timings:
• You can conveniently buy Tower Bridge tickets online for a specific date and time. Moreover, adult tickets cost up to INR1100, and for children aged 5-15, they are priced at up to INR550.
• Notably, kids under 5 can enter for free, making it a family-friendly attraction. To ensure a smooth visit, be sure to be on time for your scheduled entry, and don't forget to check the official website for accurate prices and operating hours.
• Tower Bridge opens its gates daily from 9:30 AM to 6 PM. The last entry allowed until 5 PM. So, seize this opportunity and don't miss the chance to explore this iconic landmark!
3) Trafalgar Square:
Hey, have you heard about Trafalgar Square in London? It's a super cool place that people love to visit! You'll find amazing things there, like Nelson's Column, a tall monument honouring a brave sailor. Plus, don't miss the awesome stone lion statues! When you explore the square, you might even see street performers and cool artwork, making it even more exciting! It is one of the Most Famous Monuments and Landmarks In London.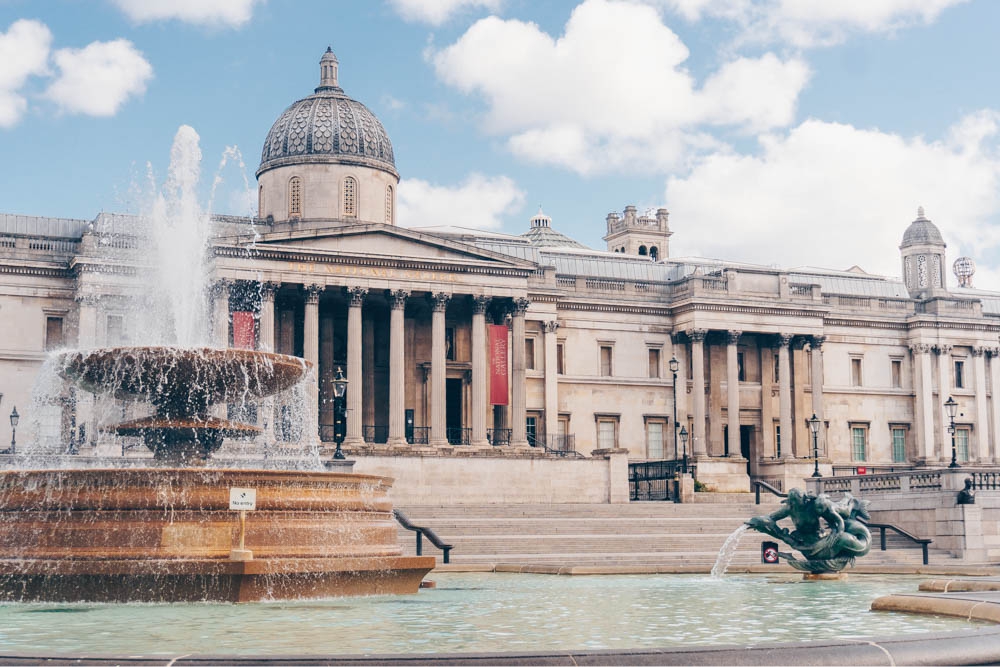 Cost and timings: It is open 24/7 and free for the public.
4) The London Eye:
The Eye is a super cool sight in London! It's really tall and lets you see amazing views of the city. Did you know it used to be the tallest Ferris wheel in the world? Known for the tallest cantilevered wheel! There are 32 capsules on the Eye, each one representing a different part of London. And guess what? The wheel moves so slowly that you can hop on and off without it stopping! When you reach Charing Cross, you'll see the Eye in all its glory. It's a fantastic attraction that you won't want to miss, offering you the best views ever!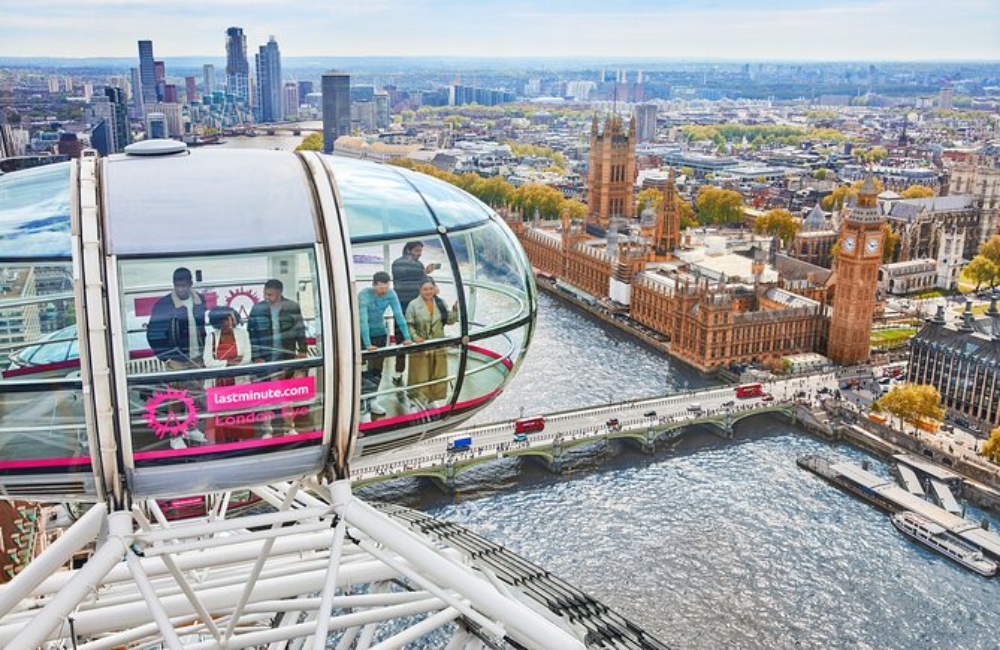 Cost and timings:
It's a smart idea to book your tickets online before you go, so you don't have to wait in long lines. Plus, you'll get a special 10% discount for booking online. The standard ticket costs INR3500 if you buy it online, and if you want to enter faster without waiting, you can choose the fast-track ticket for INR4500. So, be sure to plan ahead and enjoy your visit to the fullest!
5) The Shard:
The Shard is an incredible and modern pyramid-shaped skyscraper. Inside, you'll find restaurants, a hotel, offices, shops, and a viewing gallery. The Shard is the tallest building in Western Europe.
• From the top of The Shard, you'll get breathtaking 360-degree views of central London.
• When it is not cloudy, you can see clearly up to 50 miles away! It's truly beautiful!
• Whether it's daytime or evening, the views are fantastic and will leave you in awe!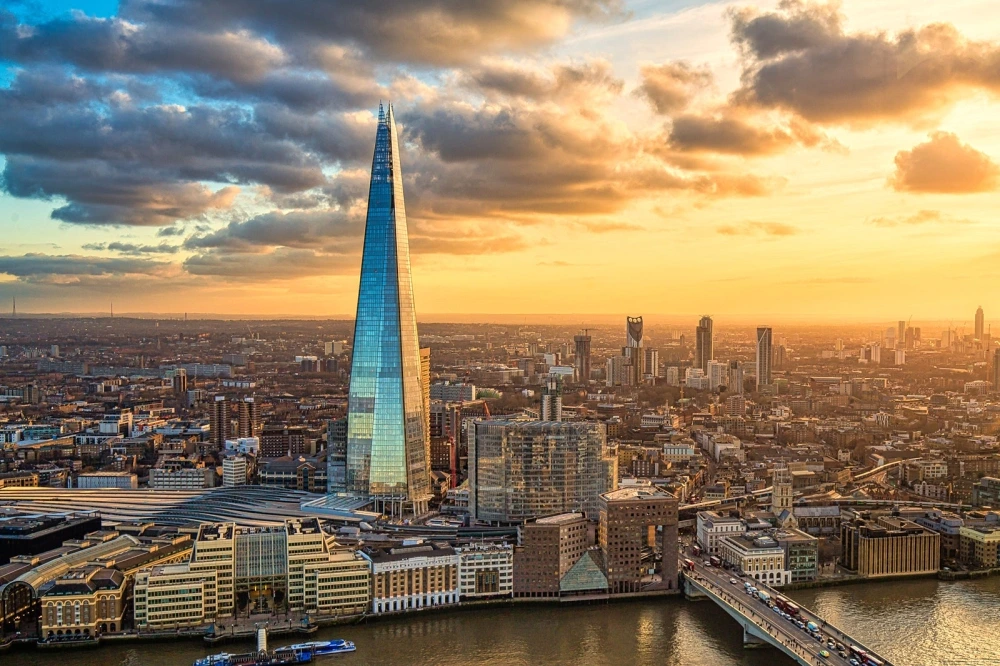 Cost and timings:
The price starts from INR3500 to INR6000 depending on the package you choose. But we would suggest you buy the tickets online. Who would want to stand in line and pay more? We are sure, nobody.
Additionally, the timings for visitors are different in the week. During the start of the week from Sunday to Wednesday you can visit between 10 am to 10 pm. However, from Thursday to Saturday it is open from 10 am to 7 pm

We haven't mentioned all the Most Famous Monuments and Landmarks In London. You can't skip these places and check out:
First of all, you definitely shouldn't miss The O2 Arena, where they have awesome concerts and events.
Next, did you know that Kensington Palace has a special connection to Queen Victoria, even though she didn't live there as queen?
You must check out the Royal Albert Hall. It is dedicated to the queen's husband. And of course, you can't forget about Big Ben and the Houses of Parliament – they're super famous symbols of London!
You should definitely visit the Palace of Westminster! It's where the politicians in the UK make decisions.
Lastly, if you love castles and history, then explore the Windsor Castle. It's the oldest and biggest castle that people still live in! Isn't that cool?
Conclusion:
This list of all the Most Famous Monuments and Landmarks In London is just the beginning! There are so many other fantastic places to explore in the city. Just a little heads up, be ready to walk a lot as you'll be using the tubes, which also involve some walking. London is full of stories about famous and not-so-famous people. You'll see those iconic red double-decker buses everywhere. The whole city has this cool vintage vibe from the 70s, and we absolutely love it. If you've been to London before, we'd love to know which places were your favourites!
---
---
STAFF'S PICKS &
Related Posts