Outstanding Memorable Destinations To Visit In Bikaner
Posted On March 2nd, 2022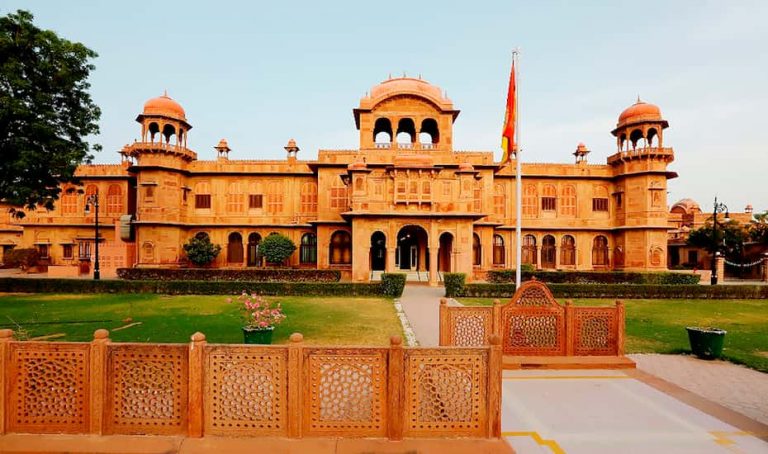 This blooming city encapsulates what paradise is. Bikaner will astonish you with alluring destinations and cultural heritage. You can't believe your eyes once you step in here. The colourful atmosphere, historic forts, the desert are the features that define Bikaner's charm.
Moreover, you can feel the religious vibe in the ancient temples and royal atmosphere in the Havelis. Furthermore, the delicious sweet dish and decadent cuisines will make you forget about everything else. Follow the below guide and explore the spectacular places to visit in Bikaner. 
Best destinations of incredible Bikaner
Feel the vibe of ancient times with a hint of modernity in Bikaner. Want to know more about it. Read on!
Lalgarh Palace
One of the best tourist places to visit in Bikaner is Lalgarh Palace. Exclusively alluring with the red sandstone architecture, you won't be able to take your eyes out of it. 
You can also book your stay at the hotel here. You will be surprised to experience the royal feel in today's era. The perfectly manicured gardens, lavish corridors is a treat to your holidays. Experience the luxury of an amalgamation of Rajput, European and Mughal architecture at this stunning palace. 
Karni Mata Temple
A holy place with a sacred environment is the "Karni Mata Temple". The marble facade and the perfect carvings add a beautiful feature to the temple. You can find many rats inside the temple, and they hold a strong reverence here.
Along with the deity, even the rats are worshipped, and if you spot a white rat among black rats, you are very fortunate. So, you can add this temple to the list of nearby places to visit in Bikaner.
Rampuria Haveli
Want to experience superior architecture splendour? Then, visit Rampuria Haveli. Just a mere sight of this haveli will transport you to a world of the ancient era. This haveli is a visual treat constructed by olden days merchants.
It showcases what exactly is beautiful architecture. The intricate carvings and the small windows of the haveli are very enticing. Visit Rampuria Haveli and let your eyes see a marvellous wonder. If you are on a short visit to Bikaner, you can add this place to your list of places to visit in Bikaner in 2 days.
Junagarh Fort
Junagarh Fort is one of the magnificent places to visit in Bikaner. The fort maintains the fusion architecture of two different styles. There are also palace and temples inside. Sounds great, right?
Moreover, the garden, galleries, windows and royal balcony is the charm of the fort. It is a must-visit to witness the outstanding architecture and to feel the serenity around.
MG Road
Want to spend your time shopping in Bikaner? Then, all you need to do is head towards MG Road. The exclusive Rajasthani items and handmade work are worth admiring. It is also a great place to shop for traditional clothes.
You will find the best collection of sarees and ethnic wear here. Also, a good place to buy souvenirs. Moreover, don't miss out on checking leather and wooden items. MG Road is also a great place to hog Bikaner famous food. So, enjoy a good time shopping and gorging on delicious food.
"Gajner Wildlife Sanctuary"
One of the best places to fall in love with nature and to witness different species of birds and animals. You can spot rare animals such as blackbuck here.
You can also book a safari to get an up-close look at the birds and animals here. The chirping birds, strolling animals, flora and fauna are perfect to relish a good time in Bikaner.
Sursagar Lake
Sursagar Lake is among the best places to visit in Bikaner at night. The colourful fountain and the night show is mesmerizing sight to watch. If you are travelling with kids, Sursagar Lake will keep them entertained.
Moreover, it is a great place to visit in the evening to enjoy the sunset. You can go boating and feel the tranquillity around.
"Shiv Bari Temple"
If you are searching for tourist places to visit in Bikaner that is divine, then you can't miss "Shiv Bari Temple". As the name suggests, Lord Shiva is worshipped with utmost purity here.
The temple location is very serene, and the architecture is very alluring. Visit the temple to gain the blessing of Lord Shiva.
"Bikaji Ki Tekri"
Another historic fort from Bikaner is "Bikaji Ki Tekri". The entry is free, and you can visit anytime between 11 am to 5 pm. An overall two to three hours is required to explore the fort.
You can know the place better with the help of a guide. However, the interconnected rooms are the highlighting feature of this fort. It may confuse the visitors, thus a guide can help you.
Plan a trip to Bikaner and beat the boredom days. The enticing places to visit in Bikaner is a relief to your mind and soul. Visit Bikaner and rejuvenate your mind.
---
---
STAFF'S PICKS &
Related Posts