North India oozes out pleasant vibes with heart-stirring holiday places. The lively atmosphere, colossal mountains, verdant valleys, rolling hills, spiritual places, holy rivers, and slushy snow define North India. You can experience the gigantic popularity and beauty of North India as soon as you step here.
So if you are experiencing groundhog day, then splurging on a North India tour is worth the time and money. Confused about places in North India to visit? We are here to help you plan your ideal vacation in North India.
4 best places to visit in North India to recharge your dull energy
The mosaic landscapes, pristine lakes, and clear skies make North India the favorite destination of travelers. However, the list of places to visit here is unlimited. So, to pamper you with the diverse beauty of North India, we have a special listicle for you. Bookmark these places to pump your senses!
Swing along with the luminous beauty of Kasauli, Himachal Pradesh
Want to take the perks of a cozy vacation? Well, then you need to dust your travel bag and head to Kasauli. It is among the romantic places in North India for a honeymoon. Moreover, it is a popular weekend getaway to sail away from the work blues and hectic lifestyle. Kasauli is also a loved destination to spend summer vacations. So, overall this little hill station can hypnotize you with its beauty and forget all other worries of life.
It is the charm of Himachal Pradesh inviting travelers all over the globe. And if your love for adventure is crazy then this place will tempt you. The famous places for tourists to visit here are Gilbert Trail, Sunset Point, Mall Road, Monkey Point, "Gurudwara Shri Guru Nanak Ji", Christ Church and Kasauli Brewery. Plan a vacation to Kasauli and witness its beauty while trying your favourite engrossing adventure activity.
Start a romantic beginning at Agra Taj Mahal, UP
The first thing that pops up in everybody's mind when discussing Agra is the Taj Mahal. Are you too visiting Agra? If yes, then you can't miss out Taj Mahal from your itinerary. It's a sign of love, thus you will see many newlywed couples visiting this abode of love.
It has much historical folklore connected with it that will hook the travelers. Apart from being the love significance and famous for folklore stories, the beauty of the Taj Mahal is a celebration to your eyes. It is one of the mesmerizing places in North India to travel.
Perched on the banks of the sacred Yamuna River with white marble covering of Taj Mahal is a pleasure to watch under the half moonlight. You can witness the immense love of the Mughal Empire for his wife in the form of this monument. So, why not cherish your journey of love by visiting the Taj Mahal?
Sign in to the tranquillity abode of Srinagar, Jammu and Kashmir
Haven't visited Srinagar yet? Well, then you are missing that special treat of heavenly beauty. If you are in search of dreamy places in North India to visit, then Kashmir will never disappoint you. This is the best place to start a romantic journey in your life. Moreover, it is also a place for family people and solo travelers.
A trip to Kashmir will always be a memory to cherish. Enthralling panoramic views, flora and fauna, dangles of red apples, juicy peaches, Chinar trees, and mountains covered with snowfall will welcome you to the abode of serenity.
Places of tourist attraction here are Dal Lake, Pari Mahal, Tulip Garden, Sonmarg, Badamwari Garden, Mughal gardens, Doodhpathri, and Gulmarg. While traveling to different places is a sheer joy here, you should also not miss some of the traditional Kashmiri gastronomy. Relish your tastebuds by trying Dum aloo, Harissa, Shab Daig, Rogan Josh, Matschgand, and Yakhni.
Explore the urbanscape with Delhi City tour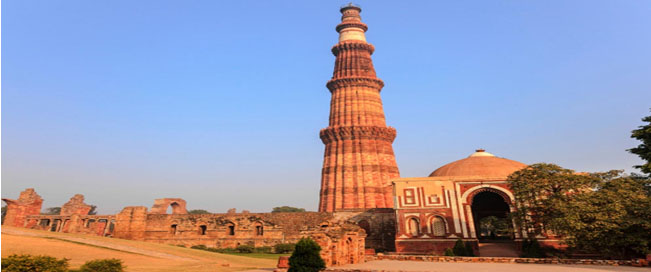 A place full of history, happening lifestyle, tradition, and culture in Delhi City. The city will surprise you with its UNESCO World Heritage sites, historical attractions, mouth-watering street food, and shopping experience. Delhi is well connected with other states in North India. Thus, honeymoon couples can explore places in North India for honeymoon while on a trip to Delhi.
For party lovers, there are many clubs to dance the night off.  People from other cities of North India visit Delhi to have a peppy time here. With its buzzing nightlife and enthralling energy, there are many tourist places here. Some of the places you should visit on your Delhi trip are as follows: India Gate, Hauz Khas, Humanyun's Tomb, Red Fort, Jantar Mantar, Akshardham Temple, Connaught Place, "Paranthe Wali Gali", Lajpat Market, and the list goes on.
While there is no dearth of places in North India to visit. Pick your favorite destination and bag yourself with the enigmatic beauty of North India.