Exploring the beauty and holiness of Varanasi
Posted On September 25th, 2023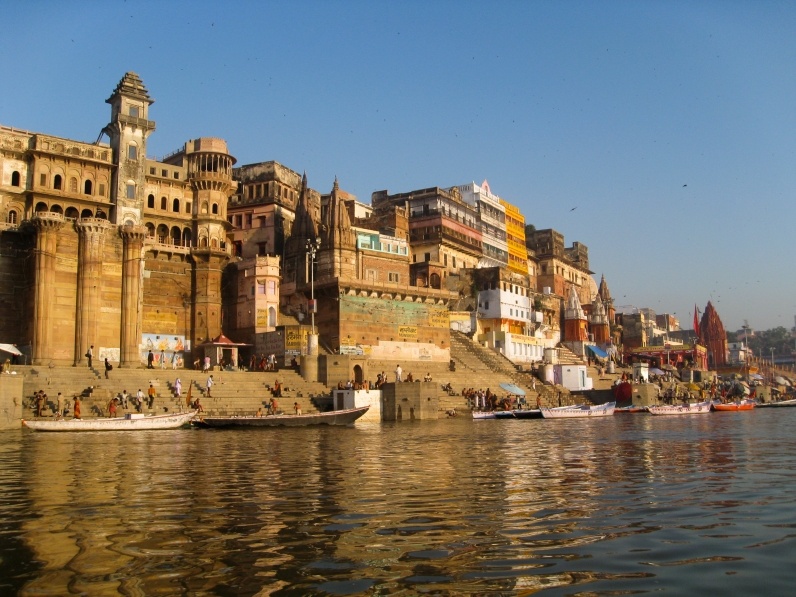 Choice and preference vary from one person to that of the other and it remains the same when it comes to choosing the traveling place. Some like adventure places, some like picturesque places, and there are many who like to visit holy places. One of the popular holy places of India is Varanasi. Let's take a look at the places of visit that visit when you are in Varanasi for a holy visit.

It's about experiencing a unique energy that surrounds you. It's like having enlightening conversations with wise sages who have dedicated their lives to understanding spiritual mysteries in a place filled with Varanasi holy places.

Exploring the holiness of the river Ganges
The most important river of India, The Ganges manages to get an identity equal to god in every Indian house and offers a panoramic view to the people here in Varanasi. It is believed that all curse of life gets erased when you take a dip in the holy water of the Ganges. Riding the boat at the time of sunrise and sunset will surely give you spectacular views. Don't miss the chance to view the Sandhya Aarti on the Ghats of Ganga which take place between 6-8 pm. Trust us, the view will be an amazing one for you.
Exploring the beauty and holiness of Varanasi is worth it. People come from all over to take a bath in the river because they believe it makes them feel better inside and helps their spirits.
One of the best things to do in Varanasi is to go for a boat ride in the Ganges early in the morning. You can see the sun coming up, and it's really pretty. The best time to see the sunrise is between 5:30 and 7:30 in the morning.
Also, a lot of people take a swim in the Ganges because they think it helps them become free from being born and dying again which means Moksha. It's a holy place for them.

Know Lord Buddha by visiting Sarnath
This place is located at a distance of 10 km from Varanasi. This place is famous because it is where Buddha made the very first sermon of his after getting enlightenment at Bodh Gaya. Emperor Ashoka, being a passionate follower of the religion of Buddhism constructed a Stupa here during the period of 234 BC. The tallest ever statue of Lord Buddha can be found here in Sarnath.

Places to visit in Varanasi are abundant, and one of the holy places of Varanasi that should be on your list is Dhamek Stupa. Moreover, this remarkable structure is surrounded by peaceful grounds and holds a rich history. In this peaceful setting, you'll find the remains of an ancient monastery where more than a thousand Buddhist monks once lived.

Exploring the beauty and holiness of Varanasi is a wonderful journey. People from around the world visit Sarnath. It is famous for the Ashoka pillar, which is our country's symbol. It's also a spot for Jains to visit.

Learning the history of Ramnagar Fort
The fort was earlier the residence of the king of Varanasi. Then King of Banaras took the initiative to build this fort during the period of 1750 AD. The fort was made of Red stone and is considered an astronomical wonder of India. There is a huge clock in this fort which displays the day, week, month, year, and several other details related to the astronomy of space objects. You can learn more about the history of the fort and its residence by visiting the museum located inside the fort itself.

This particular fort is a treasure trove of stories and history about the fort and the people who once called it home. You'll find ancient objects like tools, and other mysterious items that hold secrets from a time long ago. This is one of the most delightful and divine experiences exploring the beauty and holiness of Varanasi. You can visit from 10.00 am to 5.00 pm

Chunar Fort- another historical fort of Banaras
This fort is located right on the banks of the river Ganges and located at a distance of 40 km from Varanasi. It covers an area of 34000 square feet and is known for its rich ancient times. Ujjain King Vikramaditya constructed this fort for his brother Bharthari. It acted as a significant post during the war between Humayun and Sher Shah. East India Company was the last one to have control of this fort.

Places to visit in Varanasi are fantastic, and one of the famous places in Varanasi is this fort. What makes it even more exciting is its incredible history. Ruled by different kings at different times.

This beautiful place in Varanasi, the fort, is open from 9 a.m. to 5 p.m. But remember, you can't enter after 2 pm, and you must leave by 5 pm. Closed on Friday.


Discover the Beauty of Mulagandha Kuti Vihara:
Exploring the beauty of Varanasi is amazing, and one of the places to visit in Varanasi is this modern Buddhist temple. Built by the Mahabodhi Society and has lots of special things connected to Lord Gautam Buddha. These things are like treasures, and many tourists, who love holy places in Varanasi, come to see them because they're really interesting.

Mulagandha Kuti Vihar is a modern Buddhist place in Sarnath. It's not too far, just 1.2 km from Dhamek Stupa, 1.6 km from Sarnath Railway Station, and 9.5 km from Varanasi Junction.

You can find this temple complex among the best places to visit in Varanasi, and it has something very unique. Moreover, it contains a Bodhi tree that was transported from Sri Lanka, as a sapling. According to legend, this tree is related to the exact tree where Lord Buddha attained enlightenment at Bodh Gaya, one of the famous places of Varanasi.

Don't miss the gorgeous gardens around the temple as you explore; they enhance the splendor of this beautiful place in Varanasi. Moreover, buddhist prayer flags are also flying across the temple's grounds.

Exploring the beauty and holiness of Varanasi, here's the highlight. Inside the temple, there's a stunning golden statue of Lord Buddha in the pose of campaigning his first talk. If you're planning to visit, make sure to do so between 4:30 AM to 11 AM and 1:30 PM to 5:30 PM to make the most of your visit.

You can hear monks singing their special teachings and see artwork at this new temple. It's in a pretty garden, and all around, there are old temples and important shrines.

Holy Places in Varanasi
We have a few more recommendations for you below:
Explore the Sheetla Devi Temple: First, visit the Sheetla Devi Temple. You will find out how people worship goddesses here and learn why this temple is important.

Visit the Kashi Vishwanath Temple: After that, we can go to the Kashi Vishwanath Temple. It will feel like we're in a real Hindu holy city.

Discover More Hindu Temples: Check out other Hindu temples like Kashi Karvat, Annapurna Devi, and Sankat Mochan temple. Each one has its own special stories and significance.

Witness Cremations at Manikarnika Ghat: Lastly, for something really unique. You can watch the cremations at Manikarnika Ghat either in the morning or in the evening. It's an experience you won't forget!
Apart from the above four, there are many other places to visit in Varanasi. These cannot be ignored when you are on a holy trip to Varanasi. To seek the blessings of Lord Shiva by offering puja in the famous Sri Kashi Vishwanath Temple. There are some good hotels in this city where you can enjoy good accommodation facilities. So go ahead and book a package to Varanasi to enjoy the Holy atmosphere of this land of Ganga.
Conclusion:
Exploring the beauty and holiness of Varanasi is not just about seeing things; it's about feeling something deep inside. It's like connecting with a wisdom that's been around for a very long time. Additionally, it still inspires people to search for truth and wisdom. Varanasi isn't just a regular place you visit; it's like a journey for your heart and spirit. Therefore, it's an open invitation to discover the mysteries of life and to remember how powerful faith and devotion can be.

Frequently Asked Questions:
1. Are there any guided trips or meditative retreats in Varanasi?
Yes, Varanasi has retreats and guided tours to help you discover its sacredness.
2. Are there stay options close to Varanasi's holy sites?
In Varanasi, there are hotels and guesthouses near holy places. Thus, it's easy for tourists to stay close to the spiritual center of the city.
---
---
STAFF'S PICKS &
Related Posts