Travel Guide New York: Places, Best Time, Activities to Do
Posted On September 27th, 2023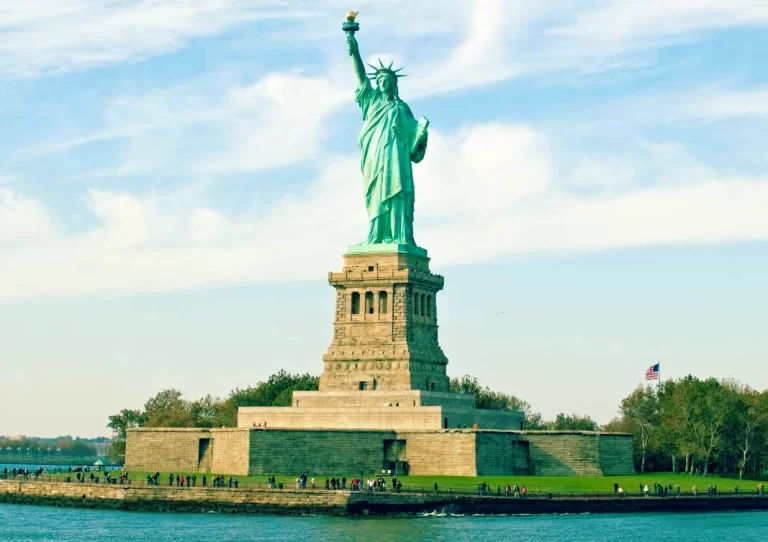 New York, the city that never sleeps, is a mesmerizing metropolis that beckons travelers from every corner of the globe. Its towering skyscrapers, bustling streets, and diverse culture make it a destination like no other. In this comprehensive travel guide, we will take you on a journey through the heart of the Big Apple, exploring its history, places to see in New York, the best time to visit, New York activities to do, top shopping and food sites, best places to stay in New York, and some hidden gems that will make your trip truly unforgettable.
Know these Amazing Facts about New York
New York, often referred to as the Empire State is one of the most iconic states in the United States of America. Nestled in the northeastern region of the country, it is renowned for its significant role in shaping the nation's history, culture, and economy. But what truly makes New York stand out is the city that shares its name: New York City.
Why New York and its History?
New York City, commonly known as NYC, is a microcosm of the world. It's where dreams come true and home to countless stories of ambition, resilience, and success. The city's history is a captivating tale of immigrants arriving at Ellis Island, seeking a better life and contributing to the rich tapestry of American culture.
In the early 17th century, Dutch explorers laid the foundation for what would become New Amsterdam, eventually renamed New York City when the English took control in 1664. From then on, it grew rapidly, becoming a trade, finance, and culture hub. New York has a lot to offer; let's know the places to see in New York.
Must-Visit Places in New York for a Memorable Holiday
New York City is a treasure trove of iconic landmarks and hidden gems, each offering a unique experience. Whether you're a history buff, an art enthusiast, a nature lover, or a foodie, the city has something for everyone. Let's delve deeper into the places to go in New York that will make your New York holiday truly unforgettable. Know these amazing New York tourist spots right here:
New York Tourist Spots
Statue of Liberty: Standing proudly in the New York Harbor, Lady Liberty is a symbol of freedom and democracy. Visitors can take a ferry to Liberty Island and explore both the statue and the Ellis Island Immigration Museum.
Times Square: Known as the "Crossroads of the World," Times Square is a dazzling display of lights, billboards, and energy. It's a must-visit, especially at night when the area comes alive.
Central Park: Escape the urban jungle and find tranquility in Central Park. Stroll through lush greenery, row a boat on the lake, or enjoy a picnic in this urban oasis.
The Metropolitan Museum of Art: Home to an incredible collection of art spanning centuries and cultures, the Met is a paradise for art enthusiasts.
Empire State Building: Ascend this iconic skyscraper for panoramic views of the city from its observation deck. The Empire State Building offers breathtaking vistas day and night.
Brooklyn Bridge: Walk or bike across this historic suspension bridge, which connects Manhattan and Brooklyn. The views of the city skyline are nothing short of spectacular.
Museum of Modern Art (MoMA): Discover world-class contemporary and modern art at MoMA. It's a cultural gem that should not be missed.
Broadway: Catch a Broadway show for a taste of New York's theatrical excellence. From timeless classics to cutting-edge performances, there's something for everyone.
One World Observatory: Visit New York at the top of the One World Trade Center for a moving experience at the site of the 9/11 attacks. The view from the top is a tribute to resilience.
Things to do in New York
New York City, the ultimate playground for travelers, offers an abundance of activities to turn your visit into an unforgettable adventure. From cultural experiences to thrilling adventures, here's a detailed list of things to do in New York that never sleeps.
New York City is a world within itself, offering an abundance of experiences to suit every traveler's interests. Whether you're a culture enthusiast, an adventure seeker, or a foodie at heart, the city's dynamic spirit ensures you'll find something to captivate your senses. Embrace the diversity, soak in the energy, and create lasting memories in the heart of the Big Apple. Your New York City adventure awaits!
Best Time to Visit New York
New York City experiences all four seasons, each offering a unique charm. However, the best time to visit New York largely depends on your preferences:
Spring (April to June): Mild temperatures, blooming flowers in Central Park, and outdoor events make spring a delightful time to visit.
Summer (June to August): Warm weather and a plethora of outdoor activities draw tourists in the summer. Be prepared for larger crowds, especially in popular New York tourist spots.
Fall (September to November): The crisp autumn air and colorful foliage create a picturesque backdrop for your visit. Plus, it's a great time to enjoy cultural events and festivals.
Winter (December to February): If you don't mind the cold, New York in winter is a wonderland. The city's holiday decorations, ice skating rinks, and cozy vibes are truly magical.
New York Activities to do
New York City offers a vast array of activities to suit every interest:
Explore Neighborhoods: Wander through diverse neighborhoods like Chinatown, Little Italy, Harlem, and the Lower East Side to experience the city's rich cultural tapestry.
Cruise Around Manhattan: Take a scenic cruise around Manhattan Island to get a unique perspective of the city's skyline and landmarks.
Visit New York Museums: Beyond the Met and MoMA, there are numerous other museums, including the Museum of Natural History and the Guggenheim, that are worth exploring.
Dine at World-Class Restaurants: Savor a diverse culinary experience, from street food vendors to Michelin-starred restaurants. Don't forget to try a classic New York-style pizza!
Attend Sporting Events: If you're a sports enthusiast, catch a game at Yankee Stadium, Madison Square Garden, or the Barclays Center.
Take a Helicopter Tour: For a truly unforgettable experience, take a helicopter tour of the city and see iconic landmarks from the sky.
Shop 'til You Drop: New York City is a shopper's paradise. Explore Fifth Avenue, SoHo, and the world-famous Macy's flagship store.
Stroll the High Line: This elevated park built on a historic freight rail line offers a unique urban walking experience with art installations and beautiful greenery.
Enjoy the Nightlife: From rooftop bars to jazz clubs and underground speakeasies, NYC's nightlife scene is legendary.
Great Places to Shop and Tasty Food to Try
New York City is a shopping paradise, offering a diverse range of shopping experiences to cater to all tastes and preferences. Whether you're a fashion enthusiast seeking high-end luxury boutiques or a bargain hunter looking for unique vintage finds, the city has something for everyone. Here are some of the best shopping sites in the Big Apple:
Shopping Sites
New York City is a shopping mecca. Here are some of the best places to indulge in retail therapy:
Fifth Avenue: Known for its upscale boutiques and department stores, Fifth Avenue is the place to find luxury fashion.
SoHo: This trendy neighborhood is famous for its artistic boutiques and galleries, making it an ideal spot for unique finds.
Macy's: The world's largest department store, Macy's Herald Square, is a shopping destination in itself.
Remarkable Shopping Items
Designer Fashion: New York is home to iconic fashion brands like Chanel, Prada, and Gucci. Treat yourself to a designer splurge on Fifth Avenue.
Streetwear: If you're into street fashion, explore Brooklyn's boutiques for trendy urban styles.
Vintage Finds: Hunt for vintage treasures in Williamsburg or East Village thrift stores.
Lip Smacking Foods
New York-Style Pizza: You can't leave without trying a slice of classic New York pizza. Grab a quick bite at local pizzerias.
Bagels with Cream Cheese: Savor a fresh New York bagel with cream cheese, often topped with lox (smoked salmon).
Hot Dogs: Visit a street vendor and enjoy a classic New York hot dog with all the fixings.
Food Trucks: Explore the diverse food truck scene, offering everything from gourmet tacos to Korean BBQ.
Best Hotels to Stay
Choosing the right place to stay in New York City can greatly enhance your experience. Here are some of the best places to stay in New York:
The Ritz-Carlton, Central Park: Enjoy luxury and a prime location overlooking Central Park.
The NoMad Hotel: Known for its elegant design and rooftop bar, it's a favorite among travelers.
The Greenwich Hotel: A boutique gem in Tribeca offering personalized service and unique decor.
The Langham, Fifth Avenue: A modern and chic option in Midtown with breathtaking city views.
The William Vale: Located in Williamsburg, Brooklyn, it's a trendy choice with stunning skyline vistas.
The Ace Hotel: A hip and artsy hotel near the Flatiron District known for its stylish interiors.
Anything Else to Make Your Trip Memorable
While New York's famous attractions are a must-see, consider exploring some hidden gems. Venture to neighborhoods like DUMBO in Brooklyn for stunning views of the Manhattan Bridge and the Manhattan skyline. Take a ride on the Roosevelt Island Tramway for a unique perspective of the city. And don't forget to try a black and white cookie, a sweet treat beloved by locals.
Let's Wrap Up!
New York City is a destination that has it all—history, culture, art, entertainment, and culinary delights. Whether you're wandering through the bustling streets of Times Square or savoring a quiet moment in Central Park, the city offers something for everyone. So, pack your bags, put on your walking shoes, and get ready for the adventure of a lifetime in the city that never sleeps. New York, with its iconic skyline and endless possibilities, awaits your exploration. Plan your trip, embrace the energy of the city, and create memories that will last a lifetime in the heart of the Big Apple.
FAQs
Q1. How can I get around New York?
New York City has an extensive public transportation system, including subways and buses. Taxis and ride-sharing services like Uber are readily available. Walking is a great way to explore neighborhoods, and biking is an option in some areas.
Q2. Is it safe to visit New York City?
New York City is generally safe for tourists, but it's important to take typical urban precautions. Be aware of your surroundings, keep your belongings secure, and avoid walking alone late at night in unfamiliar areas.
Q3. Are there any special events or festivals in NYC that I should plan my trip around?
New York City hosts numerous events and festivals throughout the year. Some notable ones include the Macy's Thanksgiving Day Parade, New York Fashion Week, the Tribeca Film Festival, and the New Year's Eve Ball Drop in Times Square.
---
---
STAFF'S PICKS &
Related Posts