Top 5 Places to Enjoy Diwali This Season: Decorations & Celebration
Posted On September 23rd, 2023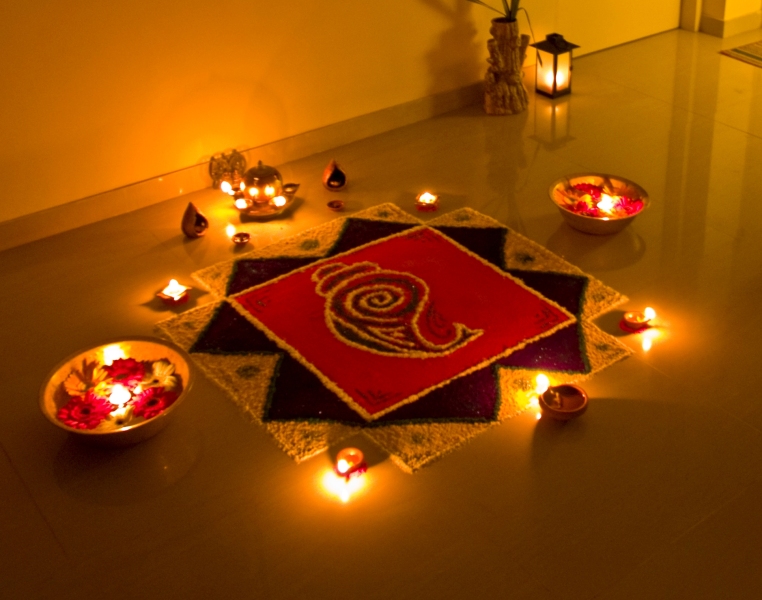 The festival of lights, Diwali is celebrated with much fervor and zeal across India. The triumph of good over evil is what this festival primarily holds in its spirit. Homecoming is what now Diwali means along with traditions, rituals, and merry-making. To believe the mythology, this was the time when Lord Rama returned to Ayodhya after spending 14 years in exile. Let us tell you the top five destinations that you might think to take a quick trip during this Diwali season.
Top-5-places-to-enjoy-Diwali-this-season
1. Delhi
Starting from Dussehra, the Diwali festivities start in Delhi. After the frantic spree of shopping, redecorating, and cleaning their homes, people start concentrating on Dhanteras when kitchen utensils are purchased. Ramlila – a dramatic rendition of the story of the Ramayan continues for several evenings ensuring hope to win over despair.

2. Varanasi
With millions of lights and millions of people, the world's oldest city, Varanasi celebrates true-blue Diwali. It starts with bathing in the Ganga, followed by exploding crackers. Sweets are a must-have part of the itinerary. The Ganga Mahotsav festival is followed soon after Diwali where you can witness the cultural heritage and its splendour. This place is our favorite when it comes to Top 5 places to enjoy Diwali this season.

3. Rajasthan
Starting with Dhanteras, celebrations of Diwali continue for five long days in Jaipur and Udaipur. Tourist sites such as Nahargarh Fort, and Udaipur Fort offer enchanting views of the festivities. The illuminated walled city makes the after-dark views worth watching. The royal lakes reflect the glowing lights and fireworks of the palace.

4. Goa
Starting with Naraka Chaturdashi, Diwali in Goa is almost of a similar pattern to that of the other north Indian states. Scary-looking effigies of Narakasura are made and burnt. Decorating with candles, lights and flowers is a common tradition. Furthermore, Margao, a time-honored and celebrated town in Goa, possesses a wealth of temples and churches that attract tourists during Diwali. Moreover, Margao accommodates various eateries and stores that cater to devotees visiting these religious sites during the holiday period.

5. Kolkata
This city has its own style of celebrating Diwali which coincides with the worship of Goddess Kali. Sweets and flowers mark the base of the ritual. Nevertheless, the dazzling fireworks are an obvious part of the festivity. This is undoubtedly one of the Top 5 places to enjoy Diwali this season.

Now let us splash some more Diwali details…

Diwali Celebrations in Jaipur:
Known for its shiny jewelry, Johari Bazaar is a special place on Dhan Teras. During Diwali, this market in Jaipur, famous for its beautiful jewelry, gets all lit up with colorful lights and a festive atmosphere. It's a fantastic place to visit if you're in Jaipur during Diwali!
You must check out the most breathtaking and wide-ranging sights of the Nahargarh. You'll be treated to calm yet astounding views of this lovely festival, with brilliant bursts of light along the city walls. On Diwali, Jaipur seems to be crafted entirely from sparkling diamonds.
Lots of folks visit this fort during Diwali to see how stunning Jaipur looks from up high. You should definitely go there to witness the stunning light show. It is one of the most precious experiences for Diwali Celebrations in Jaipur
Diwali is incomplete if you are in Jaipur and you miss visiting Bapu Bazar. This fantastic market is known for its wonderful creations. It lights up like a dream. Don't forget to check it out.
These markets have some really beautiful things like shoes, home decorations, ready-made clothes, and more. Moreover, Diwali has bustling shops, and streets are decorated with bright lights to delight your eyes. Make sure to include this splendid market for your Diwali Celebrations in Jaipur

Diwali Shopping in Delhi Markets:
Delhi Haat: There are two Delhi Haat markets in Delhi where you can buy handmade items and lots of different stuff from various Indian states. It's open every day of the week and has cultural events during festivals.

Lajpat Nagar Market: This market has small shops and big showrooms. During festivals, it lights up with the latest Western and traditional Indian clothes, handicrafts, and more. You can find everything here, including artificial jewelry, and bags, and even get beautiful Mehndi designs. It's great for shopping, eating, and more.

Rajouri Garden Market: Here, you can discover cool designer clothes and unique things for your home. Perfect for Diwali shopping in Delhi!

Karol Bagh: Imagine a bustling market in Delhi where you can buy clothes, jewelry, shoes, makeup, and more. It's famous and friendly to your pocket.

Kamala Nagar Market: This market is close to a college campus, so you'll find a lot of trendy stuff at good prices. It's also all lit up during Diwali.

Diwali Lights and Decorations in Rajasthan:
Rajasthan is a fascinating land with a variety of sceneries to explore. To get you started on your During Diwali vacation, people enjoy visiting Rajasthan. Since it is such a festive time. You can see spectacular events, fairs, and amazing performances that you won't be able to see at other times. Diwali is extra special to see its beautiful Diwali lights and decorations in Rajasthan. During Diwali, all the houses, offices, and even the whole city shine with colorful lights.

Diwali Sweets and Food in Kolkata:
Get ready for some sweet adventures this Diwali in Kolkata. Kolkata is well-known for its grilled foods from different places worldwide. When you see the kebabs cooking in the barbecue oven, it's super exciting and fun!
When it comes to Diwali Sweets and Food in Kolkata, Pantuwa is a must. It may look hard at first, but when you put them in sugary syrup, they become soft and colorful. Once you taste them, you'll want more, for sure!
Additionally, you can miss Raj Bhog. They have tasty dry fruits inside and look all spongy. With their yellow color and special kesar flavor, Raj Bhogs will take your taste buds on a heavenly trip. So, are you ready for some sweet adventures this Diwali in Kolkata?
Kolkata is a true haven for both food enthusiasts and travelers. So, if you're a food enthusiast or a traveler, Kolkata is a city that should be on your list to experience its culinary delights and cultural treasures.
A yummy sweet made with special ingredients like chenna and kesar. They're served cold to make them even more delicious. No celebration is complete without Malai Chom.

Diwali Cultural Events in Varanasi:
Varanasi is well-known for its old temples, and you should consider paying a visit to a number of them during a special event such as Diwali. Moreover, as far as Diwali Cultural Events in Varanasi are concerned, the beautiful Dev Diwali extravaganza is the most well-known cultural event of Diwali. Thousands of visitors from all over the world come to see the stunning display of lights and devotion in one of India's oldest cities.
During this special festival, all the ghats in Varanasi light up with colorful oil lamps called diyas. Temples become beautifully adorned, and families celebrate Diwali in their homes. Exciting cultural programs also happen at the ghats, making it a truly magical time in the city. It's a significant Hindu festival celebrated on the full moon day in the month of Kartik, usually in November.

Diwali Music and Dance Performances in Bangalore:
If you love music, and dancing, or want to experience Diwali's culture, Bangalore's music and dance shows are perfect for you. It's a great way to enjoy the festival of lights! People play Indian music with sitars and tablas that sound so cool. There are also dancers who do fancy dances in beautiful clothes.
They tell stories from long ago. Some people even mix old and new music and dance together. So, if you like music and dancing, Diwali in Bangalore is a super fun time to enjoy!
We truly believe in the magic of sharing cultures, and the markets are proof of that belief. Here, you can delight in captivating dance shows, heart-touching music, and artistic displays that showcase India's rich and diverse culture.
In Bangalore, during Diwali, you can enjoy amazing dances, beautiful music, and creative performances that show how diverse India's culture is.
There are also fun events in communities, and the entire city sparkles with lights, colorful designs on the ground, and pretty flowers. People who love exciting and big Diwali celebrations really like being in Bangalore.

Conclusion:

If you'd like to have a journey to a fresh spot during the Diwali season, you can book Special Diwali Vacation Deals to rejoice in Diwali this year with your cherished ones. You can find many options online to book your Diwali holiday. It's additionally a wonderful opportunity to discover exclusive traditions, witness stunning views, relish fine cuisine and beverages, and enjoy the warmth and amiability of diverse areas.
---
---
STAFF'S PICKS &
Related Posts