Explore Punjab Chandigarh Tour Packages
Tourists visit North India to go to the hill stations and to see the Taj Mahal. There are many things that you can do here like sightseeing, trekking, and shopping. Japji Travel brings its Punjab Chandigarh Tour Packages for such tourists. Here you can tour places in Punjab and North India. You can see famous monuments like Golden Temple, Red Fort, Taj Mahal, and others. You can visit hill stations and famous cities like Shimla, Chandigarh, Mussoorie, Manali, etc.
The one special thing about our Punjab and Chandigarh Tour Packages is that you can customize them according to your preferences. So, here you are free to choose a hotel or duration for which you want to travel. You can plan a 2-night 3 days short tour or go for a longer 6 nights 7 days tour. Our travel experts can prepare a personalized tour itinerary for you. We can arrange all necessary facilities for you such as car transport, day-to-day tour plans, tour guides, etc. You can even talk to us and plan your tour. Our customer care executives will guide you with their knowledge.
Many places in Punjab are worth visiting. Amritsar is the cultural and religious center of Punjab. Amritsar is undoubted, the most famous tourist destination in Punjab. It has several famous gurudwaras, forts, temples, and other sightseeing places. You can tour all these places in our Punjab and Chandigarh Tour Packages. Some of the top tourist places to visit in Amritsar are given below.
Most famous tourist places in Amritsar
Golden Temple
Golden Temple is also called Sri Harmandir Sahib. This gurudwara is where Guru Granth Sahib is worshipped. You can stay at hostels nearby and witness the beautiful sunrise over the Golden Temple. You can also volunteer here and give a helping with cooking and other chores. Free meals are given to every visitor who visits Golden Temple. You can visit Akal Takht and see weapons and religious texts which speak about the history of Punjab and its Sikh gurus.
Wagah Border
Wagah Border is so famous that every tourist who comes to Amritsar also visits this place. Wagah Border is on the India-Pakistan border and is 31 km from Amritsar. Tourists come here to watch the Beating Retreat Ceremony performed by Indian and Pakistani soldiers. The high-energy display of patriotism is very entertaining for visitors. Famous Bollywood patriotic songs are aired through speakers and visitors wave Indian flags at this famous event. The ceremony lasts for 45 minutes.
Jallianwala Bagh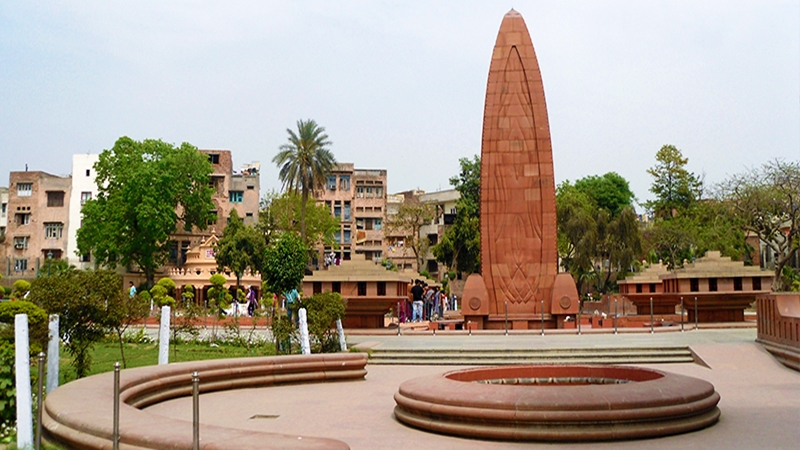 Jallianwala Bagh is very close to Golden Temple. Jallianwala Bagh was the place where around 1500 people were massacred by British troops. Jallianwala Bagh is a monument that was built for those people who laid down their lives. You can visit Jallianwala Bagh and still see bullet holes in the walls. The flame here burns day and night in memory of the martyred protestors.
Gobindgarh Fort
In its time, Gobindgarh Fort was a powerful fort that was built by kings who ruled over this region of Punjab. But today it is a huge tourist attraction in Amritsar. Inside Gobindgarh Fort complex, you can visit a Warfare Museum, Turban Museum, and Sikh Art Museum. You can watch a multimedia light and sound show which has fine narration and visuals.
Partition Museum
Another famous tourist attraction of Amritsar is the Partition Museum. You can come to know about the history of the 1947 partition of India by visiting this museum. There are various exhibits ranging from photographs and newspaper clippings to antique art objects. You can write your message on a green leaf and clip it to the Tree of Hope.
Other places that you can visit in Amritsar
When you visit Amritsar you have to visit the dhabas for lip-smacking North Indian food. Other places that you can visit in Amritsar are Mandir Mata Lal Devi, Ram Bagh Gardens, Khalsa College, Shri Durgiana Mandir, and Sri Ram Tirath Temple.
When you check out any of the Punjab Chandigarh Tour Packages you will get all arrangements done by us. You can stay in luxury hotels and we allow you to choose your hotel also. You can do sightseeing in AC cars which are driven by experienced English-speaking chauffeurs. Meals are included in all our tour packages. You can also do sightseeing in other places in Punjab such as Chandigarh.
Chandigarh is the capital city of Punjab. This historic Chandigarh city is India's first fully-planned city. Chandigarh is best for its spectacular architecture and gardens. The architectural beauty of Chandigarh can only have to be seen to believe it. And the best way to do this is to book any one of our Punjab Chandigarh Tour Packages. The places that you must visit on your trip to Chandigarh are given below.
Famous tourist places in Chandigarh
Rock Garden
Rock Garden is so famous in Chandigarh that every tourist wants to visit it. Some various sculptures and models are made from waste materials. The art pieces here are the best example of how to turn waste into the best.
Sukhna Lake
Sukhna Lake in Chandigarh is the best place for boating and relaxation. The best time to visit Sukhna Lake is during sunrise and sunset times.
Rose Garden
Chandigarh has many elegant gardens but the best of them is the Rose Garden. This garden has many exotic roses. February and March are the best times to visit the Rose Garden.
Chhatbir Zoo
Chhatbir Zoo is one of the best places in Chandigarh to spot wild animals and birds. You can watch black bears, tigers, leopards, and many birds like falcons, dives, pheasants, geese, quails, etc.
Open Hand Monument
Open Hand Monument is a famous iconic sculpture that has made Chandigarh famous all over the world. Le Corbusier, who also was the main architect who planned the city of Chandigarh, created this monument.
Other attractions of Chandigarh
Chandigarh has a lot of other attractions that you must visit. The major ones are Butterfly Garden, Japanese Garden, Capitol Complex, Mansa Devi Temple, Elante Mall, International Dolls Museum, Government Museum, and Art Gallery.
Punjab & Chandigarh Tour FAQ
How many days are sufficient to visit Punjab?
4 days are ideal if you want to visit Punjab. You can do most things like sightseeing around places and dine on delicious food during this time.
What is the best time to visit Punjab?
The winter season is the ideal time to visit Punjab. You can plan your visit from October to March.