Top places for a perfect weekend trip in India
Posted On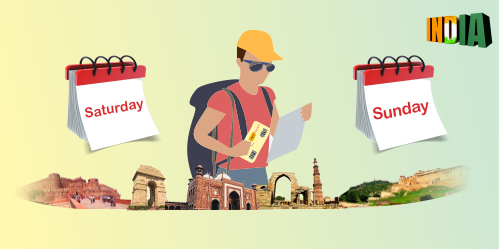 You know you have been delaying for a long. The weekend is just around, and it would be a disgrace not to put it to good use and plan that perfect weekend trip in India. We all know how our metropolia can stress us out, but thanks to nearby weekend destinations which bless us with balance, we can come back with a more rational mind. Many such top places for a perfect weekend trip in India are excellent for a weekend tour. Why not make weekend trip plans? Let's enjoy the weekend by going on short trips.
Top 10 places for a perfect weekend trip in India
If you are planning a weekend vacation in India, here are some fantastic places. From the best beaches to snowy mountains, caves, and monuments, find your weekend destination and make the most of this chilly climate.
Rishikesh

2days exhilarating Rishikesh tour is the perfect weekend destination to participate in various adventurous activities like hiking, bungee jumping, trekking, rafting, etc. Rishikesh's excursion place is in the foothills of the Himalayas. It is one of the top places for a weekend trip in India for one night and two days. Rishikesh is an ideal pleasurable place to spend your weekend time. It is a tranquil, beautiful, serene place, ideal for spending your weekend in an adventurous and palliative mood. People visit this holy weekend destination in Uttarakhand to skip the congested and polluted urban metropolia.
Mukteshwar

Located in Uttarakhand, Mukteshwar is one of India's top places for a perfect weekend trip. The uninterrupted magnificence of snow-capped mountains in the distance comes with overwhelming beauty, preceded by a spectrum of verdant pastels. A little ahead of it lives a small, enchanting village of Dhanachuli, which lodges a popular hill station of Uttarakhand, modest people, and inviting orchards. A little weekend trip to make excellent use of this long weekend getaway.
Auli

Auli is a beautiful hill station in the Himalayan fields of Uttarakhand, also popularly called one of the best skiing destinations in India. October starts to welcome winter and chilly weather, and the temperatures are tolerable cold to enjoy the scenic view of the cliffs with coniferous trees and forests. While Badrinath, a primary pilgrim place being one of the char dhams in India, is nearby, where one can stop to see the sacred temple, Vasundhara falls, and visit the Vyas and Ganesha Caves.
Bir Billing

For trekkers and adventure lovers, the Bir-Billing area of Himachal Pradesh has some stimulating activities for this time of the year. Paragliding sessions are conducted here for Sept-Oct-Nov, while trekking and camping occur throughout the year. Bir Billing is also known for its antique Tibetan monasteries. The Bir Tea Factory, delivers guided tours for those inquisitive souls interested in tea production. These places are on the list of top places for a perfect weekend trip in India.
Dharamshala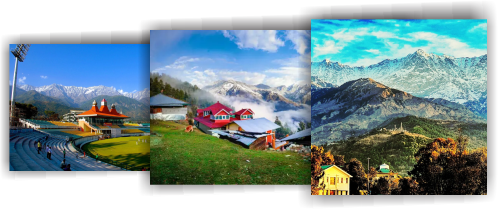 Dharamshala, the residence of the great Dalai Lama, is the location to be if a rejuvenating weekend getaway is what you desire. This is among the first Tibetan places in the country, and even today, you can see the exquisite combination of Indian and Tibetan cultures existing together to outshine. Besides civilization, your trip to Dharamshala will charm you with nature's magnificence.
Agra

The Place Taj Mahal, Agra, is a part of the splendid Golden Triangle Tour of the country. It is preferred by tourists seeking a peek at India's heritage and history. This captivating city will take you back to ancient times, with its iconic attraction standing as an embodiment of love and design and other sites like Agra Fort and Fatehpur Sikri. However, if the Taj Mahal is the imperative attraction, you visit Agra, which is shut down on Fridays. So plan your weekend trip accordingly.
Sikkim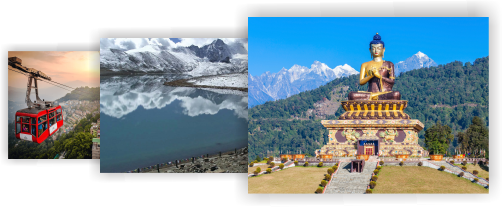 Sikkim is one of the top places for a perfect weekend trip in India. This weekend destination is where photographers, adventure enthusiasts, and nature enthusiasts visit diverse locations. It is the beautiful ideal place for enjoying your weekend in the cloud of the tranquil Himalayas. This small town is one of the most attractive places in northeastern India, ideal for Trekking, Sightseeing, and Camping. The mountain in the Northeastern region of India is called Aravallis. Many people visit Sikkim to enjoy their ideal weekend trip in the natural beauty and explore adventurous activities like river rafting, paragliding, parachuting, and bungee jumping.
Lonavala

Lonavala is the top place for a perfect weekend trip in India. This hill station has calm climate and panoramic beauty. This scenic place is the go-to weekend place for Maharashtra people, an excellent weekend destination to enjoy one night and two days in dense green canyons, spectacular waterfalls, tranquil lakes, and impressive caves. Lonavala has a natural beauty. The cliffs, lakes, rain, dams, etc., are ideal for taking a break from your daily boring routine. The place is definitely worth visiting with dear family, a group of buddies, or a beloved.
Udaipur

Udaipur is one of the top places for a perfect weekend trip in India in two days. This India short tour weekend destination is one of the stunning desert places of Rajasthan. Udaipur, the city of lakes, is the most romantic place in India. The layout of Udaipur symbolizes India's chronology, culture, picturesque locations, and Rajput-time palaces. If you want to enjoy your weekend time without stress, Udaipur is where you will enjoy the magnificence and peace, from the antique Hawelis to the beautiful lakes.
Jaipur

Jaipur is one of the top places for a perfect weekend trip in India for a night and two days trip. This pink city has many historical forts, markets, deserts, and temples. Besides the stunning ancient monuments, forts, and palaces, Jaipur's delicious Rajasthani foods are the city's great and distant charm.
Because we hardly get time from our everyday work to go on weekend trips. In such circumstances, take a small break from your routine by planning short weekend trips to one of these stunning and peaceful places.
Where should I go to enjoy a romantic weekend?
To enjoy a romantic weekend, you can go to:
Manali
Udaipur
Goa
Coorg
---
---
STAFF'S PICKS &
Related Posts