Top 10 Destinations for Weekend Gateways from Mumbai
Posted On September 26th, 2022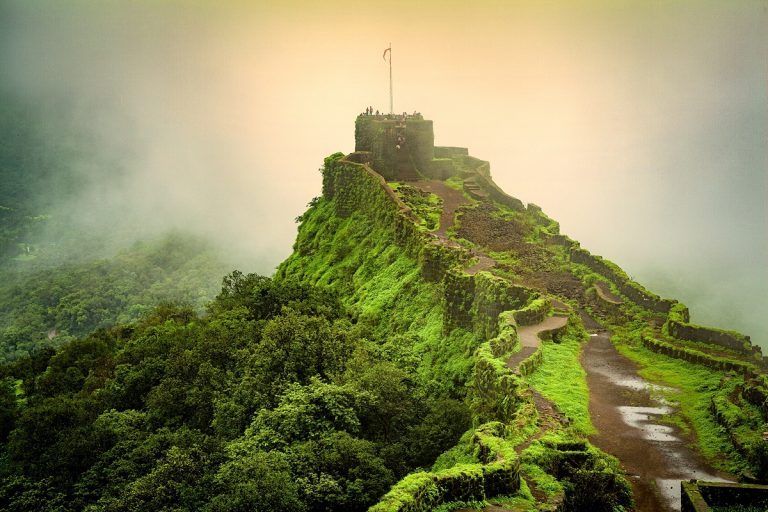 Mumbai is a city with numerous synonyms. For some it is the city of dreams, for some, it is the city that never sleeps. And for some, it is the wish list and bucket list city and so much more. Mumbai definitely has something to offer to all age groups, for all hearts and desires. Starting from historical evidence to UNESCO heritage sites. From aesthetic shopping culture to the most scrumptious famous street food, vada pav.
Just picture yourself living in India's largest cosmopolitan city. But, since every coin has two sides, so does Mumbai. This city does have incredible charm and beauty with all its glimmering lights. But, the other side is filled with chaos, pressure, and mad hustle.
 That's why today we present you the top 10 destinations for weekend getaways from Mumbai on your next holiday. Where you can sit back, relax, calm your nerves and get some peace in the fresh air of the Western Ghats and soothing natural beauty.
Here are the top 10 destinations near Mumbai, that you should explore in your upcoming weekends:
Mahabaleshwar
Most picturesque location nearby Mumbai.
Nestled away in the Sahyadri mountains, it is known for jaw-dropping mystical views. The emerald lush landscapes will sweep your heart away just in one glance. And not to forget it is the land of strawberries at Mapro Garden. Where you can enjoy some fresh hand-picked berries and explore the hidden gems. Mahabaleshwar is one of the closest destinations for Mumbaikars.
With some picturesque shades of sunsets and hiking on lesser-known trails. Relax as at hotels on day one. Next, float in one of those colorful boats at Venna lake with a warm cup of coffee. For adventure seekers, you must trek to Tapola. Witness the beauty from the above. Do not miss Wilson point. It is the highest point of Mahabaleshwar. It is just breathtaking. The best time to go to Mahabaleshwar is during the winter months of January & December.
Hike to lesser Known Trails.
Trek for divine surreal views.
Unwind yourself amidst mountains.
Float in colourful boats at Venna lake.
Trek to Tapola and satiate your nerves.
Panchgani
Village of Art and Beauty.
It is located in the mid of Maharashtra. Panchgani is much more than amazing weather. Panchgani gives you the deep vivid experience of unique art and craft at Devrai Art village. When in Panchgani, you cannot miss horse riding on the plateau at Tableland. You will be mesmerized by the different shades of Nature. Panchgani offers the opportunity of paragliding.
Where you can glide over the hills, in the deep blue clear sky, wrapped in clouds. How relaxing that experience would be. Here you can spend some good quality time in the lap of nature amidst Sahyadri ranges. The best time to explore Panchgani is between October to May.
Explore Devrai Art village.
Indulge yourself in horse riding.
Take a flight over the mountains.
Lonavala
one of the most famous and nearest destinations from Mumbai to unwind. Lonavla is quite famous among couples. And that's for a reason! Because why not? Lonavala has so many things to offer as you escape into the hills amidst the green valleys. It is considered as one of the ideal gateways for Mumbaikars to experience true nature.
Where you can rejuvenate yourself with the panoramic sights which soothe your soul after hectic weekdays. Go hiking to Tiger's leap or Dukes Nose to get some breathtaking views. Watch the sunset and get yourself exposed to beautiful scapes. The best time to visit is between October to May.
Best Romantic gateway.
Social media worthy sunsets.
Get exposed to serene landscapes.
Alibaug
It is considered a paradise for adventure lovers. Alibaug is one of the well-known location. Best thrilling destinations near Mumbai which can be visited on weekends. It's the best place for getting oneself indulged in outdoor activities. Such as you can go camping or jet ski or seek blessings at the old temple at Siddheshwar temple.
You can visit a bunch of places here Namely Alibaug fort, korlai fort, akshi beach, bar solo beach and many more. when in Alibaug, you must opt for some water based adventure sports and go for bird watching at Phansad along with seeking blessings at the temple. The best time to visit Alibaug is from October till July.
Best for outdoor acttivites.
Seek some spirituality.
Explore Forts.
Lavasa
The Copenhagen of India. This place is an epitome and example of a well planned town. It's a small little town. Filled with colourful buildings in front of the water body. It gives the vibe of Copenhagen, Denmark. It gives the vibe of a romantic city. With the tint of modernism. Lavasa has so many things to offer.
Starting from nature walks to water sports to bird watching. This is the perfect place to chill. Channelize your inner creativity in peace. Make sure to get yourself indulged in Some adventure activities. Go to Lakeshore water sports to refresh yourself, after tough weekdays at work. Relax yourself with a cup of hot coffee at the lakeside promenade. And the best time to visit Lavasa is the whole year.
Most colourful town.
Go for birdwatching.
Spend Quailty time along with adventure.
Shirdi
It's high time for your spiritual calling. To elevate yourself amidst a life full of stress and struggle. Shirdi is a well known pilgrimage spot near Mumbai. During your visit to Shirdi temple make sure to treat yourself to some Prasad. It's prepared in fresh ghee. It's just so divine in taste. You must explore the Core culture. Since exploring culture is something which is a Crucial part of travelling.
You must visit Lendi Baug Garden where you will get to know many mythical stories of the Meditation Baba. Immerse yourself in Peace. As you sit calmly on the banks of Godavari and spend some quality time as your peaceful escapade. The best time to visit Shirdi is between July to March.
Best spiritual destination.
Learn the mythical stories
Relax at Godavari on your trip.
Kamshet
The adventure destination of Maharashtra. Kamshet is known for Paragliding. This destination would drive out your fear and help you soar higher. Watch yourself glide over quaint beautiful silent valleys Over the pawana lake. You should also go for an easy hike to Tikona fort. This hike is quite famous and not so tiring yet rewarding. You will get the bird's eye view of Pawna Dam, lohagad as well.
Afterwards you must visit Karla Caves which are 3rd century caves made up of rock by some buddhist monks. The architectural beauty is just so surreal. The best time to visit Kamshet is between October to May.
Best adventure destination.
Go for Paragliding.
Explore the Caves.
Karjat
Karjat is located on the bank of Ulhas river. This is a small hilly town nearby to Mumbai. This city offers serene landscapes of nature. You can explore old forts, cave temples and so much more. Karjat is well known for adventure activities too. Such as trekking which starts from moderate to advanced levels. Plan your trip during monsoons and post-monsoon months.
The beauty comes out and it looks very wholesome. When in Karjat, you must visit Kondana Caves. You can see the remnants of Buddhist arts, history and small gompas. Go camping at Ulhas valley! The sight will captivate your heart. The best time to visit here is during the monsoon is July to September.
Calls for history buffs.
Perfect for last minute travel plan.
Camping under the sky.
Matheran
It is a small hill station in the Raigad district of Maharashtra. You can truly experience an uninterrupted peaceful time here. You will see the most tranquil environment amidst the green pastures and valleys. This is not it. To satisfy your travel bug you must get yourself indulged in some activities.
Such as water rappelling at Dodhani Waterfalls. Or go for a trek at Kalavantin Pinnacle, or rock climbing. And Satiate your soul. The best time to visit is October to May.
Most Trending place for a trip.
Most relaxing place for one to travel.
Igatpuri
one of the most picturesque gateways from Mumbai. It is very well known for its Vipassana meditation centre. Many people gather from all over the country to learn the art of meditation. This place is truly a haven. Epecially, for those who love nature, adventure and meditation.
You can opt for a trek to Kalsubai Peak. Treat yourself over some stunning panoramic landscapes. Explore forts, hills and cascading waterfalls. Best place to experience the most alluring vistas. Best time to visit during the monsoon is June to September.
Best place for Meditation.
Upgrade yourself with some art of learning.
Enjoy Waterfalls.
What are you waiting for? Let's travel together now!
---
---
STAFF'S PICKS &
Related Posts