Beautiful Destinations Of Gangtok That Will Capture Your Heart Forever
Posted On November 25th, 2021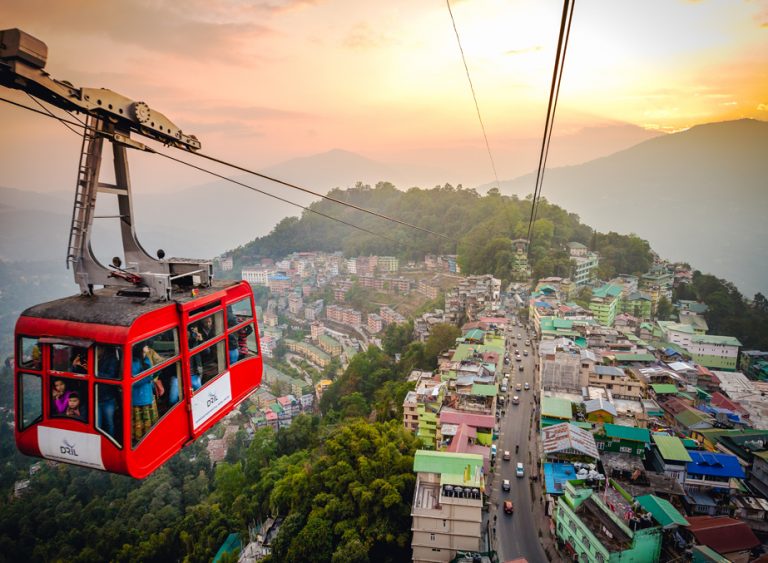 The place that mesmerizes all avid travellers is Gangtok. This gorgeous destination will leave you in complete awe and entice people of different interests irrespective of their age groups. From vantage points to green mountains, and from rich flora and fauna to picturesque towns, Gangtok will inject serenity to your senses.
So, there is no dearth of places to visit in Gangtok to experience the best holidays ever. To make your job easy, we have listed the best iconic places in Gangtok. Scroll down for all deets!
6 top-rated alluring destinations in Gangtok
Have you ever fancied an invigorating walk amid colourful nature? Is watching panoramic views, enjoying chilly winds, good food your choice? Well, then Gangtok could be your ultimate place for a perfect vacation. Let's unfold some of the breathtaking places in Gangtok. Below is the complete listicle!
Nathula Pass: Explore the silk route
Nathula Pass is a soul-lifting getaway of Gangtok. It is among the beautiful places in Gangtok. You need to take government permission to reach this pass. Located 14,450 ft high, the panoramic view from Nathula Pass is enchanting.
Adventure lovers will fall in love with this place; the wide roads, scenic views will behold your attention. The best adventurous time to visit here is during winters. As the snow covers the land, the beauty gets enhanced. Witness the Indo-Tibetian encircling borders and retreat yourself with panoramic views.
Rumtek Monastery: Feel the peace
To bring the feel of divinity to your Gangtok trip, add Rumtek Monastery to your itinerary. The beauty of Gangtok is speechless and spiritual places such as Rumtek Monastery make this place even more special. If you want to experience divinity and peace on your trip, the magnificent Rumtek Monastery is the ultimate place.
Surrounded by mountains and greenery, Rumtek Monastery is an overall hub of peace and visual treat. Visitors can relish the panoramic view of the entire town. Feel the vibe of Buddhist culture whilst admiring scenic views and the beautiful architecture of the Monastery.
Tsomgo Lake: Absolute heaven
Have you seen a lake changing its colour? Not yet? Well, then you can witness this magic of nature by visiting Tsomgo Lake. Every season the lake is seen changing its colours. Witnessing such an alluring creation of nature is true bliss. Located at 12,310 ft, it is arguably one of the best places to visit in Gangtok.
The lake is frosty and offers breathtaking views. When you see nature reflecting on the lake water, especially the mountains and trees, you are sure to get hypnotized with this dazzling vibe. Spend a surreal day by the lakeside whilst grabbing a strong cuppa and zesty snacks.
Magnan: Time to experience adventure thrill
Magnan is a tiny hamlet known for its extraordinary serenity and adventure activities. About 65kms far from Gangtok, this quaint town will allure you to no bounds. So, if you want a fusion of adventure and serenity in your Gangtok trip, Magnan is the ultimate destination.
With lower altitudes, Magnan becomes more magnificent in winters. Some of the fun activities you can enjoy here are mountain biking, forest camping, paragliding and rock climbing. If you are not adventurous, you can simply soak in the tranquillity of nature and visit divine monasteries.
Tashi Viewpoint: Photographers paradise
The most picturesque tourist spot of Gangtok is Tashi Viewpoint. Witness the mind-boggling panorama of famous Kanchenjunga and Mount Siniolchu. In the winter days, the view of snow-covered mountains makes you forget about all dilemmas of life. In particular, the view of sunset and sunrise overshadowing the mountains is a memory worth capturing lifelong.
You can click on some of the best photographs here. Pose for the gram and experience the best time amid the tranquil view. The unpolluted environment, serene ambience and delightful snacks nearby make Tashi Viewpoint the best picnic spot.
Banjhakri Falls: Mesmerizing sight
Banjhakri Falls is one of the beautiful places in Gangtok. Visitors can enjoy the pleasant view and plan a picnic here. Located in the Energy Park, other than appreciating the cascading waterfall, there are many other things to do here. Moreover, locals believe Banjhakri Falls have a special mythological connection. According to the belief, it can fight off evil energy.
There is also a man-made lake and many statues here. Also, visitors can have a good time watching the alluring different flower beds. The lush environment and soothing waterfall will set your mind in tranquillity. Relish the green expanse and soothing atmosphere of Banjhakri Falls.
Gangtok is equally religious and adventurous; while the monasteries are peaceful, adventure activities rush the adrenaline. Plan a vacation and explore the places to visit in Gangtok which is a door towards serenity. The charming hamlet is sure to make your holidays the indelible part of your life.
---
---
STAFF'S PICKS &
Related Posts