TRAVEL TIPS FOR SHIMLA IN WINTER SEASON
Posted On November 7th, 2022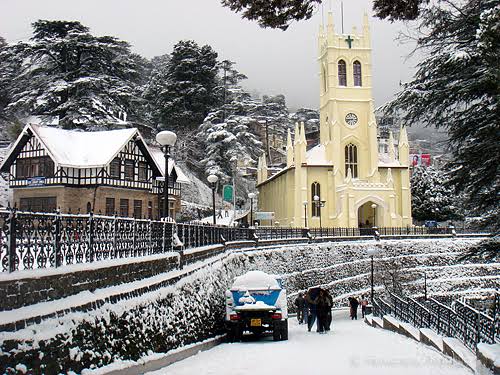 The hill station Shimla is the capital of the Himachal Pradesh state of India. Shimla is one of the most popular tourist destination in India because of its ambiance, the scintillating arena and the environmental subtlety. The dazzling sparkle of ice-covered mountains and hills is soothing to your eyes. Most people prefer to visit Shimla in summer to run away from the scorching heat. But Shimla is even more beautiful in winters.
Shimla in Winter Season
The beauty of Shimla enhances even more in winter. The icy cold winds in winter coming from the Himalayas make the place chill. The best time to visit Shimla during winters is last week of December to second week of January. One can enjoy the view of snowfall during winter season and cherish the exotic charm of flora and fauna of Shimla. The nature and icy lands are quite fetching.
You can also take the enjoyment of lots of winter sports like-
Shimla is an ideal place in winters for couples . The romantic weather is perfect for honeymooners.
Travel tips to Shimla – Every year an ice skiing carnival is organized in Shimla in winters which you must visit, believe us you would not want to miss it. There are many happening destinations to visit in Shimla and you must not miss them whenever you go there-
Christ Church and St. Michael's Cathedral
Tara devi
Himachal State Museum & Library
Jakhu Temple
Viceregal Lodge and Botanical Gardens
The mall, which is the most attractive shopping destination.
Shimla is a beautiful hill station in the Himalayan region. It is located at an altitude of 3,000 meters above sea level. Shimla has been known by many names like "Queen of Hills", "Summer Capital", and "City of the Gods".
The city offers a perfect mix of modern day luxuries and old world charm. Shimla is a popular tourist destination for people from all over India and abroad who come here to escape the heat of summer months in other parts of India.
Japji travels here assist you with all the facilities and plan your trip accordingly. Travelling to Shimla in winter will be totally worth it and would be a lifetime experience for you.
Now,knowing all this all you need is some good tour operator to help you organise your trip. Well, don't look anywhere else Japji travels are the best tour operator for you and are here to make your trip worth it.
---
---
STAFF'S PICKS &
Related Posts