Best Places to Eat in Delhi : If you love food, make sure to visit this location
Posted On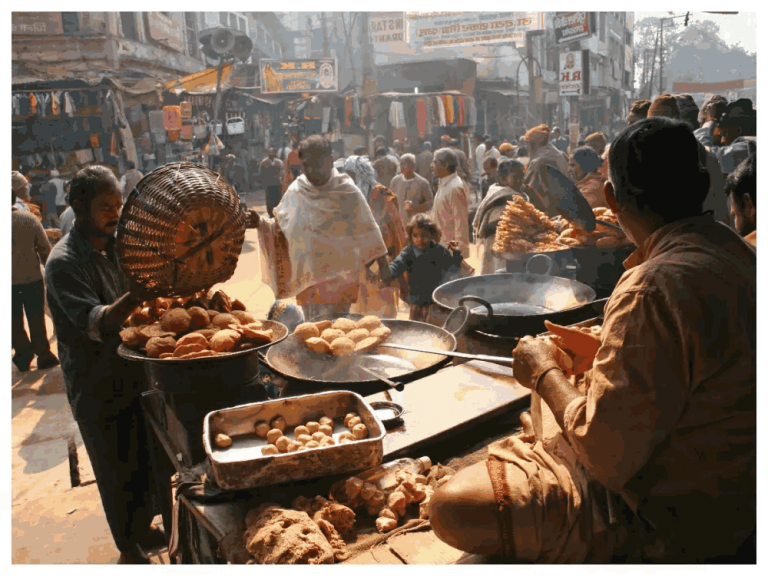 The capital of India, not famous because of its monument, culture and politics, but it is famous because of the variety of street foods stall that you can found in any zone of Delhi.
Unquestionably, Delhi street food is famous for its taste and different types of flavors, but we have to keep the hygiene the necessary factor while eating Delhi Food.
Delhi street food doesn't comprise inside the kitchen, but it makes outside in the stall, front of your eyes, so you can check the quality of the food and what flavors, ingredients are going to add. If it's found you hygienic than give it try.
You can try different type of foods in different zone of Delhi. There are Eleven Districts in Delhi, and in the districts there are different types of markets, and in the markets, you can find variety of street foods.
National capital Territory has 11 districts as named are South West, South East, New Delhi, Central, Shahdara & East, North West, North, North-East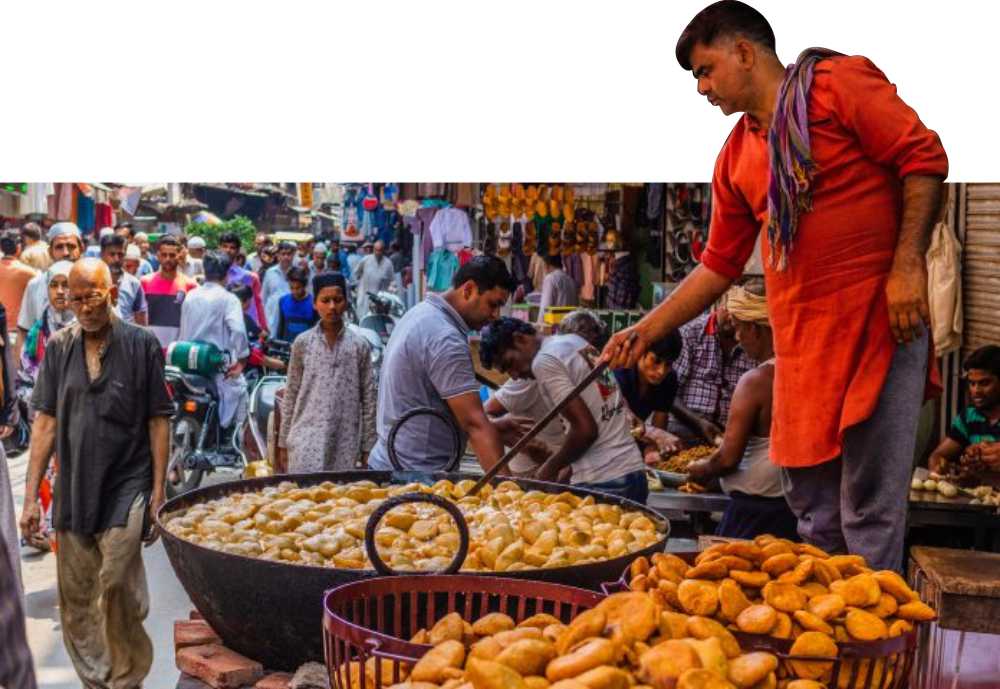 | | | | |
| --- | --- | --- | --- |
| Name | Districts | Famous Places or Stall Foods Name | Market Name |
| Old Delhi | Central Delhi Districts | Parantha Gali I Samosas Lotan ke Chole Kulche I Bishwan Swaroop Chatt Bhandar I Nawab Quershi Water Melon Shake I Quershi Kabab Dinner I Kuremal Mohan Lal Kulfi I Shyam Sweet I Aslam Butter Chicken | Purani Delhi Market |
| Connaught Place | New Delhi | Piping Hot Chaat I Crispy Samosas I Butter Chicken I Halka Phulka I V.R.H Food Enterprises I Pappu Chaat Bhandar | Palika Bazaar |
| Nizamuddin | South Delhi | Nizamuddin Basti I Ghalib Kabab Corner I Hussaini CornerAl – Quresh I Zaika – e- Nizzamuddin I Murdabadi Biryani | Som Bazaar |
| Karol Bagh | New Delhi | Paranthe wali Gali I Ganesh Chole Kulche I Butter chicken Roll at Art of spices I Chicken burger at Taal I Pasta at metro snack shop I Aloo Tikki at Sindhi Corner I Chaat Papdi at chotte lal Halwai I Chole Bhature at Om corner | Ajmal Khan & Gaffer Market |
| Khan Market | New Delhi | The best chilly café I Wok in the clouds I Soda Bottle opener wala I Khan Chacha I Mamagoto I Smoke House Delhi I Azam's Muglai | Khan Market & Famous book shop |
| Lajpat Nagar | South East Delhi | Bhalla King I Avantika Food Corner Street Café I Doloma Aunty Momo I Golden Fiesta I Omelette hut I Moolchand Parantha | Amar Colony |
| Delhi Hatt | South Delhi | Sikkim Food Stall I Uttar Pradesh Food Stall I Rajasthan Food Stall I Bihar Food Stall I Tamil Nadu Food Stall I Maharashtra Food Stall | INA market |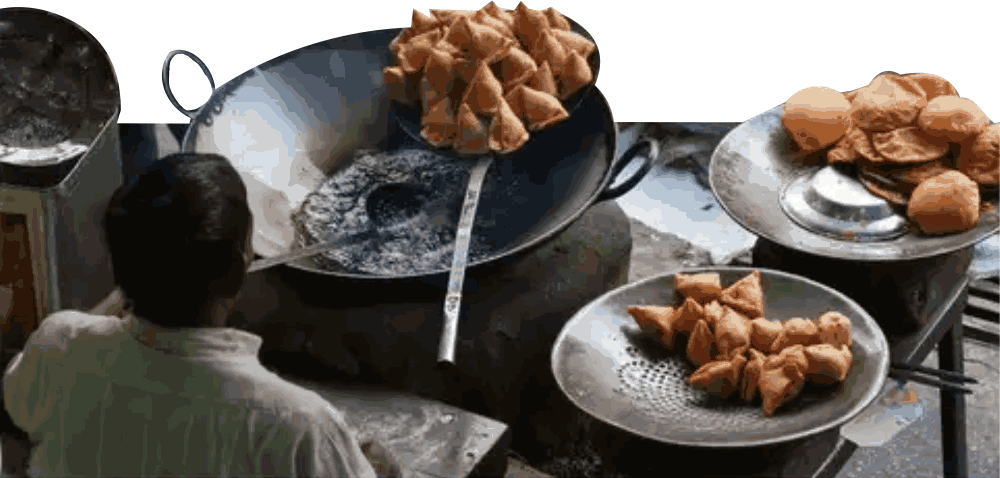 Conclusion
In the article we discussed about the variety of foods that is in demand by most of the people. Locals visit these destinations on daily basis. I know I only gave you some of destinations that is covered by me in a period of time, but I know there are plenty of destinations that is also a hidden gem. We have to travel out to reach there, so we can be able to taste that wisdom of food.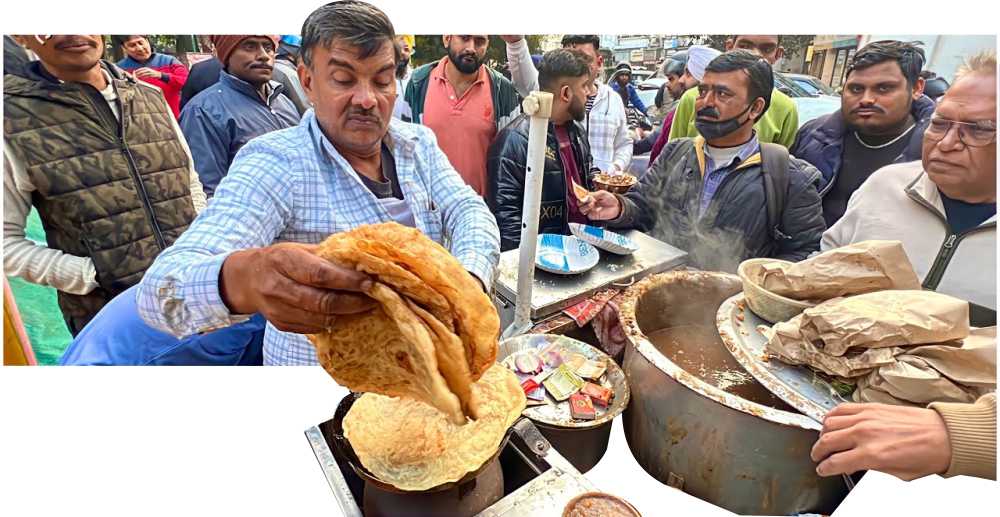 So if you want to travel to these amazing destinations and want to explore other gems of food, and want to enjoy comfortably. I am presenting to you this site www.Japjitravel.com, you can plan all your destinations and explore the world by booking with them. They are best with tourists and locals. Just call them or WhatsApp you can explore the world in a cheap, comfortable and convenient way (CCC way). You can see their number or email id on their website.
FAQ's
What are the reasons Delhi food being famous?
The reasons Delhi food is so Famous,  you can find any types of cuisines in one place. You can find every food that is made in India, in Delhi, with different flavors and forms.
Can we order South Delhi food to West Delhi?
Yes, you can, All street and restaurant food are now available in online platforms like swiggy, zomato, Magicpin etc.
What Dish Delhi people's eat on Daily Basis?
There are plenty of dishes, but some dishes are that is very common in Delhi people to eat on Daily basis are Chole Bhatture, Chole Kulche, Kachori, Pani Puri, Sambhar Dosa and Momos.
---
---
STAFF'S PICKS &
Related Posts