A ROMANTIC GETAWAY TO DARJEELING
Posted On August 14th, 2023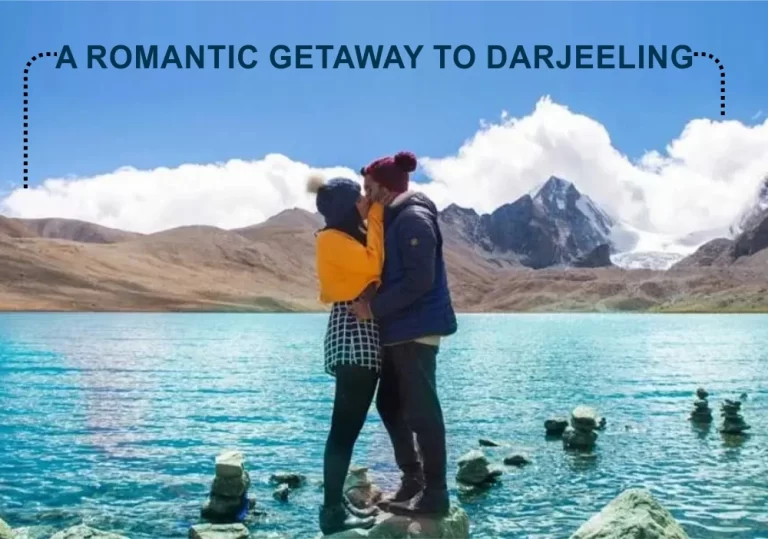 Darjeeling is said to be an idealistic romantic holiday destination because of its scenic ethnicity. The snow-clad Kanchenjunga peak, the pine forests, emerald-like tea gardens, and heart-touchingly delicate orchid gardens all lure your heart and invite you to behold and admire their beauty. The juvenile zeal of Darjeeling is a combination of contemporary as well as provincial appeal.

Likewise, this place has everything natural beauty, exquisite tourist spots, cozy hotels and resorts, exotic food, and shopping destinations to sum up we can say Darjeeling tourism is a full-fledged exciting package for a holiday. Additionally, the resplendent beauty of Darjeeling is ideal for newlyweds who seek romantic solace.
Darjeeling is also known for its ethereal tourist attractions. You will regret if you miss taking a visit to these stupendous places- a romantic getaway to Darjeeling

1. Padmaja Naidu Himalayan Zoological Park:
This is an amazing zoo where a special attraction can be red pandas for you. Don't forget to pay a visit here. Children especially get enthralled by visiting this zoo. There are staircases on multiple edges within the zoo, and these are designed for individuals in search of thrills. Additionally, beyond these stairs lie regions that serve as residences for blue deer, Himalayan bears, and goral. A few more animals that you will see are: red panda, and blue sheep. On the other hand, they openly wander around, which is why an expert guide is essential when you decide to explore these zones.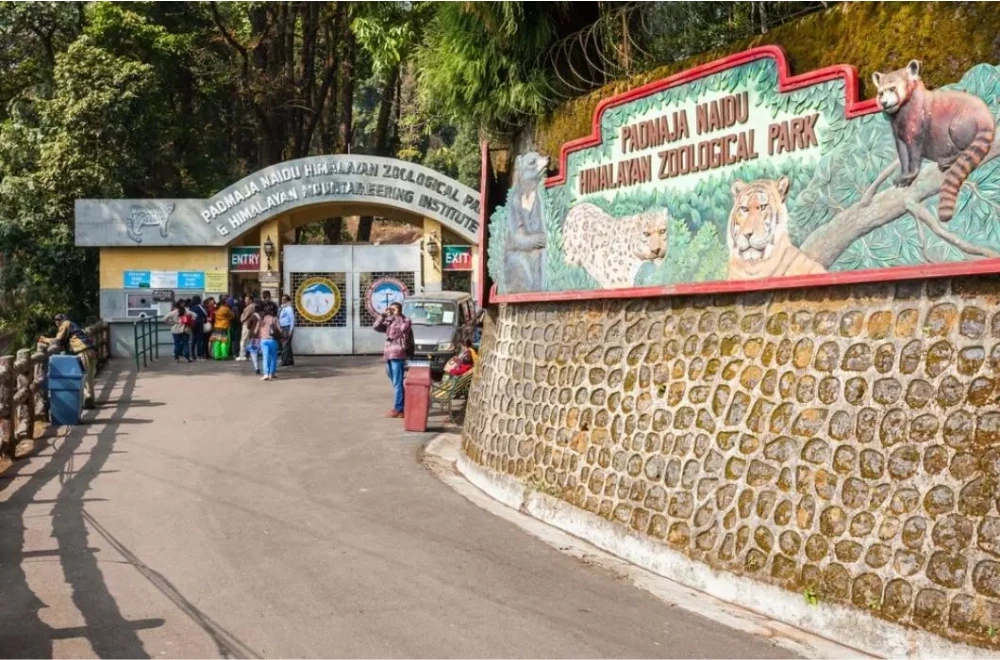 Timings: Accessible daily from 8:30 AM to 4:30 PM. (Thursday closed)
Entry fee: INR40.
2. Kanchenjunga Peak:
These magnificent peaks are a real treat to your eyes. Kanchenjunga Peak act as a gemstone in the beauty of Darjeeling. The summit is situated at an elevation of 8586 meters. Kanchenjunga signifies 'the five riches of the Divine portraying the five stores of the Divine. Moreover, the Darjeeling War Memorial is among the most frequented spots to observe Mount Kanchenjunga.

Nevertheless, the Kanchenjunga Peak carries an imposing position in Darjeeling. Around 73 km away from Darjeeling, its towering presence shapes Darjeeling into what it is. Therefore, don't overlook the initial rays of the Sun touching the summit, a marvel to witness.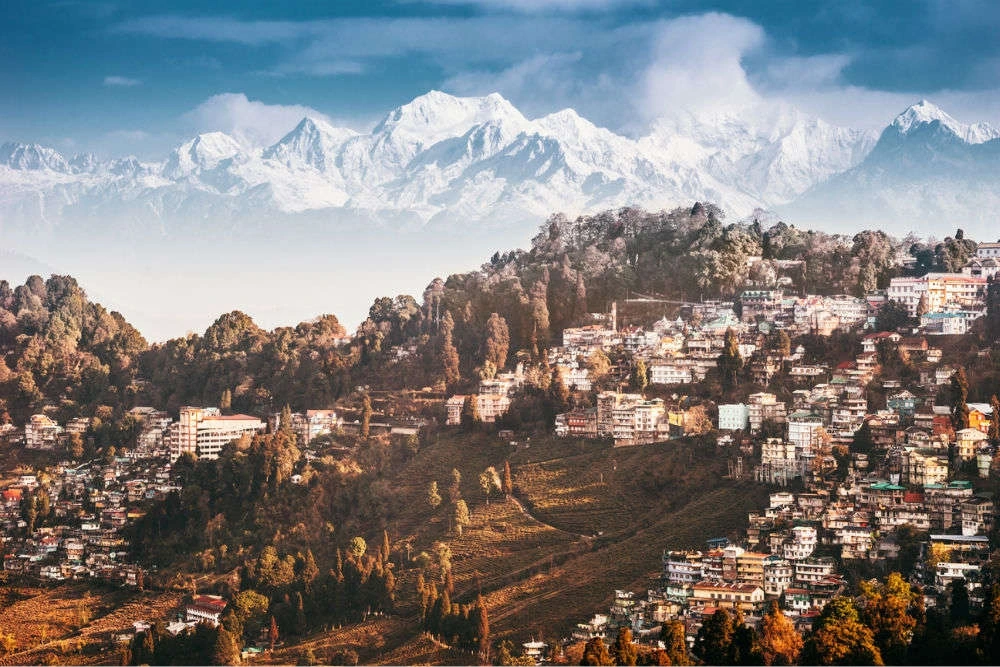 Timings: You must prefer to visit between April to May or October to November.
Entry fee: There is no fee but there are permits you will have to pay if you are going camping etc. A basic package starts at INR15000

3. Happy Valley Tea Estate:
We all know that Darjeeling is famous for its tea plantation. Here you can see the lush green tea plantations in a wide range. Moreover, it is the second eldest tea farm in the tea-rich town of Darjeeling. Likewise, its roots are closely linked to the past development and crafting of the globally praised Darjeeling Tea. Moreover, there is a guided tour. You can explore the scent factory that is accessible.

Similarly, sightseers can witness how new tea leaves are wilted, rotated, matured, dried, and arranged. However, it is eventually rated to create the diverse kinds of tea accessible in the marketplace. Thus, it is definitely a romantic getaway to Darjeeling

Timings: The operating hours are 8 am to 4 pm. However, it is closed on Monday and Sunday.
Entry fee: Free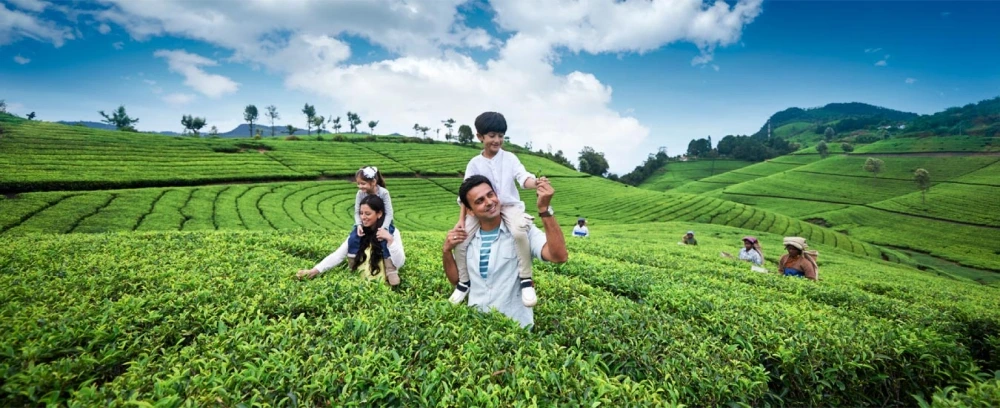 4. Himalayan mountaineering institute:
Being a romantic place, this place is also a pie-in-the-sky for adventure seekers. The range opens the scope for mountaineers too. It is an ideal activity for the mountaineering Institute and the zoo. It was also close to some spots where you can see things from far away, so we could mix a walk to the zoo with some sights of the Himalayas. Therefore, it is really valuable.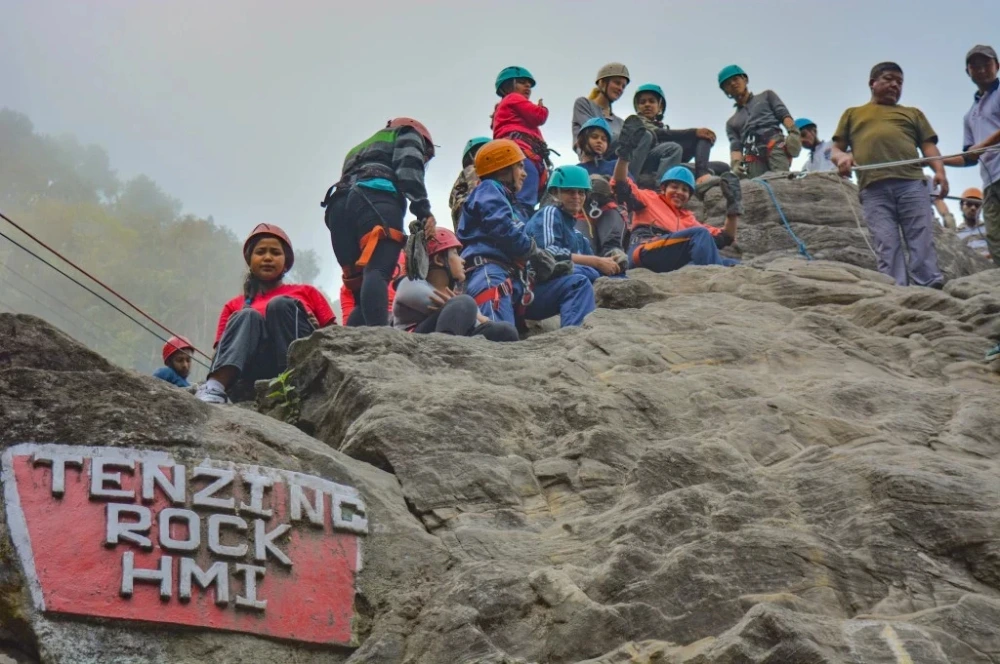 Additionally, everyone who's keen on excitement should check out this place. They are doing an excellent job of keeping up and including fresh displays for their museum as well.
Timings: You can explore from 9 in the morning to 5 in the evening.
Entry fee: INR50
5. Tiger Hill:
It is best known for its bewitching sunrise view. Explore the Hill, straight before the time of Dawn, the scene will be truly charming. Similarly, the sun gradually moves forward from the horizon, and the sky turns brightly hued, enhancing the view. It's a truly unique place where you can witness a beautiful sunrise and experience the wonders of nature.

Furthermore, just picture yourself standing atop these massive mountains, and you'll be able to take in the pure, breathtaking view that surrounds you.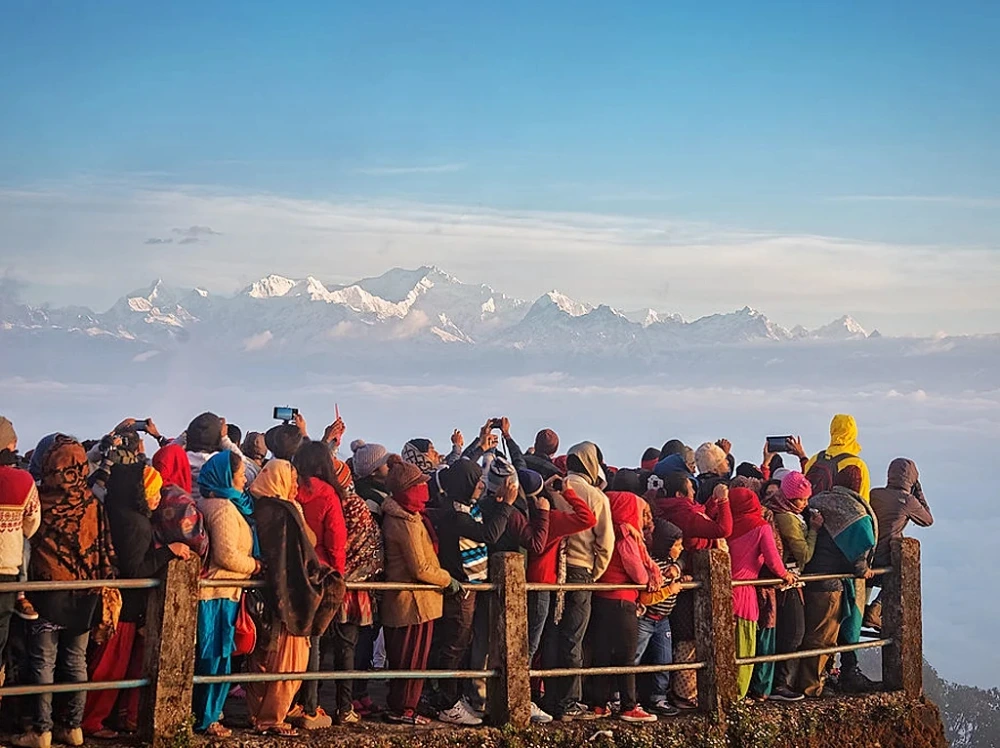 Timings: You must visit between October and December and also from March to April. Within these months, the heavens stay transparent, permitting an undisturbed and extensive sight of the mountains. To see the sunrise at Tiger Hill, you must begin by 3 in the morning.
Entry fee: INR50
Wait, we have more to this article A romantic getaway to Darjeeling.
6. Darjeeling ropeway:
Rejoice in the fascinating experience of cable cars here. Experience the extensive sights of the valley and the lush green tea gardens on the hill inclines. Specifically, observe calm rivers flowing alongside forests. While the cable cars move at a medium pace, it enables visitors to capture some incredible pictures. Additionally, it functions as a popular tourist hub.

It attracts a crowd of travellers from around the globe to see the attractiveness of Darjeeling in its finest approach. There's no doubt that relishing a ride with this aerial tramway is among the prime things to engage in while in Darjeeling. So, are you ready for a romantic getaway to Darjeeling?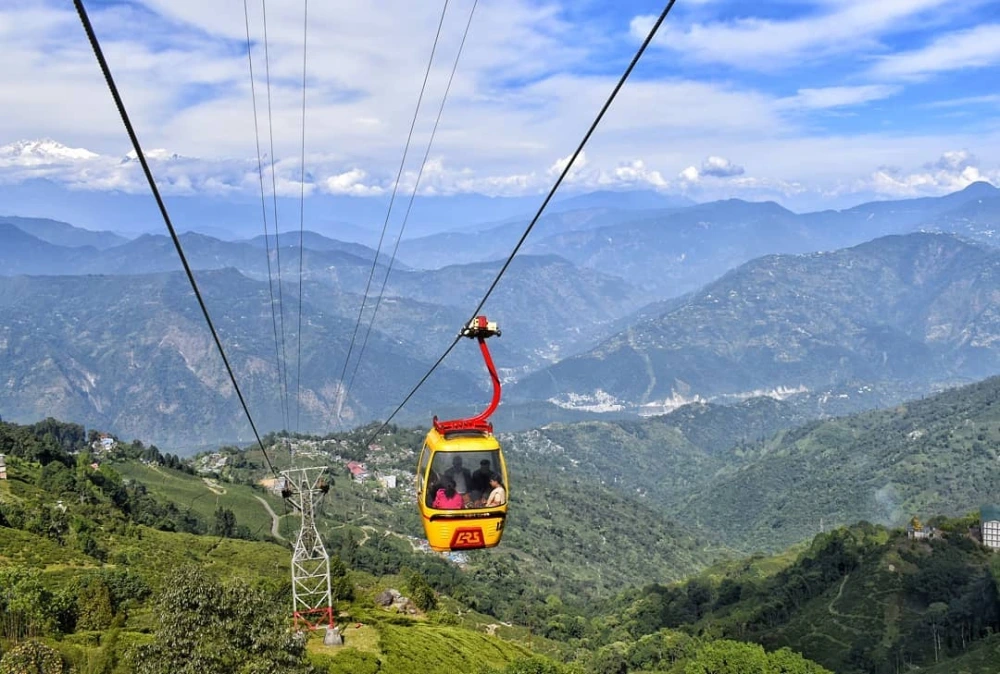 Timings: 10 am to 4 pm. However, the ideal time to explore is April to June
Entry fee: INR200
7. Darjeeling Mall:
It is best for relaxing. There are benches on which you can sit, relax and bathe in the sun. The Darjeeling Mall stands on the top of Nehru Road, and the place is a space where both the residents and the travellers especially come to experience the sunset. They sit on one of the numerous benches provided there and look at the incredible sights of the mountain peaks and valleys all around. Any person who toured Darjeeling will surely be familiar with the lovely area of Darjeeling.
Moreover, it is one of the finest spots that one must not overlook during a journey to Darjeeling. It's a spot where folks gather or connect from different locations, mainly serving as a hangout for both the residents and the travellers. The spot includes several small shops, places to eat, and dining places.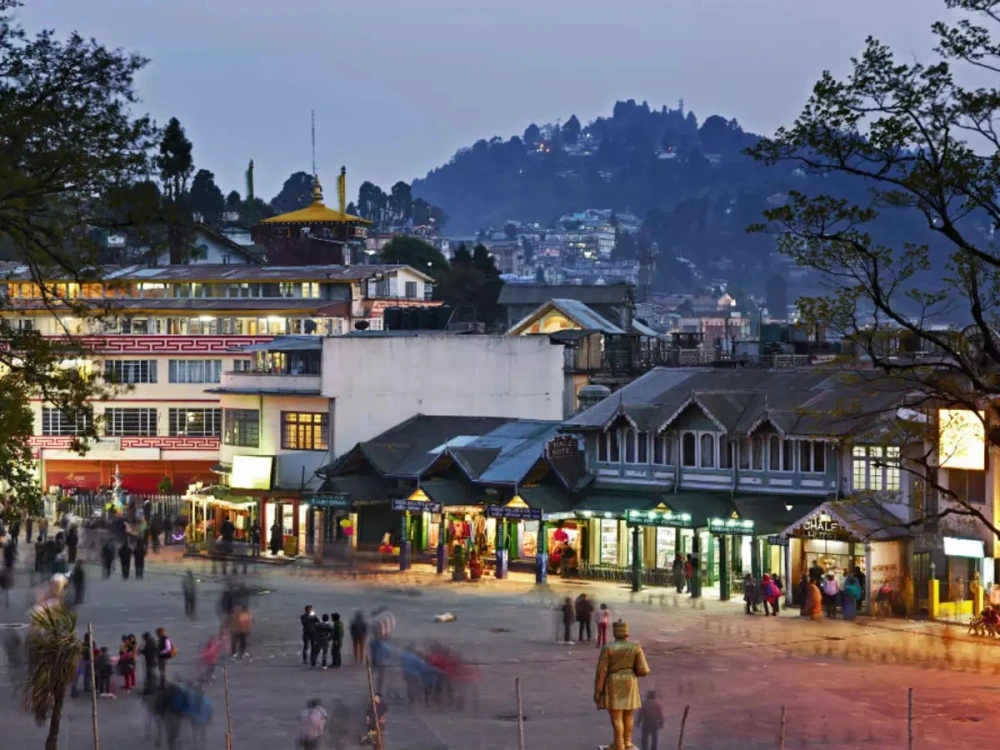 Timings: The hours are from 10 in the morning to 8:30 in the evening.
Entry fee: Free
How to reach Darjeeling?
By Road:
To reach Darjeeling via road, use NH-110 from Siliguri. Siliguri is the main junction and starting point. The road crosses mountains, forests, and a river. Buses and shared taxis are cost-effective choices, costing INR500 per person. Moreover, private taxis cost around INR2000, depending on the season.

By Rail:
The nearest station, NJP and is well-connected. NJP has Rajdhani trains from Delhi, Kolkata, Mumbai, and Chennai. This train reaches Siliguri or Darjeeling. Besides, The Darjeeling Himalayan Railway is a narrow-gauge route, covering 88 km.

By Air:
Bagdogra Airport is 70 km away. Flights from major cities like Delhi, Kolkata, Chennai, Mumbai, and Guwahati are frequent. Flights cost around INR2700 from Delhi. From Bagdogra, a taxi to Darjeeling takes about 3 hours. Shared and private cars are available.
Conclusion:
Darjeeling is an incredibly refreshing adventure for us. Experience the finest of nature and the northeastern part of India here, and to be honest, we adored every part of it. From the pure air to the fog to the tea gardens to the sunrise, essentially everything had a touch of hillside enchantment.
Also, relish freshly baked treats at the nearby cafes; spending a few days in Darjeeling will leave you revitalized, calm, and totally at peace. So, get your bags ready and remember to visit the shops.

Starting from the local-favorite Mall Road, there are numerous spots where you can go shopping in Darjeeling. It has many more tourist spots which are equally beautiful and one of their own kind. Therefore, a romantic getaway in Darjeeling will be memorable for you and your partner and you don't need to worry about lodging, food, or conveyance. Japji Travels, the best tour operator in India, has got it all covered for you.
---
---
STAFF'S PICKS &
Related Posts