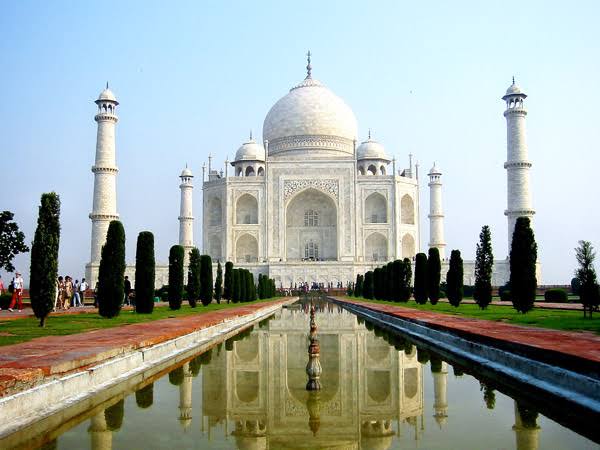 The city of Taj Mahal, one of the seven  wonders of the world, Agra lies on the banks of the river Yamuna in Uttar Pradesh. Agra is said to be the city of love. The very famous epitome of love the "Taj Mahal" stands there proudly humming the eternal love poem of  the Mughal emperor Shah Jahan for his love Mumtaz. This city marks the extent of love of two eternal lovers.
Tourism in Agra will be quite exciting for those who are keen towards history. It is the city of Mughals where various Mughal monuments are established. Agra tourism will be full of historical enlightenments and about the great Mughal emperors of India, their gigantic monuments and mesmerising gardens.
Tourist attractions in Agra –
The great Taj Mahal – Agra is famous for its Taj Mahal, it is the major tourist attraction of Agra. This pearly white marble mausoleum connotes the imperial beauty of mughal architecture.
Akbar's tomb- It is another excellency of Mughal architecture. One must visit Akbar's tomb on visit Agra.
Agra fort- This grandiose masterpiece is a real treat to your eyes. The architecture, the paintings, every inch of detailing is really breath taking. This mixture of Hindu and Muslim architecture is made of red sandstone. Your Agra trip is incomplete if you must taking a visit here.
Fatehpur sikri- One must take a visit to Fatehpur sikri. Though it is in ruins now but still you can gain a lot of knowledge about history there.
Itmad-ud-Daulah's Tomb- This white marble monument was built by Mughal empress Noor Jahan in memory of her father Itmad-ud-Daulah. You can include this in your Agra tour package.
Better start planning to visit this historic city. Also you don't need to worry about your tour packages Japji travels, the best tour operator in India are here at your service!