Top Places to Visit in Mysore
Posted On May 29th, 2023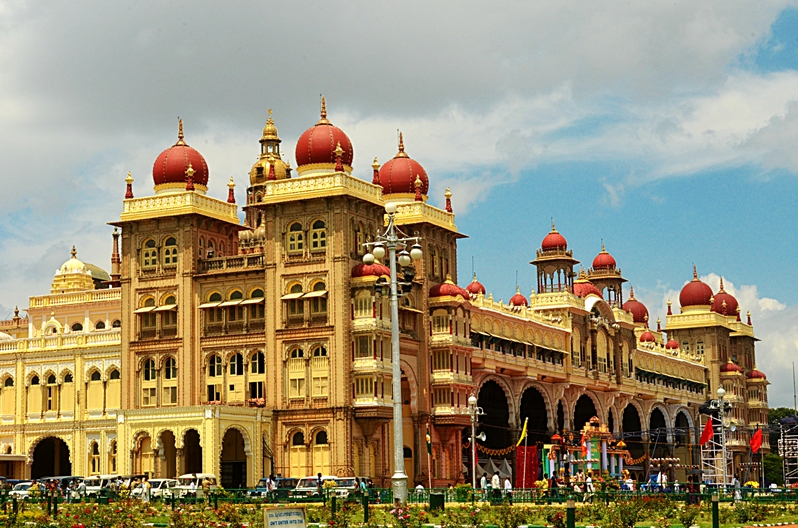 Mysore, often hailed as the "City of Palaces," is a captivating destination that caters to every traveler's desires. As the cultural capital of Karnataka, it not only showcases the richness of its past but also offers a delightful fusion of historical splendor and picturesque natural beauty adorned with serene lakes, cascading waterfalls, and enchanting gardens. With many top places to visit in Mysore, each destination promises a unique and unforgettable experience for its visitors. In addition, Mysore presents a collection of highly revered religious sites for those seeking spiritual solace. With its rich tapestry of attractions, Mysore beckons travelers to immerse themselves in its charm. Whether seeking architectural marvels, natural serenity, spiritual enlightenment, or cultural experiences, Mysore promises an unforgettable journey that leaves a lasting impression on every visitor.
5 Top Places to Visit in Mysore
There are many top places to visit in Mysore. Let's explore.
Mysore Palace
Somanathapura Temple
Chamundeshwari Temple
Karanji Lake
St. Philomena's Church
Mysore Palace
Mysore Palace, one of the top places to visit in Mysore, stands as a majestic testament to the city's regal history. Once the opulent residence of the esteemed Wodeyar dynasty rulers who reigned over Mysore for an impressive seven centuries, the palace continues to draw over 2.7 million visitors annually. Its sheer grandeur and architectural brilliance make it an awe-inspiring masterpiece. The intricate craftsmanship, ornate doorways, and winding corridors narrate the stories of a bygone era, leaving history buffs enthralled.
The palace complex encompasses pavilions, expansive halls, and myriad shrines, each offering a glimpse into the rich heritage of Mysore. A visit to Mysore Palace during the celebrated Dasara festival is an experience. First, the palace is adorned with lavish decorations that showcase the vibrant culture and traditions of the past. Then, as dusk settles, the palace transforms into a breathtaking spectacle. Exploring the nooks and crannies of the palace, visitors can immerse themselves in the grandeur of its architecture and the tales of its former inhabitants.
Location: Sayyaji Rao Rd, Agrahara, Chamrajpura, Mysore
How To Reach From Delhi: Via train
Timings: 10 am to 5.30 pm
Entry Fee: INR 40 for adults and INR 20 for children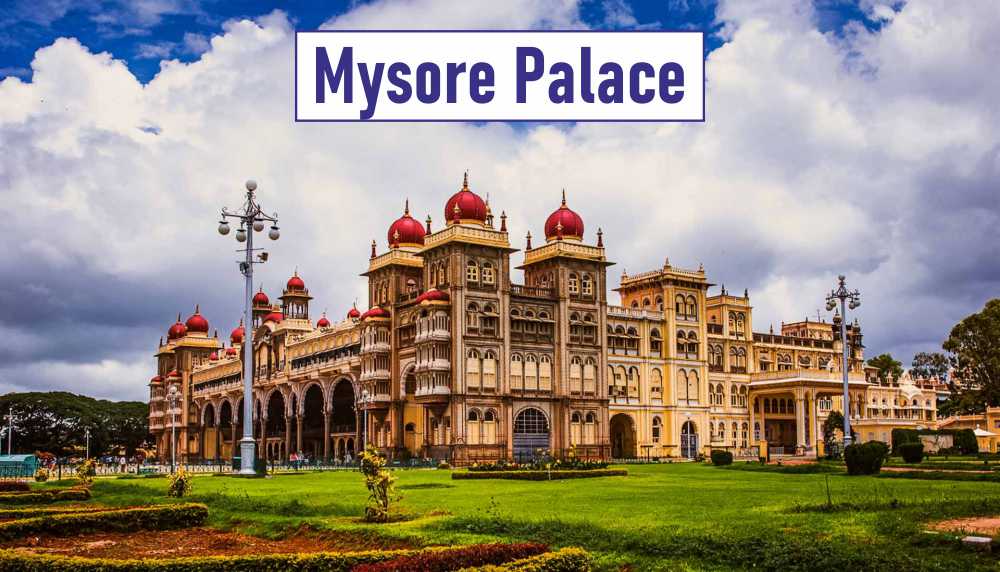 Somanathapura Temple
The Somanathapura Temple, located on the outskirts of Mysore, is a true architectural gem and a popular tourist attraction in the region. Built-in the 13th century during the reign of the Hoysala dynasty, this temple is a prime example of Hoysala architecture and craftsmanship. Dedicated to Lord Keshava, an incarnation of Lord Vishnu, the Somanathapura Temple showcases intricate stone carvings and elaborate sculptures that depict mythological stories and deities. The temple's exterior is adorned with ornate pillars, detailed friezes, and exquisite ceiling art, leaving visitors in awe of its intricate beauty. Despite the passage of time, the temple has stood the test of centuries, preserving its grandeur and spiritual significance. A visit to the Somanathapura Temple is a journey into the rich history and artistry of the Hoysala dynasty, offering a serene and captivating experience for all who appreciate architectural marvels.
Location: 38 kilometers (24 mi) east of Mysore
How To Reach From Delhi: Via train (Mysore station)
Timings: 9 am to 5.30 pm
Entry Fee: INR 5 for Indians and INR 100 for Foreign tourists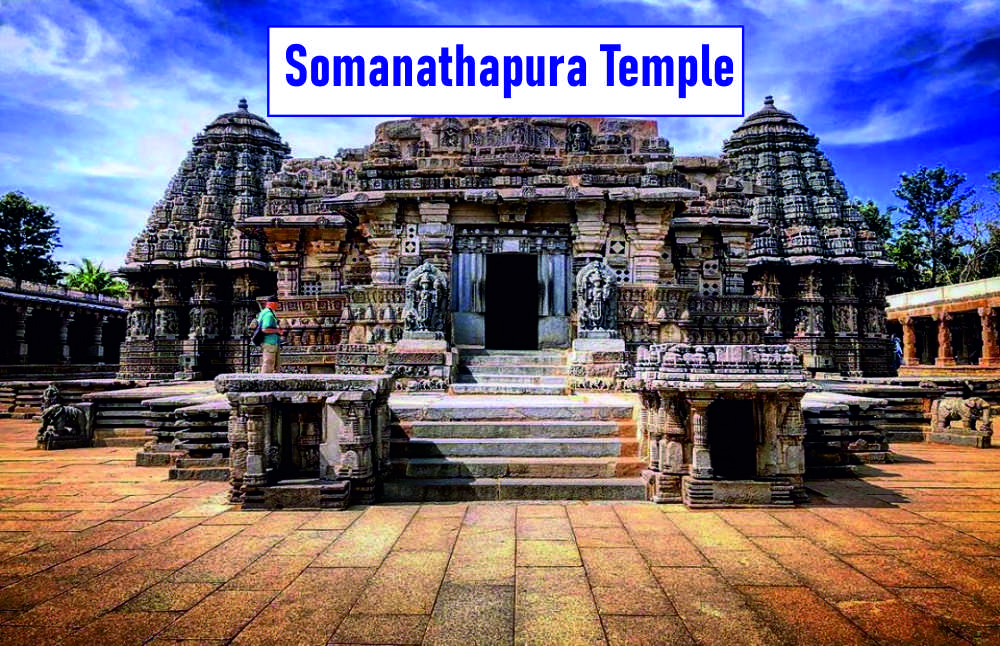 Chamundeshwari Temple
Perched atop the Chamundi Hill in Mysore, the Chamundeshwari Temple is a revered Hindu shrine dedicated to the goddess Chamundeshwari, a form of the goddess Durga. Ascending the 1,000 steps to reach the temple is a spiritual journey. The panoramic views of Mysore from the hilltop are breathtaking and add to the allure of the temple. The deity, adorned with jewels and worshipped with great devotion, is believed to bestow blessings, protection, and fulfillment of desires to her devotees.
The architecture of the Chamundeshwari Temple reflects the Dravidian style, characterized by intricate carvings and detailed craftsmanship. The inner sanctum exudes a tranquil atmosphere, creating a space for introspection and reverence. Besides its religious significance, the Chamundeshwari Temple is also a cultural landmark, hosting grand celebrations during the Navaratri festival. The vibrant festivities attract thousands of visitors who witness the divine enthusiasm and participate in traditional rituals. As a result, it is one of the top places to visit in Mysore.
Location: 13 kilometres from Mysore's palace city
How To Reach From Delhi: Via train (Mysore station)
Timings: 7.30 am to 6 pm
Entry Fee: Free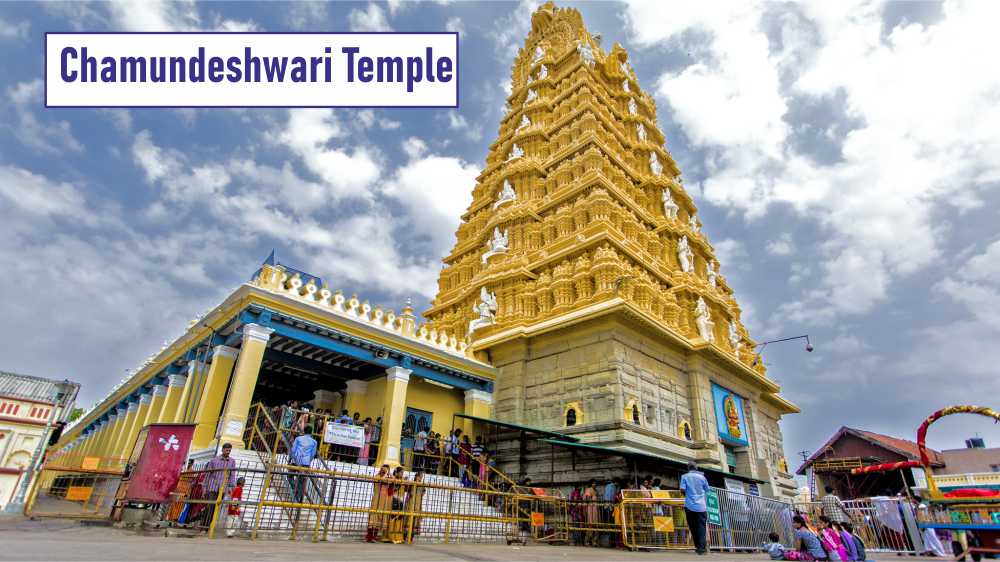 Karanji Lake
Karanji Lake, nestled in Mysore, is a serene and picturesque water body that entices locals and tourists alike. Spread across a sprawling area, this enchanting lake is known for its natural beauty and abundant avian population. The lake is home to various migratory birds, making it a paradise for birdwatchers and nature enthusiasts. A well-maintained park surrounding the lake offers a tranquil ambiance for leisurely walks, boating, and enjoying the lush greenery. With its peaceful atmosphere and diverse wildlife, Karanji Lake is one of the top places to visit in Mysore.
Location: 5 km away from the Mysore railway station
How To Reach From Delhi: Via Train
Timings: 8:30 am to 5.30 pm, closed on Tuesday
Entry Fee: Adults pay INR 10 and children pay INR 5.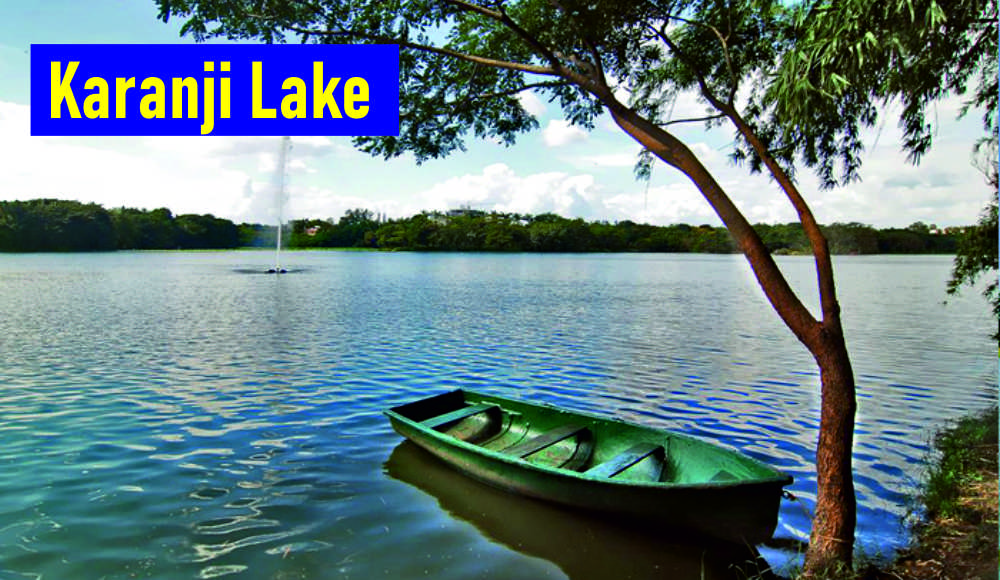 St. Philomena's Church
St. Philomena's Church, located in Mysore, is a magnificent architectural marvel that leaves visitors in awe. Inspired by the neo-Gothic style, this towering church stands as one of the tallest in Asia. Its soaring spires, intricate stained glass windows, and ornate interiors create a captivating ambiance. The church is dedicated to Saint Philomena, a revered Christian martyr. Inside, the serene atmosphere invites prayer and reflection. The church's grandeur and historical significance make it a popular pilgrimage site and a must-visit attraction in Mysore. Whether for spiritual solace or appreciation of its architectural splendor, St. Philomena's Church offers a memorable experience for all who enter its hallowed halls.
Location: Lourdes Nagar, Lashkar Mohalla, Mysore
How To Reach From Delhi: Via Train
Timings: 5 am to 6 pm
Entry Fee: Free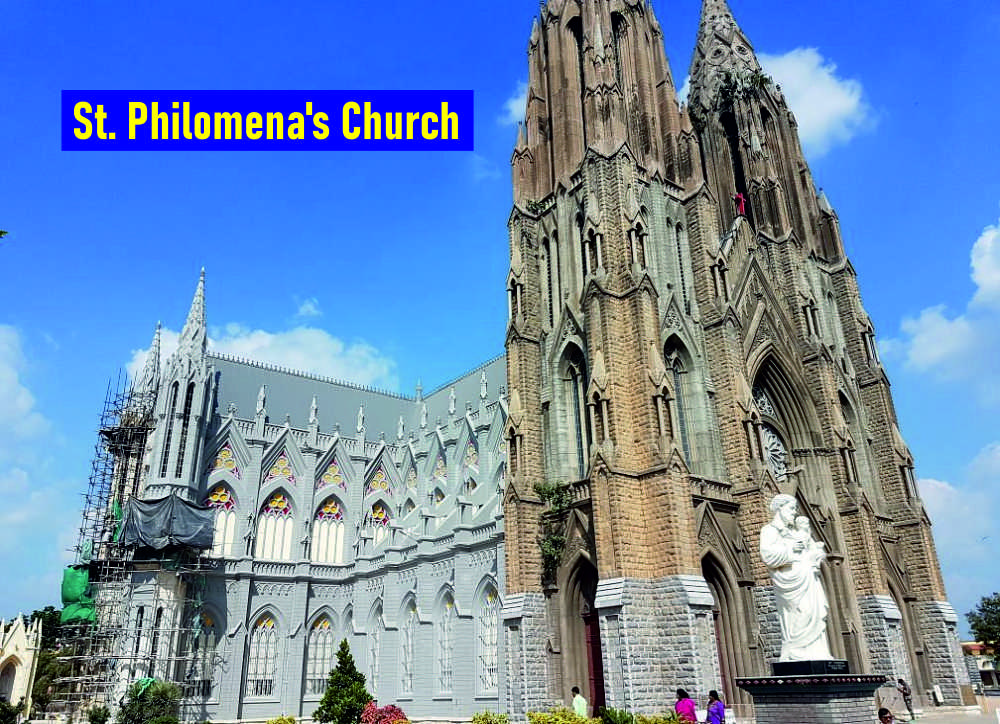 So, plan your visit to Mysore with Japji Travel. But first, explore our list of the top places to visit in Mysore.
FAQ's
What are the best tourist places in Mysore?
Some of the best tourist places in Mysore are The Mysore Palace, Karanji Lake, Chamundi Hills, Brindavan Gardens, Shivanasamudra Falls, Melukote, Mysore Zoo, and St. Philomena's Church.
What are the famous things to buy in Mysore?
Some famous things to buy in Mysore are silk sarees, sandalwood products, paintings, Mysore Pak, wooden handicrafts, sandal soap, Mysore Peta, etc.
---
---
STAFF'S PICKS &
Related Posts