Organize Any Festive Party With Top Yummy Food
Posted On September 16th, 2022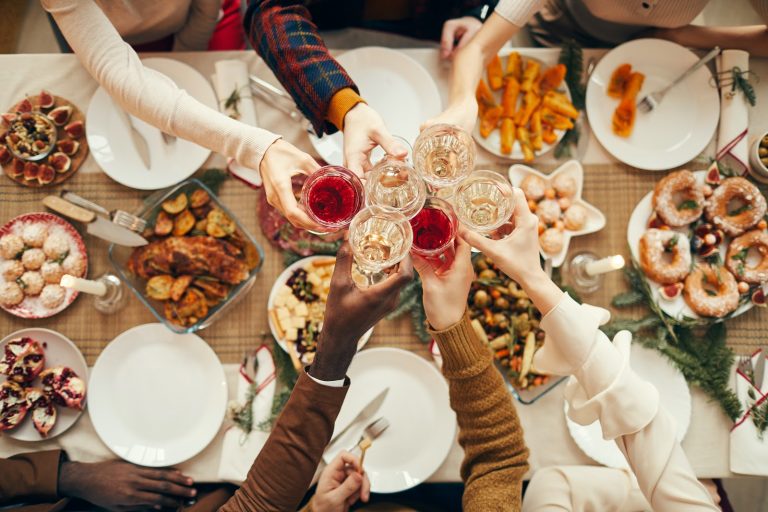 Food has a vital role in festivities. A solid selection of meals is essential whether you're hosting a weekend party or just an evening get-together. Spicy snacks, savory meals, and mouthwatering desserts are essential to any festival. But you must prepare the food in advance to organize a great feast during a party.
Try this yummy festival food to spice up your gatherings at home or at parties. In India, there are several festivities. Also, they comprise mouthwatering, wonderful, and jaw-dropping desserts and dishes. The following are some of the most popular foods that everyone enjoys eating during the festival season.
Organize Any Festive Party With These Top Yummy Food
Ganesh Chaturthi
In India, Ganesh Chaturthi is a significant religious festival. People celebrate this festival over a ten-day period with enjoyable festivities. People place huge Ganesh idols in pandals open to the public as well as in houses and the outdoors. All day long, they conduct pujas. And on the final day, there is a Visarjan, immersion of the idol(s).
There are events that feature singing, dancing, and other cultural activities. The Modak is Lord Ganesha's, favorite sweet. Thus, it is the most delicious snack available during this celebration. During Ganesh Chaturthi, people make a variety of modaks. Moreover, the most well-known is the Maharashtrian modak that comprise of rice flour and then it gets steamed.
Gurupurab
On Gurupurab, the most significant Sikh festival, the gurus' lives, and teachings are discussed. Langars are held in places of worship like Gurudwaras and the Golden Temple. The day ends with prayers and songs of devotion before the distribution of Karah Prasad, the meal served to devotees.
To celebrate Gurpurab, people adorn their homes and light firecrackers. Furthermore, there is a requirement for whole wheat flour, a ton of ghee, and sugar to make Karah parshad. Although it is really sweet, the high-calorie content comes at a cost (but eat it anyways).
Onam
Another significant event that people celebrate in India is Onam. People dress traditionally at this amazing festival. On the floor of their homes, individuals also draw pookalam. Also, there are various exotic floral motifs. Onasadya is a sumptuous lunch consisting of 11 to 13 dishes. On this occasion, the artists dress up as tigers and hunters. Also, they perform their various art forms. Onasadya consists entirely of traditional vegetarian foods. Moreover, these are traditionally presented on a green banana leaf. In Malayalam, a sadhya is a dinner.
The main course includes plain boiled rice. You can have it with a variety of side dishes (Kootan). These include Sambar, Rasam, Papadum, banana, yogurt/buttermilk, and other curries. Payasam, their national dessert, is delicious to eat. The "kootan" has a diversity of flavors. Because it includes several types of vegetables. To ensure that the diners eat at least two to three courses, there are so many dishes to have.
Eid-ul-Fitr
The Muslim community in India regards Eid as one of their most significant festivals. People visit friends and relatives. They dress up for special community prayers in the morning. Also, they share sweets while visiting in their traditional clothes. It's common for loved ones to give children idi (money or gifts).
Ramadan, a holy month of fasting, is commemorated by this celebration. Furthermore, they always consume delicious meals to break the fast. The Nawab Biryani is one such delicacy, and everyone enjoys it. Due to its flavorful composition, this biryani refers as "Nawabi."
Durga Puja
Durga Puja is a religious festival that also refers to Durgotsav. The Hindu goddess Durga is honored during this yearly festival, which is primarily observed in South India. It's one of those festivals, well-known for its mouthwatering desserts and dishes, and for being a food lover's heaven. Everybody must have Sandesh, one of the festive delicacies. Because this is a melt-in-your-mouth dish that includes milk, sugar, paneer, and dry fruits.
Dussehra
The Dussehra festival is one of India's most famous festivals. Also, people celebrated this festival with mouthwatering cuisine. Many people practice fasts and are on a rigorous eating regimen during this time of year. The most popular dist during this festival is Sabudana Khichdi. Every flavor is present in every mouthful of this simple recipe. It comprises small-sized pearls (sabudana).
Diwali
The festival of Diwali is well-known for its "mithai," or sweets. On this day, every home will have a variety of freshly made snacks. These include Jalebis, Gulab Jamun, & Shankarpali. Also, you will find Kheer, Gajar Ka Halwa, Kaju barfi, and many more. Additionally, people serve savory foods during lunch & dinner.
Hemis
One of the most well-known festivals in the far north of India is Hemis. It is a two-day long religious celebration that you can observe in Ladakh. Every year, both domestic and international tourists go there in large numbers. At this festival, there is a performance by priests – the Cham dance. They wear elaborate costumes and masks.
Also, it includes traditional musical instruments such as cymbals, drums, and trumpets that monks play themselves. The feast includes a delectable selection of rice, noodles, Thukpa, and Momos. Moreover, there is a wide choice of delectable sauces. It is also the ideal complement to the chilly atmosphere.
FAQs
What is the festive treat in India?
The festive treat in India includes an endless variety of desserts, including Kaju Katli, milk cake, peda, petha, laddu, & rasgulla. Also, it includes gulab jamun, gujiya, soan papdi, and chocolate barfi, etc. Religious additions like milk, margarine, sugar, and saffron make them appropriate for both festivities and events.
What is a well-liked Indian sweet?
Gulab jamun is arguably India's most well-liked dessert. It is deliciously sweet and sticky and impossible to resist! These fried and syrup-soaked soft, spongy balls are created with a dough of flour, milk powder, or condensed milk.
For what reason, do we eat sweets during festivals?
Indian sweets refer to as "Mithai" traditionally. The idea that sweets are pure and should be offered to the gods is a long-standing custom. The delight of the event is shown through sweets as a little yet heartfelt greeting to people, family, and friends
---
---
STAFF'S PICKS &
Related Posts