Amazing Dussehra Dishes To Savour This Festive Season
Posted On September 17th, 2022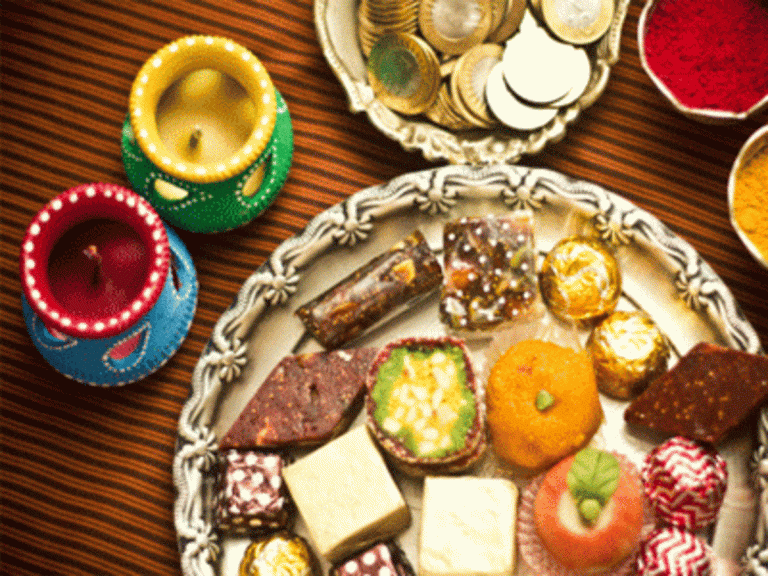 Food and festivities are closely related in India. Therefore, no festival would be complete without some delectable dishes. One of India's most celebrated festivals is Dussehra. It occurs on the tenth day of the Navratri holiday season and also refers to as Vijayadashami. With one message at the core of it all—the triumph of virtue over evil—people celebrate this festival in various ways across the nation. Festive foods also play a significant part in the Dussehra celebration, as they do for most other festivals.
Amazing Dussehra Dishes To Savour This Festive Season
Jalebi And Fafda
Gujarat's signature dishes include jalebi and fafda. It is believed to be lucky to eat these treats together on Dussehra. The old-tales claim that Lord Rama enjoyed Jalebi, also known as Shashkuli. Also, he celebrated his victory over Ravana by eating Jalebi. Additionally, Fafda is served with Jalebi because, according to Hindu tradition, you should break your fast with a meal made with gram flour.
Matar Kachori
A delicious deep-fried delicacy refers to matar kachori comes from the northern regions of the Indian subcontinent. It is one of the well-liked and easy Dussehra dishes. To make this delicious food item, there is a requirement of combining cooked peas with spices like salt, red chile, and chat masala. Then deep frying flatbread-shaped wheat flour balls packed with pea mixture.
Hara Bhara Kebab
Hara Bhara kebab is a vegan option to well-known kebabs made using meat. The ingredients for this kebab include boiled & then mashed potatoes, boiled peas, salt, & red chili powder. Also, it includes coriander powder, and chat masala. Then, form this mixture into a kebab and fry on a skillet in ghee or oil. Enjoy this lovely dish at festivals.
Upvaas Thalipeth
An Indian Dussehra dish from the Indian subcontinent refers to upvaas thalipeth. You can prepare this yummy dish by mixing bhajanee with fresh coriander, onion, and other veggies to make dough. Then, cook it & serve it hot and with butter.
Chana Puri
Chana is the primary ingredient of Chana Puri. It is a traditional Dussehra dish from the northern region of the Indian subcontinent that is savory in flavor. Firstly, you need to soak the Chana in water throughout the night. Then in the morning, boil them before sautéing with spices like turmeric, salt, and coriander powder to enhance the flavor. People usually serve puri and suji ka halwa with this dry meal.
Sweet Dosa
An amazing Indian Dussehra dish from the southern region of the Indian subcontinent is the sweet dosa. People make this dish using a thin batter consisting of soaked rice and beans. Then, combine this with sugar or jaggery, depending on personal choice. Moreover, it is a hot snack that is very nourishing.
Ragda Patties
A well-known cuisine from Maharashtra on Dussehra, in the Indian subcontinent, is ragda patties. In Maharashtra, it is a typical Dussehra dish. People make this dish with mashed potato patties and pea sauce. To make the ragada, there is a usage of rehydrated peas. There is a requirement for mashed potatoes and seasonings to make the patties. People enjoy eating ragda patties at this festival with their loved ones.
Sabudana Tikki
The deep-fried snack refers to as Sabudana Tikki hails from Maharashtra in the Indian subcontinent. It is a well-liked Dussehra dish because fasting individuals can also eat it. People make this lovely dish after soaking sabudana for the entire night. Then, add mashed potatoes and peanuts without the husk in this. After that, slice them into little bite-sized pieces and deep-fry them.
Huli Tovve And Rice
Curry refers to "Huli Tovve" as a specialty of the Indian state of Karnataka. It is a must-have vegetable and ground masala curry dish during Dussehra. It is similar to the sambhar served at South Asian weddings. People make this dish with their choice of mixed veggies, peanuts, arhar dal, salt, and jaggery. Then, they serve it hot with boiled rice. The main component of this meal is tamarind. People in Karnataka love to eat Huli Tovve with rice on occasion.
Shrikhand
In the states of Maharashtra and Gujarat, there is a usage of strained yogurt to make the traditional Indian dessert refers to as shrikhand. Yogurt is used to make shrikhand, which is then dried by hanging it for many hours to remove the whey. Then move it to a bowl and combine it with flavors like saffron, rose, etc. After a few hours of chilling, serve it cold with the addition of dry fruits. It is one of the most popular Dussehra recipes that people must prepare for festivities.
Shahi Paneer And Puri
During the festive season, people prepare shahi paneer. It is a savory dish from Northern India during the Mughal era. One of the most popular Dussehra recipes is shahi paneer with puri, made with cottage cheese and gravy. To make Shahi Paneer, there is the usage of simmering cottage cheese with spices. The spices include turmeric, methi, and salt to taste in a tomato, cashew, and onion sauce. People serve it with puri. It is a flatbread that people prepare by deep-frying wheat flour.
Outlook
The festival season gives us a wonderful chance to spend time with our loved ones while indulging in delectable foods and treats. Happy Dussehra!!
FAQs
What special food is made during Dussehra?
To celebrate the festival of Dussehra, people prepare sweet foods such as jalebi, kheer, gajar ka halwa, besan laddoo, and many others in nearly all of India's northern areas.
Why is Jalebi eaten during Dussehra?
Jalebi is thought to have been Lord Rama's favorite dessert. Thus, it is served on Dussehra. He defeated Ravana on this particular day, which marks the victory.
Which state is popular for Dussehra in India?
Dussehra, also known as Durga Puja and Vijayadashami in various regions of India, is one of the most well-known celebrations. Every Indian state celebrates the lovely festival in a unique way. The ethnic elegance of Dussehra is celebrated throughout India, from Himachal Pradesh to Gujarat to Karnataka and Uttar Pradesh.
---
---
STAFF'S PICKS &
Related Posts