Everything you need to Know about Nightlife in Chandigarh
Posted On November 6th, 2021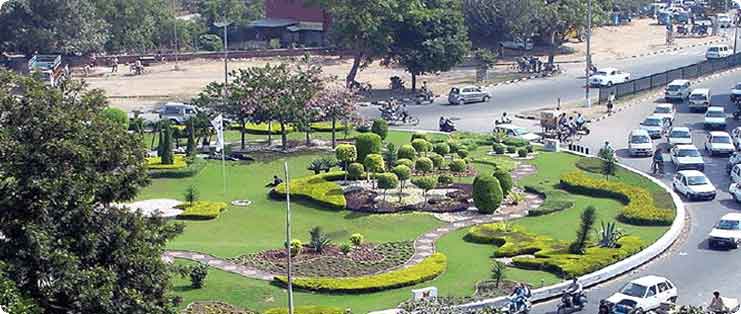 Chilling with your fellas, grabbing a frisky whiskey, dancing, appetizing tasty food is all about the best nightlife in Chandigarh. The options in this vibrant city will keep your adrenaline high. As the sun sets down the party meter rise high in Chandigarh.
From swanky bars to pocket-friendly dhabas, there's everything for everyone here. So, get ready to unzip the compartments of joy to tuck in memories forever.
Places to enjoy the best of Chandigarh's Nightlife
In search of nocturnal adventure? Well, then you need to explore the nightlife in Chandigarh. We have curated the best places to burst your chest with happiness. Check out the list below!
With a variety of cuisines, relishing drinks and soulful music, FLYP will entertain you to no end. One of the best clubs in Chandigarh to enjoy the essence of nightlife. In addition, the interiors will flutter your heart.
You get to enjoy the Mediterranean, Italian and Mexican food at FLYP. Imagine a live band playing your favourite track whilst tasting your favourite dish with a sip of a smokey drink. Out of the world, right? Visit FLYP and experience the lively ambience yourself.
Address: "47, Madhya Marg, Sector 26".
Lava Bar
The most sought-after place in Chandigarh is Lava Bar. It is among the best places for nightlife in Chandigarh. The chilled beers, cocktails and mocktails will make you say fantastic. Furthermore, the art of talented bartenders will dazzle your mood.
Lava Bar is also famous for its continental dish and wine that will satiate the diners tastebuds. Moreover, the ambience is outstanding with a sophisticated crowd. Based inside the luxurious Taj Hotels, Lava Bar is for those who love the lavish setting. So, to experience rocking nightlife head to Lava Bar.
Address: "Block No 9, Taj Chandigarh".
Kitty Su
The best place to party hard on Saturday night is Kitty Su. Being part of the Lalit, you can't doubt its extravagant environment. Kitty Su is popular among millennials. Thus, they know to "chase the night well". Moreover, the neon lights, hippy music and top-notch interiors will force you to "get on the floor".
Kitty Su is all about enjoying the best nightlife in Chandigarh. Furthermore, with a good collection of drinks and lip-smacking dishes, Kitty Su will steal your heart.
Address: "Rajiv Gandhi IT Park, The Lalit Chandigarh".
"Hoppin Restro Bar"
Do you love live music? Combined with soothing drinks and your favorite tune? Then, "Hopping Restro Bar" is your type of place. Located in the lively Elante Mall, it is a perfect spot to relish good nightlife in Chandigarh.
Even if you wish to visit this place alone, we bet you won't get bored. Live music will never make you feel alone. Soak in the melodious tune and gorge on delicious food. Furthermore, the balcony-seating under the star-lit sky is true bliss.
Address: "Elante Mall, Industrial Area Phase, Purv Marg".
"Babaji Ke Paranthe"
If you want to enjoy the nightlife of Chandigarh, but your pocket is calling a rain check on, then step into "Babaji Ke Paranthe". It is one of the best places to savour street egg parathas till 4:30 am. When in Chandigarh, you get to relish the best food late at night at affordable prices.
Moreover, you cannot leave Chandigarh without tasting the delectable and quirky parathas. Give a chance to "Babaji Ke Paranthe" and woo your tastebuds. Plan an extravaganza long drive and try egg paratha at "Babaji Ke Paranthe" combined with pure love.
Address: "Sector 16, Track, 16B".
Pal Dhaba
Pal Dhaba is a popular hangout spot in Chandigarh. This dhaba can beat the best clubs in Chandigarh. In terms of a gamut of mouth-watering dishes, Pal Dhaba is the big daddy of all other dhabas. Moreover, the reasonable price will crave you to order more dishes.
Overall they have five outlets all over Chandigarh. So, for all the nocturnal people, Pal Dhaba is the best choice to experience nightlife in Chandigarh. The best cuisines to try here are Keema Kaleji and Punjabi Chicken. Visit Pal Dhaba and enjoy the desi food to satiate your late-night cravings.
Address: "Sector 28, SCO 151 & 152, Sector 28D, Sector 28 Marketplace".
"Sector 22 Market"
The list of places for nightlife in Chandigarh is incomplete without Sector 22 Market. The market is filled with street food stalls and is open till 5 AM. A small amount of 100-200 rupees is enough to satiate your hunger pangs at this market.
Gorge on the famous omelette and tea here. Moreover, the brimming crowd will sparkle your mood. Go on a long drive and bite the happiness of street food.
Address: "Sector 22 Market Rd"
From high-class clubbing zones to late-night dhabas, pick your favourite spot to enjoy the best nightlife in Chandigarh. Flush your worries and soak in the nightlife vibe of the city!
---
---
STAFF'S PICKS &
Related Posts