5 National Parks Within a Drive from Delhi
Posted On January 19th, 2023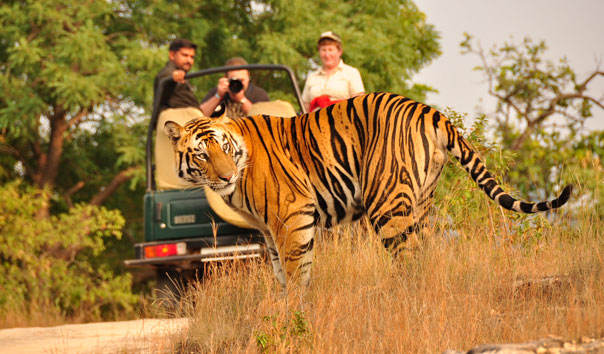 Not all escapes from Delhi are found in hill stations. There are some wonderful places for significant wildlife destinations with spectacular wildlife. Exotic species including Tigers, Asiatic Elephants, One-Horned Rhinos, Leopards, Hyenas, Gharials, and River Dolphins are common sights.
Here is a list of wildlife locations you can visit close to Delhi:
| | | | |
| --- | --- | --- | --- |
| S.NO | National Park | Distance From Delhi | Timing From Delhi |
| 1 | Keoladeo National Park | 203 km | 4 hour |
| 2 | Ranthambore National Park | 397.5 km | 5hour 39m |
| 3 | Jim Corbett National Park | 245.7km | 5 hr 14 min |
| 4 | Sariska Tiger Reserve | 202.9 km | 5 hr 10 min |
| 5 | Benog Wildlife Sanctuary | 275.0 km | 6 hr 58 min |
Keoladeo National Park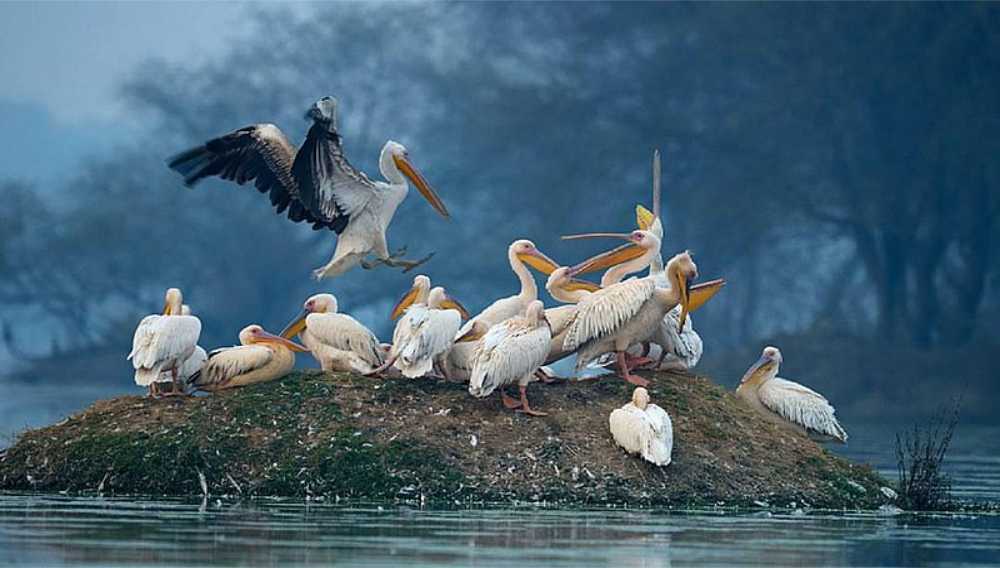 The Keoladeo National Park is only 5 kilometres from the Bharatpur Railway Junction, making it the most practical choice. One of this location's key draws is the Bharatpur Bird Sanctuary, which is conveniently located along a road. Inside the National Park, there are also specialty bicycles and rickshaws available.
Visitors have the option of travelling via rickshaws (yellow-plated), tongas, electric vans, or even walking since cars are not permitted inside.
The park, which is situated within a semi-arid landscape, is a haven of artificially preserved marshes, tropical and deciduous trees, meadows, and bushes. Although it is most well-known for its birds, it also has a wide range of other creatures, including 27 mamals species, 43 different fish species, numerous reptiles, and larger animals. The park features a wide variety of ducks, both resident and migratory, dueto the abundance of marshes and other water bodies within the precincts. The park is home to morethan 370 different bird species and is the sole regular migration route in India for the critically endangered Siberian Crane. Delhi and Keoladeo National Park are separated by a road trip of 203 km (126.1 miles or 109.6 nautical miles). It turns out to be a probably 4 hour drive smoothly!
Ranthambore National Park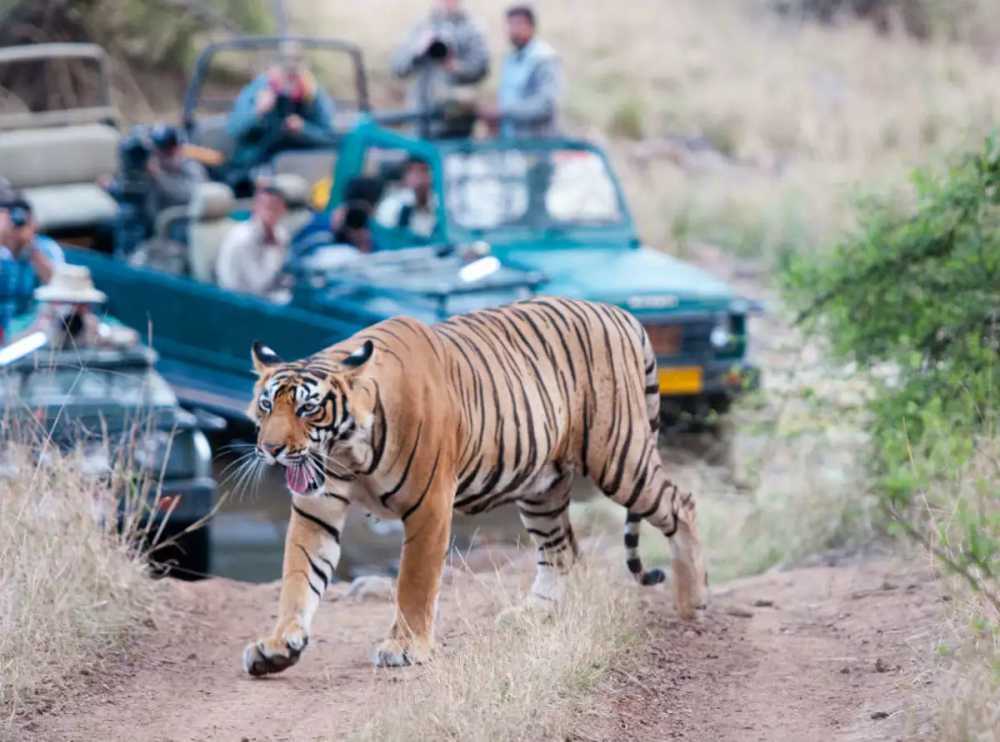 Ranthambore National Park is located in Rajasthan's Sawai Madhopur district, 397.5 kilometres from Delhi. One of India's biggest and most well-known national parks, it is a must-see location. The Indian government created Ranthambhore as the Sawai Madhopur Game Sanctuary in 1955, and in 1974 it was designated as one of the Project Tiger reserves. In 1981, Ranthambore was designated a national park.
The Sawai Man Singh Sanctuary and Keladevi Sanctuary were established in the nearby forests in 1984, and the tiger reserve was expanded to encompass both sanctuaries in 1991. It is a popular tourist destination close to Delhi in Jaipur.
The Ranthambore National Park was originally the hunting area of the Maharajas of Jaipur, making it one of the must-see locations on wildlife excursions in India. The Ranthambore National Park is bordered by the rivers Chambal in the south and Banas in the north. The park's scenery is made up of enormous rock formations, sloping scarps, enduring lakes, and streams. It has the name of the ancient fortification within the park, Ranthambhore. The three most notable water bodies are the Padam Talab, Raj Bagh Talab, and Malik Talab.
Ranthambore is roughly 148 kilometres from Jaipur, the location of the closest airport. On the Delhi-Mumbai trunk line is Sawai Madhopur Junction, which is located roughly 8 kilometres from the park. The city of Delhi is easily accessible from here. The closest bus stop, Sawai Madhopur Bus Stand, is approximately 9 kilometres from Ranthambore National Park and offers direct bus service.
Every year, the park is open from October to June and closed from July to September for monsoon season. The ideal time to visit Ranthambore National Park is between March and May.
Jim Corbett National Park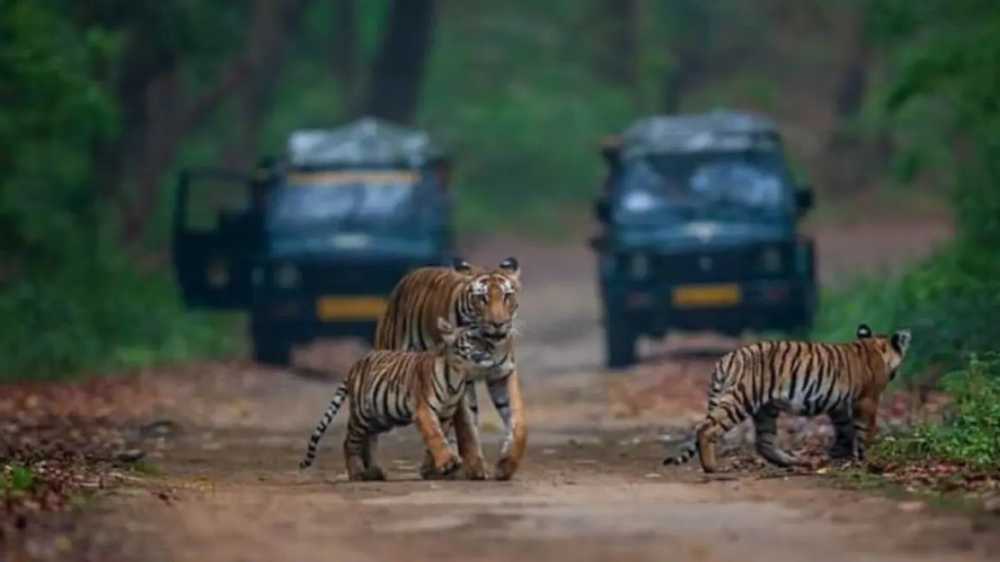 The oldest and most well-known national park in India, Jim Corbett National Park, is located 4 km from Ramnagar Railway Station, 65 km from Nainital, 232 km from Dehradun, and 245.7 km from Delhi. The Park serves as an area where Bengal tigers in India are protected. It is a well-known wildlife sanctuary in India and one of the top tourist destinations close to Delhi.
Corbett National Park was created in 1936. The park was formerly known as Ramganga National Park after India gained its independence, but in 1956 it was renamed in honor of Jim Corbett, a well-known hunter who later became a conservationist and author and was instrumental in the creation of the national park.
The closest airport, Pantnagar, is 82 kilometres from Ramnagar, the entrance to Corbett, whereas Delhi, 261 kilometres distant, is the closest international airport. Bus service to Ramnagar is available from Nainital, Delhi, Haridwar, Dehradun, and Chandigarh.
The best protected and managed national park in the nation, Corbett National Park welcomes thousands of Indian and international tourists each year. There are 25 reptile species, 580 bird species, and about 50 tree species there. Tigers, elephants, chital, sambar deer, nilgai, gharials, king cobras, muntjac, wild boar, hedgehog, common musk shrew, flying fox, and Indian pangolins are among the many species of wildlife that call the park home.
Peak seasons are December and May, making November through June the ideal time to explore Corbett National Park. From July to October, the park's main portions are still off limits. The Jhirna and Dhela buffer zones, however, are accessible all year long.
Sariska National Park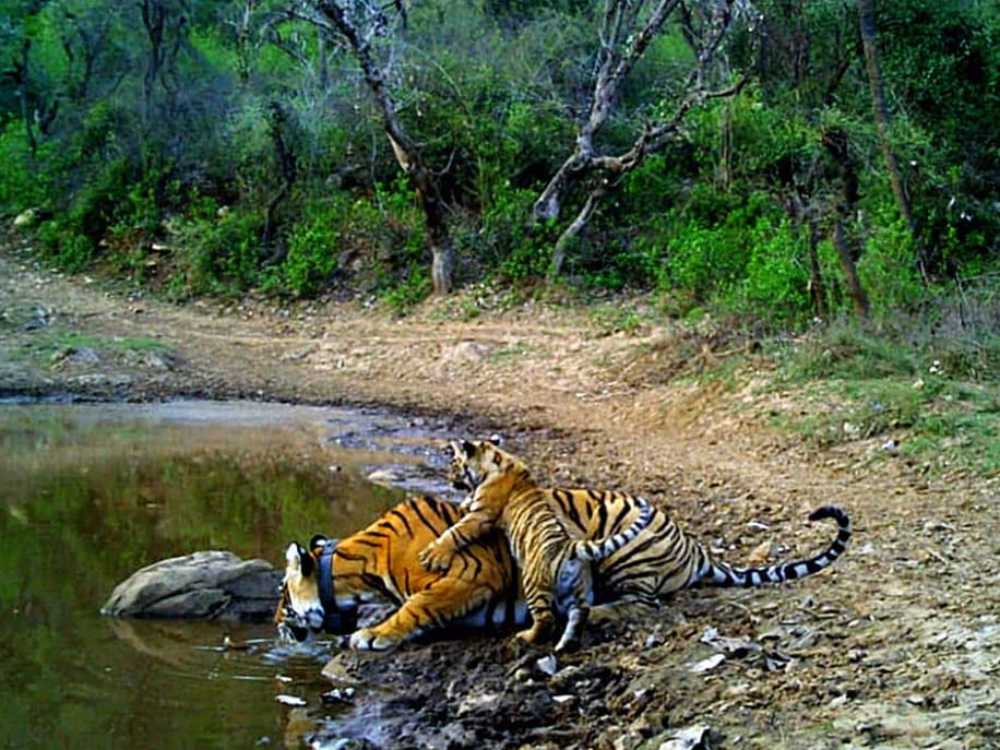 Sariska Tiger Reserve is one of India's well-known national parks. Originally used as the Maharaja of Alwar's hunting grounds, the park was designated a wildlife reserve in 1955 and a tiger reserve in 1978 as part of Project Tiger. Sariska, one of the 28 tiger reserves in the nation, spans an area of 850 square kilometres, with its core area being roughly 500 square kilometres. The topography of Sariska is diverse and includes meadows, dry deciduous forests, cliffs, and rocky terrain. The densely forested park is surrounded by the Aravalli mountain ranges.
Along with numerous other animal species like the leopard, jungle cat, caracal, striped hyena, Indian jackal, chital, sambar, nilgai, chinkara, four-horned antelope, and wild boar, this reserve is renowned for its Bengal tigers. Sariska is renowned for having some of the rarest bird species, including the crested serpent eagle, white-throated kingfisher, Indian peafowl, bush quail, sand grouse, tree-pie, and golden-backed woodpecker.
The Forest Reception Office on Jaipur Road can help you organize a vehicle for the ideal method to visit Sariska Sanctuary. Inside the Reserve, private cars are not permitted. Visitors are recommended to reserve a safari in advance online. A heritage hotel has now been created at Sariska Palace in the park.
Sariska Park is most enjoyable from November through March. While the park is available all year for pilgrims to visit Pandupol, wildlife viewing is not permitted between July and September due to the rainy season.
Benog Wildlife Sanctuary
Benog Wildlife Sanctuary, located 12 km from Library Bus Stand, is one of India's most well-known wildlife sanctuaries and a paradise for birdwatchers. It is also a part of the renowned Rajaji National Park. Benog Wildlife Sanctuary is one of the most popular tourist attractions in Mussoorie and is a must- visit while planning a trip there. It is surrounded by dense forests.
In 1993, Vinog Mountain Quail Sanctuary, also known as Benog Wildlife Sanctuary, was founded. This amazing sanctuary covers an area of roughly 339 hectares. It is situated on a slope covered in pine trees, and the Himalayan mountain ranges surround it on all sides.
The area is renowned for the unusual bird species and beauty never seen before. Since its final sighting in 1876, the Mountain Quail, also known as the Pahari Bater, is now thought to be extinct.
This sanctuary is home to several fir and pine trees in addition to a variety of medicinal plants. This sanctuary offers spectacular vistas of snow-covered mountains. Consequently it is a birdwatcher's paradise.
The place is around 275 kms far from the nation's capital. This turns out to be probably 6 hours 58 minutes drive.
FAQ's
How many wildlife refuges in Delhi can you find?
The Asola Bhatti Wildlife sanctuary, the only wildlife refuge in Delhi, is where you should go this weekend to unwind.
Which part of Delhi is greenest?
Lodhi Gardens, which span more than 90 acres, are undoubtedly some of Delhi's most beautiful and lush gardens. This park, which is close to Khan Market, attracts visitors from all over the city in addition to residents in the surrounding neighbourhoods.
Where can I go on a forest safari in India?
There are numerous national parks near Delhi, including Ranthambore.
---
---
STAFF'S PICKS &
Related Posts