Top five flea markets of Delhi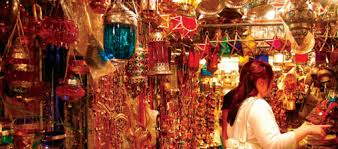 Those who say that money can't buy happiness; they don't know where to shop! This urban belief of the shopaholics turns true if you visit the flea markets of the country's capital. The roadside chic stalls and the famous flea markets of Delhi is the place where you can find the best of the branded designs in costs cheaper than ever!
Sarojini Nagar Market
Close to South West Delhi, it is a haunt for fashionistas. If you are ready to splurge on trendy style items, think nothing but Sarojini Nagar Market. Use the best of your bargaining expertise to close the cheapest deal.  Haggle away through the aisle of this age-old market and get the best branded items in less than half their price! Mondays are closed.
Chandni Chowk
The best shopper's stop to shop till you drop is at Chandni Chowk. Cheap and affordable bargains are what make the Chandni Chowk a loved destination market for the local shopaholics.  From wedding lehengas to jewellery, bags to best fabrics, expect to find everything you had on the wish list. Chandni Chowk's Paranthe Wali Galli is the added attraction after you are done with the shopping fervour.
Karol Bagh
Yet another crowded market place of Delhi, Karol Bagh is the oldest haunt that shopaholics and fashionistas would recommend. Splurging is the alter ego of the shopaholics and is open daily to find anything you might need. From bridal trousseau to electronic gizmos, Karol Bagh is an affordable bid to visit.
Janpath
Janpath is a mix of old and the new market flavours and is located close to CP, New Delhi. From embellishments to fashion goods, Punjabi purses to Rajasthani footwear – Janpath is the place to find the best bargain deals. The good part is, the market is open on all days of the year.
Dilli Haat
For traditional, rustic and quaint village items, Dilli Haat is the best place to find it all. The perfect mix of village and city life, Dilli Haat offers the best variety of handloom and handicrafts collection. Open from 10 am, indulge into indigenous marketing spree and bring out the best bargaining skills.