Types of Luxury Car For Rent: Bmw Mercedes Audi
Posted On April 14th, 2023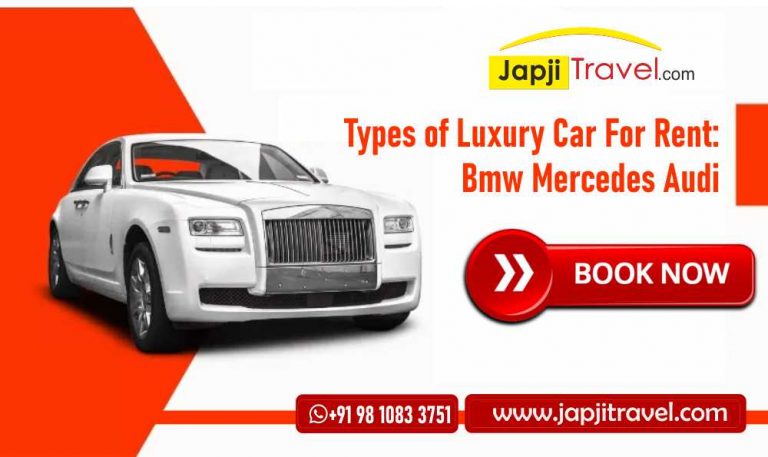 In today's world, everyone has enough cars according to their needs but some people dream to ride in expenive cars but due to their finances or any other reason they don't buy expensive cars like Audi, Mercedes, Jaguar, or many more. It gives a different level of experience while riding in expensive cars. In the country of India, it's not that much easy to drive an expensive car in traffic but surely some people want to ride in that. Here is the solution to come to your wishes true.
In this article, we will introduce Japji Travels, which offers the rental expensive cars with all the required documents.  
Top 10 Types of Luxury Cars for Rent
| | | | | | |
| --- | --- | --- | --- | --- | --- |
| S.No. | Types of Luxury Cars | Why Book | Pricing Start | For Purpose | Features |
|  1. | Audi A3 Cabriolet | It gives you an enjoyable experience. It has the second name in Indian Luxury in market | Rs. 31000 | Wedding & Personal Tour | Open Roof, 1.8 liters of 40TFSI gasoline, and 5seater including driver |
|  2. | BMW | It is a German manufactured luxury car. It gives an amazing traveling experience and all the features inside the cars give you a luxurious experience. | Rs. 20000 | Wedding & Personal Tour | Stability control, Airbags, blind spot detection, and 5 seaters |
|  3. | Mercedes Benz S-class Sedan | The brand is well known for its rider safety features. The luscious interior gives a new world experience to their rider | Rs. 51,000 | Personal Tour & Wedding Purpose | Automatic Safety Innovation, lasers, powerful radar, and 5 seaters |
| 4. | Jaguar XF | Jaguar is the British top model brand. Jaguars are highly known for controlling pollution and that helps to keep the environment clean. | Rs. 31,000 | Personal Tour & Wedding Purpose | 5 seaters with 1997cc diesel engine and automatic type of transmission |
| 5. | Ford Mustang GT | Ford is an American brand that gives a roar experience when it starts. It is built with all perfection and gives elegant look. Ford is every gentle man's choice. | Rs. 51000 | Occasion & Personal use | 4seater with automatic transmission and 4951cc petrol engine |
| 6 | Toyota | It is Japan manufacture car brand. Sharp styling, Comfortable Aura, and an outstanding mix of the engine. | Rs.15000 | Personal Tour & Wedding Purpose | Smart Key System & Head up system |
| 7 | Range Rover Vogue | This is the British car brand which is most the SUVs luxurious brand on the planet. | Rs.100000 | Personal Tour & Wedding Purpose | 7 seating capacity with 2997 cc of diesel |
| 8 | Hummer | It is a brand of trucks, luxurious and high-powered. | Rs. 150000 | Sports & Adventure | 5-seater with 3700cc of a petrol engine. The engine has power of 100horses |
| 9 | Ferrari | It is an Italian multinational brand. Designed in red colors which shoe firebrand, passion & energy | Rs. 200000 | Pre wedding shoot & Personal use | 5-seater with 3902cc of a petrol engine. Game-changing & unparallel elegance performance |
| 10 | Lamborghini | Italian luxury sports car and engine parts from Germany. Its bull logo signifies the speed of this sports car. | Rs. 350000 | Car racing, Wedding shoots & Personal use | 2-seater& 6498 cc petrol fuel with automatic transmission type |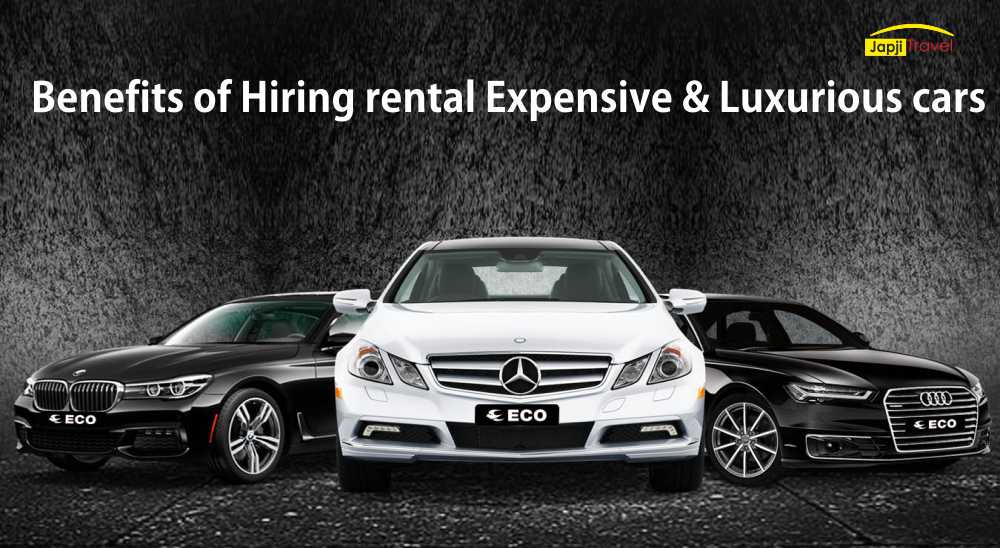 Benefits of Hiring rental Expensive & Luxurious cars
Luxurious cars are well known for their comfort & interior Their all features give you an amazing and relaxing experience. You can travel anywhere with comfort and the advanced climate control feature in the car will hustle free.
We are known about accident rates on road, all safety features make your ride safe and secure. Features such as airbags, stability control & warning alert system.
Luxurious cars are especially expensive for their performance. All Luxury cars are designed to give luxurious expensive whether it's riding on a hill station or traffic road. 
Hiring a rental expensive car has a different reason, some hire to impress or make their image in front of clients or the reason could be anything. It's true that Luxurious cars highly rate your personality whether you are using it personally or for business purposes.
If you buy a car that would limit the collection of brands at your home. Hiring a rental car gives you the privilege to choose any brand.
Some of the travel agencies provide their personal experience driver
so, that you can enjoy the ride and feel like a boss.
You don't need to invest your hard-earned money on limited car brands. Hiring a rental luxurious car is cost-effective.
Bottom Line
People don't buy expensive cars for daily use because we all are well aware of India road traffic and accidents. It just shows your company or personal image in front of others. There is not any hard and fast process to hire a rental luxurious car. All you need to visit the website and check the rent prices and if you want to know more about the process or features you can directly contact them.
FAQ
Does the travel agency charge per day?
Your Car charges depend on travel distance.
Can we see the car before hiring?
Yes, you can visit to travel agency company and check personally.
---
---
STAFF'S PICKS &
Related Posts