The Complete Travel Guide To Paris, France
Posted On August 10th, 2022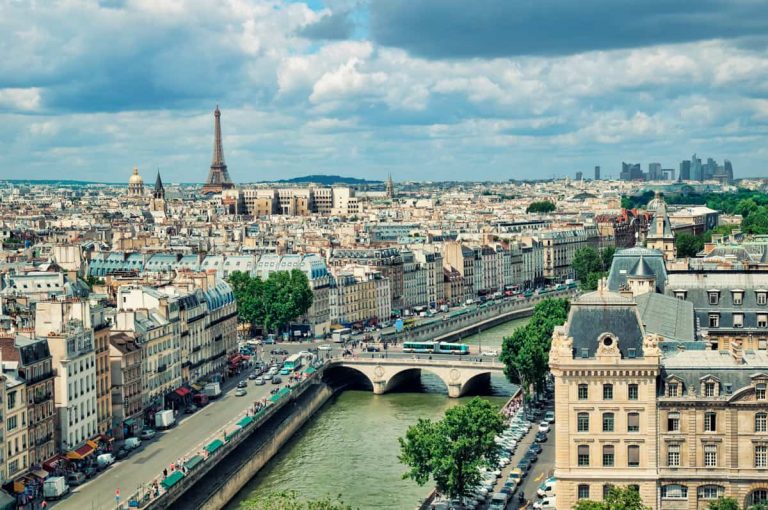 Paris is one of the international travel destinations that every traveler wants to visit once in his lifetime. Eiffel Tower immediately comes to mind the moment we speak of Paris. But Paris has so many other equally famous tourist attractions as well. You can find enough time to explore Paris in 4-5 days. Paris is the icon of luxury living and a sophisticated lifestyle. Paris is one of the most iconic cities that is also called the fashion capital of the world. You can plan your trip to Paris and visit all the major tourist sightseeing places in Paris. This will serve as the complete travel guide to Paris, France.
Many reasons to visit Paris
The complete travel guide to Paris, France includes the main reason to visit Paris. There is not one but so many reasons why you should visit Paris. You can see so many iconic landmarks that are famous all over the world. Eiffel Tower and Louvre Museum are internationally famous. There are so many places in Paris where you will get to see ancient and medieval Romanesque architecture. The cuisine of Paris is famous all over the world. You can buy so many things in Paris. If you love art you can visit so many art galleries and view original masterpieces of world-famous artists and painters. Paris is renowned for its Notre Dame Cathedral.
Paris is one of the most romantic countries in the world.
You can visit some of the best museums in the whole world.
Paris has some of the most wonderful and cool cafes.
There are so many viewpoints from where you can view panoramic views of Paris.
Paris is famous for its baked pastries such as croissants and baguettes.
Paris is a year-round travel destination and you can visit Paris in the summer and winter seasons.
Paris is famous for its street shopping.
Paris has one of the most reliable metro train services.
Paris is full of iconic monuments such as Eiffel Tower, Louvre Museum, Arc de Triomphe etc.
Paris is famous for its gastronomic and French cuisine and food dishes like Falafels, chocolates, artisanal cheese, etc.
Paris has some of the best amusement and theme parks like Disneyland Paris, Parc Asterix, France Miniature etc.
Paris has luxury hotels, vacation apartments, cheap hostels, and villas for stay.
Best time to visit Paris
The complete travel guide to Paris, France would be incomplete without mentioning the best time and season to visit Paris. Actually speaking, Paris is a year-round travel destination. Summers (June to August) is the peak tourist season when most international tourists visit Paris. Prices of hotels and airline tickets can be high at this time. September to November can be also a very good time to visit Paris. Prices will not be very high. Christmas will definitely bring a lot of tourists to Paris. It can get crowded at major tourist attractions. Winter (November to February) is the time when it is really so very cheap in Paris. There are not many tourists at this time of the year.
Best things to do in Paris
The complete travel guide to Paris, France includes the best things and activities to do in Paris. All these activities are such that every tourist wants to do these activities when they visit Paris. Paris is such a thrilling place that you can always find some or other activity to do during the day and at the night also. There are some kid-friendly places in Paris that you will also enjoy as much as your kids. You can go on nature walks, admire art in museums, do adventurous activities like go-karting, or take a riverboat cruise. We have given below all the most wonderful things that you can do in Paris on your trip.
Go on top of the Eiffel Tower and have a panoramic view of Paris.
Take a sunset river cruise along the Seine River.
Enjoy a cabaret dance show at Moulin Rouge.
Admire the gothic architecture of Notre-Dame Cathedral
Explore the world's biggest museum, Louvre Museum.
Attend opera performance at Garnier Opera House.
Visit the Paris catacombs and discover the underground areas of Paris.
Take your children to Disneyland Paris and let them have all the fun.
Take a full-day Palace of Versailles tour and admire the gardens and architecture.
Go for some shopping at Champs Elysees, Grands Magasins or Marais.
Admire the stained glass collection at Sainte-Chapelle.
Visit aquariums in Paris and see the wonderful aquatic creatures.
Visit art museums like Musée d'Orsay, Centre Pompidou, or Musée Rodin and admire the art collection.
See the breathtaking greenery of Luxembourg Gardens.
Go on a food tour of Paris and taste the best dishes and delicacies in Paris.
How to reach Paris and transportation in Paris
How to visit Paris is often the most asked question which we have included in the complete travel guide to Paris, France. You can catch a flight from any city and fly to Paris. The major international airport in Paris is called Charles de Gaulle Airport. You can catch a shuttle train or a bus to reach different parts of Paris from the airport. Paris has one of the best metro trains in the world. You can take the metro train and commute between places in Paris. Don't forget to get the Paris Pass as you can visit museums for free and skip the long queues. You can also take a walking tour of Paris and visit different neighborhoods.
Is Paris cheap or expensive?
We have included the cost of a Paris trip in the complete travel guide to Paris, France. If you are going to Paris for a 5 days trip, then you can set aside a budget of INR 1,00,000 per person. This does not include flight charges. A 5 day trip to Paris is the ideal duration of the trip. However, the travel costs also depend a lot on sightseeing options, meals, accommodation options, transportation you choose, etc.
What are the sightseeing options in Paris?
We have included the top attractions in Paris in the complete travel guide to Paris, France. The tourist attractions in Paris are very varied and diverse. However, the very best of them are given below.
Eiffel Tower
Notre Dame Cathedral
Arc de Triomphe
The Louvre Museum
Champs Elysees
Musée d'Orsay
Pantheon
Rodin Museum
Palace of Versailles
Seine River
Pompidou Center
Luxembourg Garden
Disneyland Paris
Moulin Rouge
Sainte-Chapelle
Picasso Museum
Pont Alexandre III
FAQ
Do I have to learn French when I visit Paris?
Most people in Paris are familiar with English and you converse comfortably in English with them. But you can learn a little bit of the French language if you truly want to enjoy your trip to Paris.
What vaccines are needed in Paris?
International travelers that are fully vaccinated with Covishield, AstraZeneca, Pfizer, and Moderna vaccines are allowed to enter Paris.
What is the currency that is used in Paris?
The currency that is used in Paris is Euro. You can use Visa or MasterCard in most restaurants, bars and cafes in Paris. However, you should have some extra euros for street shopping and for purchasing souvenirs.
---
---
STAFF'S PICKS &
Related Posts