Tempo Traveller Hire for Delhi Site Seeing
Posted On October 6th, 2021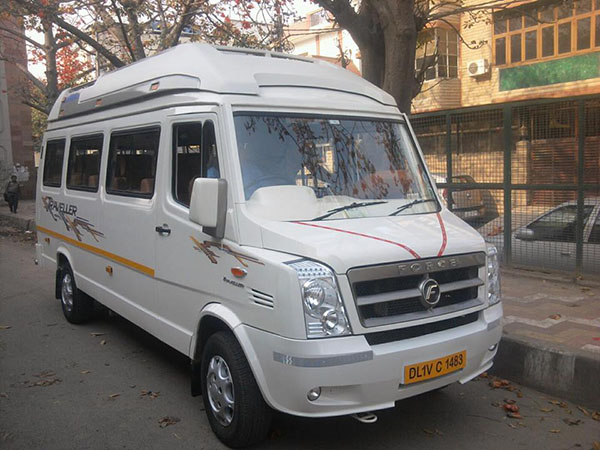 Delhi Site Seeing By Tempo Traveller
Welcome to Delhi! We are here to take you on a tempo ride to the famous sites of Delhi. We do not provide many breaks and offer a smooth ride. Moreover, there's a surety that you will enjoy, cherish, and remember this ride forever.
Before you get on this spree to hire a tempo traveller, always know what you want out of it.
Here are some points that you can consider:
• Size of the group:
If you're a college group or an entire family that wants to go sightseeing in Delhi, you need to book a spacious tempo traveller hire for Delhi. Furthermore, there are many agencies that will consider this need of yours and provide the appropriate vehicles. A vehicle can usually carry 9 to 16 passengers.
• Food and water are necessity:
There are companies that offer adequate availability of food and water during the ride of tempo traveller for site seeing.
• Comfortable seating:
As a passenger, you get all the comfort when book a tempo traveller for site seeing in Delhi.
• Well-trained chauffer:
The companies here provide well-trained chauffeurs who are aware of the routes of Delhi.
• Availability of advanced features:
Do check the additional features you require in your tempo traveller for site seeing. Always pre-check the quality of seats.
If you are traveling in summer, ensure that you have an AC system before you hire tempo traveller.
• First aid box:
To ensure that any medical emergency has immediate help, the tempo traveller for site seeing shall have a first aid box.
• Charging points:
If your vehicle has charging points, you don't have to worry about uncharged laptops, mobiles, and cameras.
• International standards:
The good tempo traveller companies match the international standards.
• Space for luggage:
Good tempo travellers have space for luggage as well. Moreover, the customers can list down if they require any other luggage set up and a particular time of pickup.
Choose The Best Tempo Travellers For A Luxurious Trip
If you're someone who looks for extra luxury inside or tempo traveller come on, we can let you know the options you should be searching for.
As far as seating is concerned, you can choose from a variety of ranges. The available luxurious ones include bucket seats, maharaja seats, first-class seats, reclining seats, recliners, sofa, convertible bed.
You can have well-designed interiors in your tempo traveller for site seeing. These can include amazing floor designs, custom side panels, ceiling accents, railings, as well as various trim accents.
To enhance the luxurious interiors, one can hire a tempo traveller with LED lightings. You can also have individual lights for reading.
You can choose a tempo traveller according to their dashboard. An updated dashboard helps the driver drive safely. You can avail the things of usage for the driver from the dashboard itself.
Moreover, Semi sleeper seats, Air suspension, WIFI features can help in adding luxuriousness to the tempo traveller.
You can hire tempo traveller at a pre-set cost or of course that is it remind by the kilometers you travel.
Book the best Tempo traveller with Japji Travels
Tempo traveller hire for Delhi can be done through a travel agency or through someone who has already done it before. Always make sure that you enquire about the quality of services offered.
The tempo traveller also offers the option for the individual. When you love to travel alone, just go and book a seat for yourself. There are many people who love to travel alone and hence, a group can be formed.
The very essential step is to know the places your tempo traveller hire for site seeing is taking you. There are many places to visit in Delhi, but your tempo traveller shall include the areas you want to visit.
Let us look at some places in Delhi your tempo traveller can take you. They include the Akshardham temple, Red fort, India gate. Other places are Humayun's Tomb, Hauz Khas Village, Qutub Minar, Delhi Zoo.
Tempo travellers can be made romantic if you are someone who's on your honeymoon. As the couple needs the most private places to enjoy and the most private vehicle to enjoy the luxury of traveling, a customized temple traveller can work the best for you. The places you can take your vehicle to include Lodhi Garden, Buddha Garden, Garden of Five Senses.
Since now, you have your dosage of information ready, you are fit to book a tempo traveller for site seeing. Next time when you want to book a tempo traveller in Delhi, look no further just reach out to Japji Travel.
---
---
STAFF'S PICKS &
Related Posts