See Fine Art of Akshardham Temple in Delhi
Posted On May 27th, 2023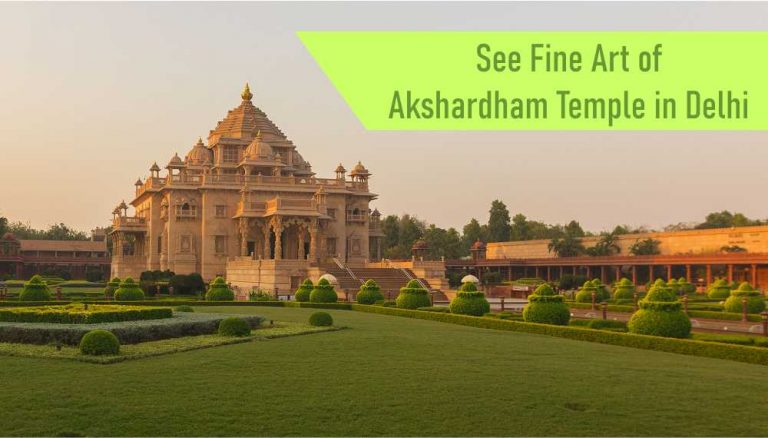 See the fine art of Akshardham Temple in Delhi
One of the most famous sightseeing spots in Delhi is Akshardham Temple. The temple is not just a single temple it is a very big temple complex with incredible architecture and green gardens. Akshardham Temple is so huge that it will take a half-day to just visit the various attractions in the temple. If you are going on a sightseeing tour of Delhi, make a point to visit Akshardham Temple. This is a must-visit place in Delhi.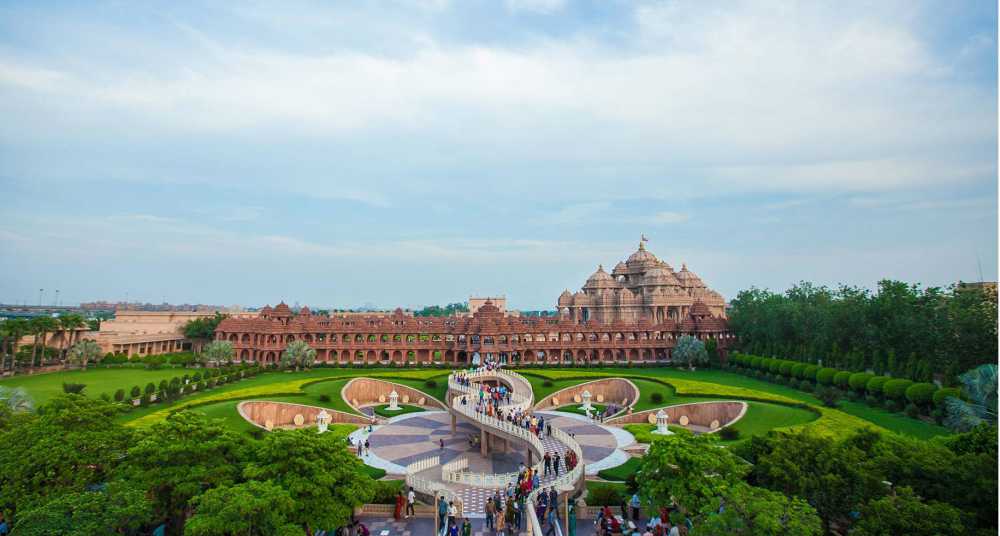 Akshardham Temple
The name Akshardham is taken from two words – 'Akshar' means eternal, and 'Dham' means an abode. So, the real meaning of Akshardham is an abode of that which is eternal. Akshardham Temple opened to the public in 2005 and was inaugurated by Pramukh Swami Maharaj in the presence of famous dignitaries and personalities. The main deity of this temple is Swaminarayan, who was a famous yogi. He founded the Swaminarayan Sampradaya. BAPS is a Hindu religious sect that was established to propagate his teachings. Yogiji Maharaj, who is a saint of BAPS constructed the Akshardham Temple in Delhi along with Pramukh Swami Maharaj.
Akshardham Temple architecture
One interesting thing to note about Akshardham Temple is that its design and architecture are inspired by Swaminarayan Akshardham Temple in Gandhinagar, Gujarat. But what is so remarkable about Akshardham Temple is that no steel, cement, concrete, or metal was used in its architecture and construction. Instead, red sandstone from Rajasthan and Italian marble were used to build Akshardham Temple. The designers used ancient Indian scientific principles of Shilp Shastra, Vastu Shastra, and Pancharatra shastra to build Akshardham Temple.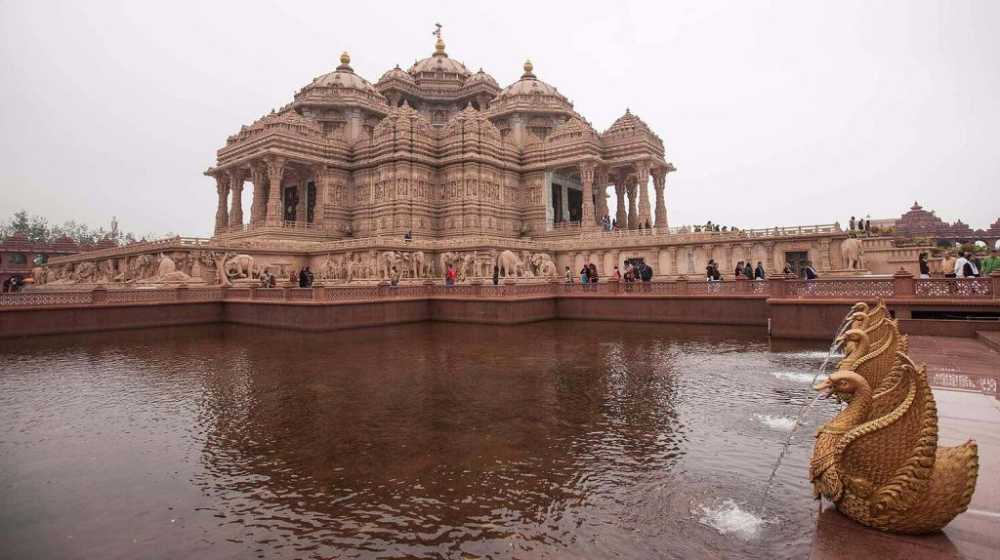 Akshardham Temple Construction
Akshardham Temple is constructed with the Hindu architecture. Inside the temple are pillars and domes with exquisite carvings and sculptures. The intricate carvings are a reminder of the unmatched skills of the artisans who built this temple. The ceilings and domes have sculptures of Hindu gods and goddesses, mythological creatures, dancers, musicians, floral motifs, and Hindu art. The intricate sculptures and carvings can be seen on the gates also, through which you can enter Akshardham Temple. The moment you enter Akshardham Temple, you will be amazed by the sheer elegance of its structure.
Temple Timings
Closed on Monday
Darshan: 5 PM to 6.30 PM (Due to COVID, the timing has been changed)
Arti: Around 6 PM
Officially Opened
Pramukh Swami Maharaj officially opened the temple on November 6, 2005, in the presence of Dr. A. P. J. Abdul Kalam, Manmohan Singh, L.K Advani, and B.L Joshi.
Location
Noida Mor, Pandav Nagar, New Delhi, Delhi 110092
Water Show
Sahaj Anand Water Show, every evening after sunset
Photography
Not Allowed Video/Photo
Temple construction cost
RS 400 crores (source: thedivineindia)
Gajendra Peeth
You will find carvings of elephants at the base of Akshardham Temple. This is called Gajendra Peeth, and the elephants portray various scenes and episodes from Indian mythological stories and epics.
Narayan Peeth
Hindus believe that a parikrama or going around the temple is a sacred ritual. Hence Narayan Peeth is a walkway around Akshardham Temple, on which visitors can walk around the entire Akshardham Temple. Doing this parikrama also takes them closer to the structure of Akshardham Temple, where they can view carvings and sculptures from close range.
Akshardham Temple complex
Akshardham Temple is at the center of a larger temple complex. This temple complex has landscaped lawns, gardens, water fountains, exhibition halls, pavilions, and walkways. This temple complex is built to give an artistic dimension to the main Akshardham Temple. The design of the green lawns and water fountains adds greenery and a relaxed atmosphere. The gardens are themed gardens with bronze statues of spiritual leaders, philosophers, and scientists. You will find the spoken words and thoughts engraved on stone. The brilliant landscape architecture of these lawns is what makes Akshardham Temple.
Exhibition halls
The exhibition halls are not just places to see exhibits but they have been designed to give you excitement as well. Every exhibition hall has a unique way through which you can experience Hindu culture and religion. There are three such exhibition halls. They are:
Sahajanand Darshan (Hall of Values)
This hall is designed to look like 18th-century India. Robots and dioramas are used in this hall to show you the history of Swaminarayan. The various incidents from his life are shown through sound effects, fiber optics, light shows, music, robotics, and narrated dialogues. These create a 3-dimensional effect that adds visual beauty to the hall. This hall also has the world's smallest animated robot called Ghanshyam Maharaj, which is the child form of Swaminarayan.
Nilkanth Darshan (Theatre)
This hall shows a 40-minute movie about Swaminarayan on a large screen. The movie showcases the teenage years of Swaminarayan when he took a pilgrimage across India.
Sanskruti Vihar (Boat Ride)
This is one of the most exciting halls that you can visit in Akshardham Temple. Here, you can go on a boat ride and learn about the Vedic period of India. Life-size robots and animatronic figures are used to depict ancient Indian civilization which existed 10,000 years ago. Visitors can learn more about the Aryan race and Hindu ways of life. The story of ancient Indian scientists, philosophers, artists, mathematicians, and scholars is shown here.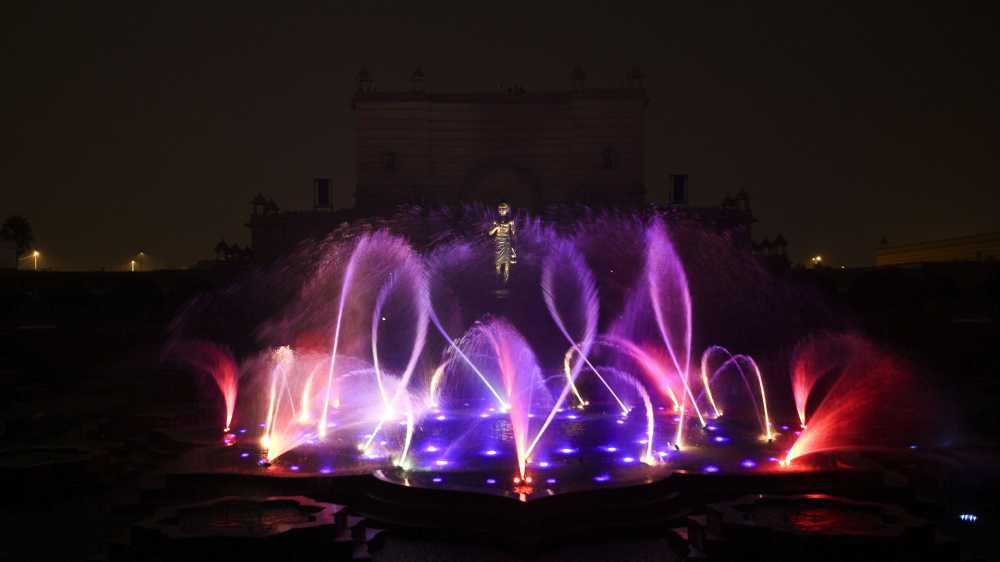 Musical Fountain
Yagnapurush Kund is a large step-well in the Akshardham Temple complex. There are 2870 steps, which lead to a central yajna Kund, or sacred fire pit. Tourists can sit on these steps during the day, and in the evenings, the place transforms into a musical water fountain show with multimedia and audio-visual effects. Episodes from Upanishads and Vedas are shown through multi-colored laser lights, water jets, underwater flames, surround sound, and video projections. It lasts 24 minutes and is an audio-visual treat to visitors.
Garden of India
Garden of India is a landscaped garden in the Akshardham Temple complex. It is also called Bharat Upwan. There are bronze statues of eminent Indian personalities. The lush greenery of this garden dotted with bronze statues lend a scenic landscape to Akshardham Temple.
Lotus Garden
Lotus Garden is designed to look like a lotus when viewed from above. This garden is also called Yogi Hraday Kamal. Here there are stones engraved with quotes from world-famous personalities like Shakespeare, Martin Luther King Jr., Swami Vivekananda, Swaminarayan, and others.
Narayan Sarovar
Narayan Sarovar is a pool of water that surrounds the main Akshardham Temple. The most amazing thing about Narayan Sarovar is that it contains holy water from 151 lakes, rivers and step-wells found all across India.
FAQ
Is Akshardham Temple open on all days?
Akshardham Temple is open on all days from 9.30 am to 8.00 pm. It is closed for tourists on Mondays.
What are the things that are prohibited inside Akshardham Temple?
You cannot carry electronic things, bags, food, beverages, or purses inside Akshardham Temple.
What are the fees to Akshardham Temple?
Entry to Akshardham Temple is free. There are nominal charges for adults and children for musical fountain shows and exhibition halls.
---
---
STAFF'S PICKS &
Related Posts