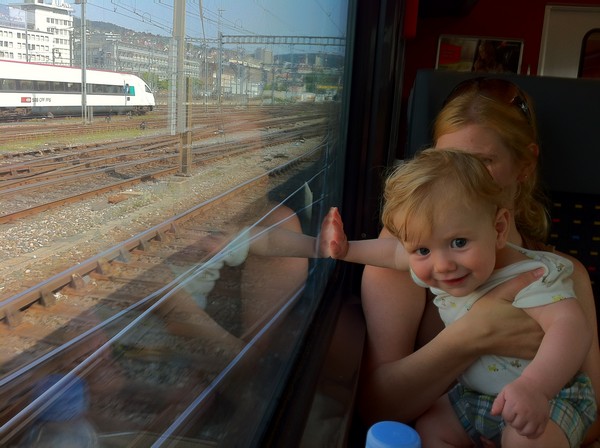 If you are intending to travel with your baby then traveling by train is definitely the safest as well as comfortable option for both for you and your baby. However, there are certain measures which are required to be taken into consideration while you are planning to have a trip along with your baby. Let us take a look at the safety measures which are necessary for travelling with a baby.
Advanced ticket booking: you should never stress yourself with booking of train tickets at the eleventh hour. Booking of tickets in advance will surely keep you free from all worries during the trip.
Direct route: Selecting the direct route to reach to your destination will surely be the best option. If you select any indirect way then you have to change the mode of transportation during the journey and this will make your journey hassled and both you and your baby will suffer a lot. Gove you baby a comfortable trip by selecting a direct route to the destination.
Comfortable schedule: While you will plan for the tip, you need to go for comfortable schedule only. You should never rush for planning in such a way that may give you excessive trouble on the way.  Planning for a relaxed travel will surely keep you and your baby in a comfort zone.
Medical precautions: When you are planning for taking out your baby for a trip, then you should never miss to vaccinate your baby. Proper vaccination is utmost necessary so that your baby won't face any health issue during the trip.
Plan schedule according to baby's time: It is always recommended to book your train ticket in such a way that the timing of boarding will not clash with your baby's feed. Still, if it happens, then it is needed to feed your baby before you leave for boarding.
No major changes to baby's schedule: You should never try to do major changes to your baby's schedule. Otherwise, your baby will feel extremely uncomfortable throughout the journey.
Carry baby's stuff in separate bag: here you need to put entire baby's stuff in a separate bag so that you can find them when necessary. Cloths for baby, feeding bottles, medicines, etc everything should be kept separately. Hence, when you are planning to have a trip with your baby, you should do proper packing of baby's stuffs carefully.
Hence, those above are the necessary tips which are required to be followed while you are planning for a trip along with your little baby. In case if you have any query in this regard then it will be advisable for you to seek advice from your friend and relatives who already travelled with a baby in the past. Correct guidance in this regard will make your trip a happy and satisfied one. It will be great for you if you can take a maid along with you for baby care.