A part of India has fallen over a long seaway, which is one of the longest coastlines in the world. The West Coast Line here has not only Goa beaches but a lot of which would be perfect for beachside vacations. If you are a person who is in the mood to relax, fun and party, then you are going to have a lot of fun by holidaying on these beaches.
The Foundation of environmental education in Denmark has given Blue Flag certification to 8 Beaches of India in 2020. This certification means that these bitches of India are completely safe and do not harm the environment. Beaches in Gujarat, Kerala, Orissa, Karnataka, Diu, Andhra Pradesh, Andaman, and Nicobar are included within this list.
Here is the list of the top 10 beaches in India for a beachside vacation in 2020, so pack your bags and get ready.
1. Anjuna Beach, North Goa
time this beach was considered to be the stronghold of the Hippies people, so even today people come and love to mingle here. Tourists come here and enjoy the trance parties which happens a lot during the New Year. Actually, Shiva Valley is considered a trance party hub.
On Anjuna Beach, you will find hotels, guest houses, and carts on rent cheaply. visit this beach and enjoy life.
Best Time: November to January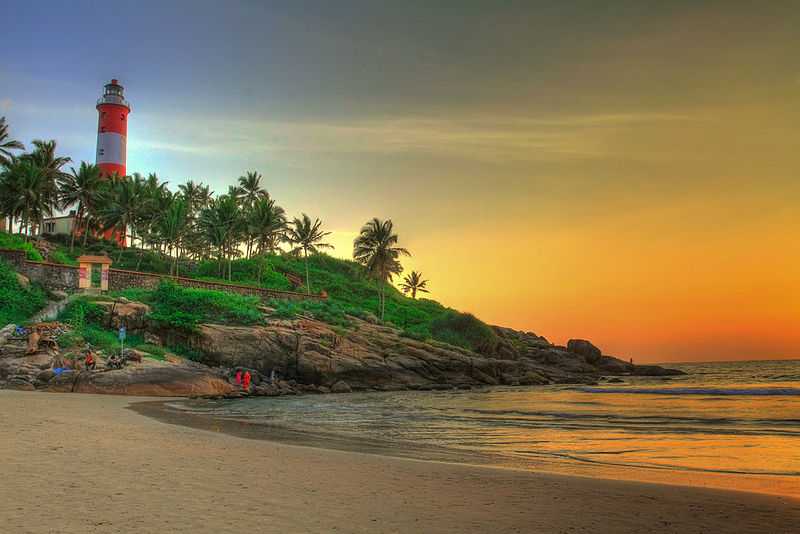 2. Kovalam Beach, Kerala
Kovalam Beach is famous for its 3 pristine beaches with low tide waves and swaying waters that lie along the shores of the Arabian Sea. Samundra, Hawah, and Lighthouse beaches are the sites which attract tourist for adventure activities like surfing and motor boating.
Not only this, but the beach is also popular for Ayurveda practice and meditation. You should definitely put this beach on your bucket list.
Best Time: September to February
3. Tarkarli Beach, Maharashtra
Tarkarli Beach in Maharashtra is popular for its sports activities like scuba diving, parasailing, snorkeling. Tourists come here in large numbers and enjoy the barefoot walking in white sand. Just a little further north is the Sindhudurg Fort which was built in the 17th century.
If you want to enjoy the Marathi civilization, then there are many villages around the middle that will give you a deep experience of their ways.
Best Time: Come anytime throughout the year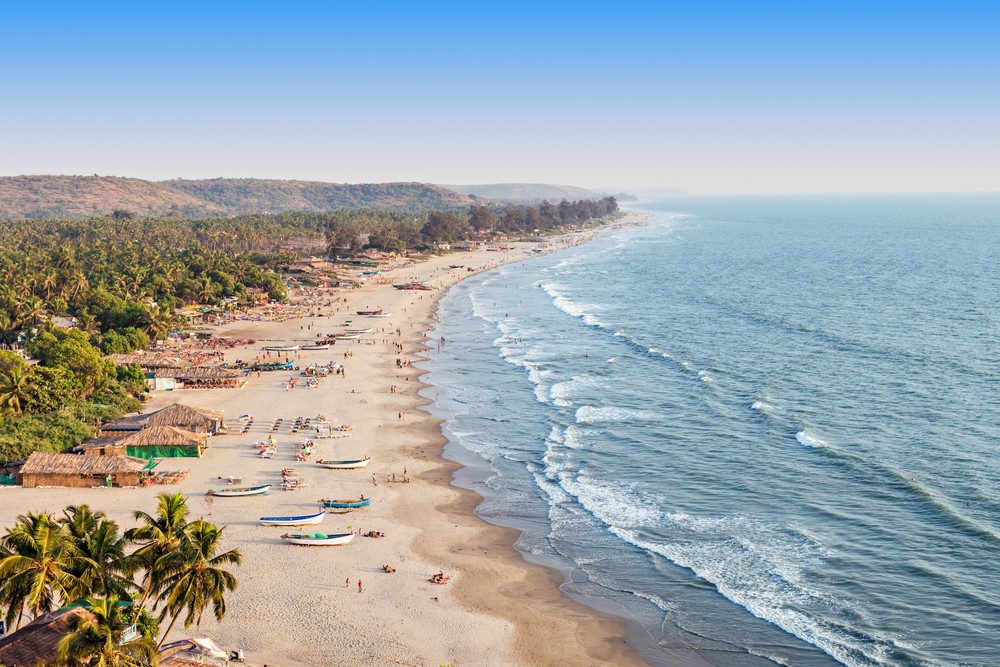 4. Palolem Beach, South Goa
Palolem is one of the alive beaches of Goa. Actually, this beach is absolutely photogenic, where the tourists come and get lost in compassion.
The beach is shaped like a semi-circle and it has spread very far. It is surrounded by dense forest with mostly coconut trees. If you want to relax in the beautiful scenery, then Palolem Beach is the best place for you.
Best Time: October to March
---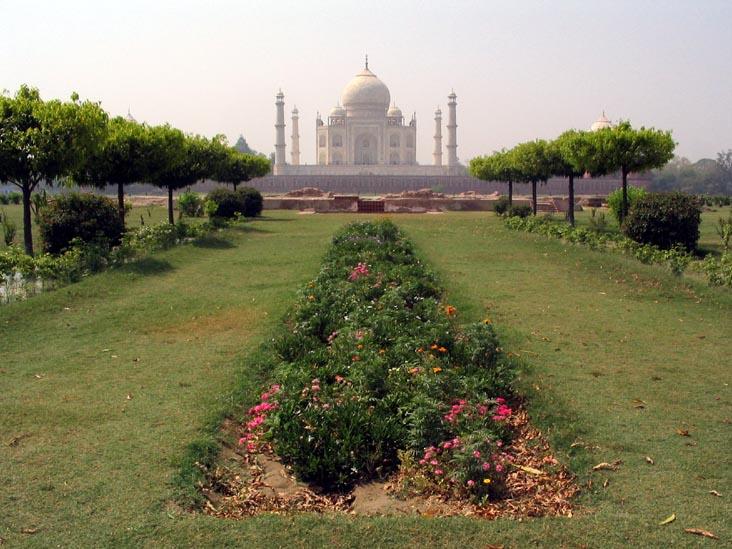 Taj Mahal Tour – Visit North India
---
5. Baga Beach, North Goa
Baga Beach is the busiest beach in India, where a large number of tourists visit every year.
There are a lot of water sports above this vibrant beach. Baga Beach is very famous for its food, restaurants, bars, clubs, parties. Yes, the beach here is very full of Indian people and it is also very cheap to roam.
Best Time: October to March
6. Auroville beach, Tamil Nadu
Auroville Beach located on the coast of Tamil Nadu and 9 kilometers away from Pondicherry, is known for its French heritage sites. This beach looks completely empty where there is a shop, restaurants changing rooms and parking space is nothing but this is its specialty. Looking at the blue water, the time of sunset takes you into introspection. If you are looking for a quiet beach in India, then make this beach in the bucket list of top 10 beaches in India.
Best Time: Come anytime throughout the year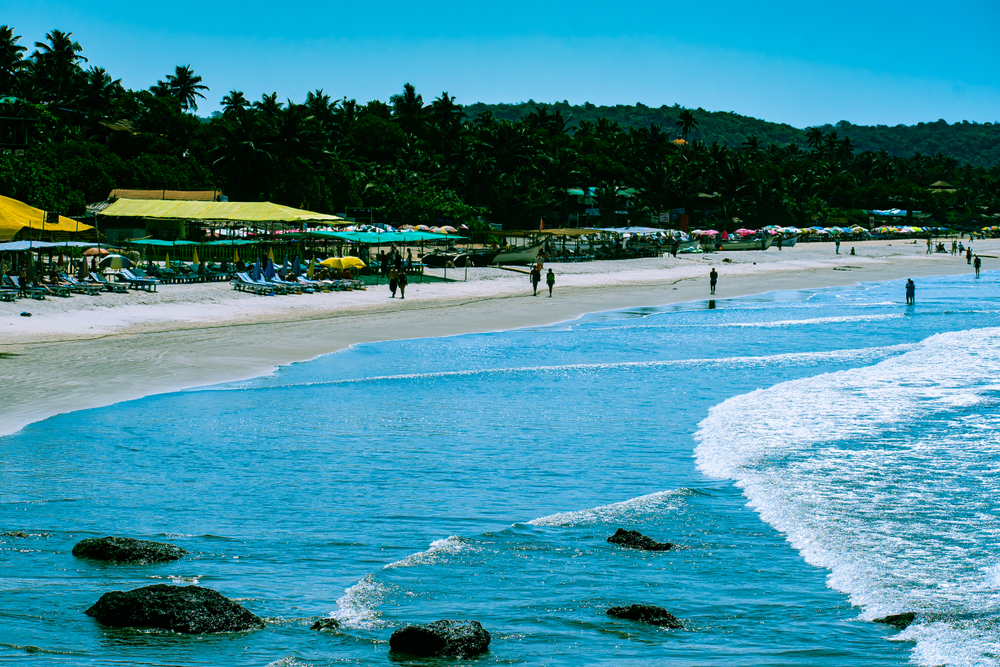 7. Mandrem Beach, North Goa
Mandrem is one such beach in Goa that is not yet seen by many people. People who are interested in yoga and meditation often prefer to visit this beach because the beach is calm and peaceful. This beach still shows the culture and manner of the society of the Portuguese colony.
You can come here and enjoy things like surfing, swimming, spa, and massage.
Best Time: October to March
Visit The Rajasthan The Heritage Tours in Destination in India. Visit The Many Year Old Forts & Palaces Build By Maharajas of Rajasthan. Click Here To Read Tour Plans & Details

India Most Popular Sightseeings Destination of North India
8. Gokarna Beach, Karnataka
Gokarna Beach is nestled in white sand and is a replacement for the beaches of Goa. This beach attracts both wanderers and scheduled travelers with equal intensity.
This beach is like a paradise for people like nomads because there are emptiness and tranquillity here and you can sure have fun here.
All activities like party, dance, club, voting, and surfing take place here.
Best Time: September to March
9. Radha Nagar Beach, Andaman and Nicobar
Radhanagar Beach adjoining the Bay of Bengal is located on Havelock Island in Andaman and Nicobar. This beach is also considered India's safest and environment friendly beach. Still calm water, white sand, and scenic beauty of the sunset are like a Paradise for tourists.
The beach is also not so expensive you can book easily hotels and guest houses at the time of arrival.
Best Time: Come anytime throughout the year
10. Somnath Beach, Gujarat
Gujarat is well known for its food and culture, but the beach can be another excuse to come here. If you like swimming and surfing, then you will enjoy a lot in the high sea waves here. The land here is gray sandy, which is very pleasant by walking barefoot in the morning and evening.
On this Somnath beach, you can enjoy a picnic with your family, friends and a large group.
Best Time: October to December
Hope you will love to visit the top 10 beaches in India. Enjoy these beaches in 2020 but be very careful because covid-19 is not over yet.