Romantic Places to stay in Kashmir
Posted On April 16th, 2022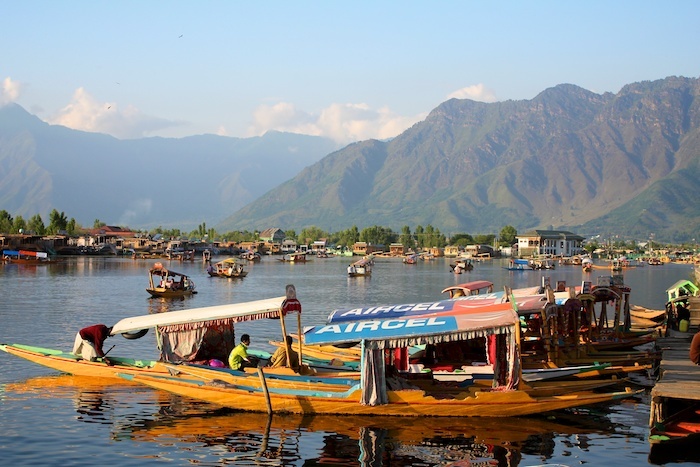 Amid the serene valleys, mountains, glistering lakes, the picturesque beauty of Kashmir is perfect for romance with your love. Every nook and corner of Kashmir has a mesmerizing charm to evoke romance. The place is no less than heaven, and what can be better than romancing in heaven?
No doubt, there are many romantic places in Kashmir, but serene hotels and their location can amp up your romance chemistry. These hotels with special pampering techniques and facilities can add comfort to your stay. Want to get an idea about the best hotels in Kashmir for honeymoon? Let us help you with our guide below.
Best hotels of Kashmir for that lovey-dovey honeymoon days
"The Khyber Himalayan Resort & Spa"
One of the best honeymoon hotels in Kashmir is "The Khyber Himalayan Resort & Spa". It may be heavy on your pocket since it is a 5-star property. However, it is worth spending for your honeymoon. After all, it's all about love.
When in this lavish hotel, imbibe the luxury and bag yourself the best days of your life. The plush interiors, heated pool, serene view from your room, the best cuisine and spa are some of the reasons to choose this hotel for your honeymoon. 
Wangnoo Houseboats
Are you looking for an affordable houseboat with the best facilities? Then, Wangnoo Houseboats is where you can relax. Perched on Nagin Lake with mind-boggling views, this houseboat is a serene experience. A perfect location to chill amid nature after you witness the different places to visit in Kashmir.
The houseboat has a homely atmosphere and is perfect for families and couples. For nature buffs, this houseboat is the best bet. The carved wooden interiors will give you a feel of living a plush lifestyle. Moreover, the authentic Kashmiri food in this boathouse will entice your tastebuds.
Nedou's Hotel
One of the best boutique hotels in Kashmir is Nedou's Hotel. It is not only just about the boutique room, there are also different rooms to match your preferences. Located in the beautiful Gulmarg location of Kashmir, your experience close to nature will be out of this world.
For your entertainment, you can visit the golf course. The greenery around is bliss to the eyes. The lawn area is another attraction of Nedou's Hotel. How about spending time with your love with a hot cuppa and biscuits overlooking beautiful scenery? Perfect, isn't it? So, why delay? Book Nedou's Hotel for your honeymoon today!
"Royal Hillton Pahalgam"
Soak in the alluring beauty of Pahalgam and drain away from your tiredness in "Royal Hillton Pahalgam". The two acres of sprawling property will add a spark to your sweet honeymoon days.
As you peep through your hotel window, you get a dazzling view of snow-covered mountains and the natural landscape of Pahalgam. The intricate woodwork of each room is very appealing. The guest can savour delectable Kashmiri food, Chinese, Italian and Global cuisines. So, the hotel has all the arrangements to make your special days extra-special.
"Fortune Resort Heevan"
Are you worried about how to plan honeymoon in Kashmir? Well, to enjoy an exuberant honeymoon, you need the best hotel with great amenities. The reason is after a tiring day of different sightseeing places you need an excellent place to relax your body. And this hotel is the best four-star property with outstanding services and facilities.
You get to romance with your partner overlooking the magnificent valleys and greenery. And if you visit the hotel in winter, the snowfall view will steal your heart. Furthermore, the culinary delight is another reason to choose this hotel for a great time in Jammu and Kashmir.
"Pine View Resort"
The best way to soak in the beauty of Gulmarg is by booking your stay at "Pine View Resort". It is one of the best honeymoon hotels in Kashmir that can help you enjoy your time with elegance. The room is so appealing that you will want to ditch the sightseeing places and spend an entire day in the comfort of the room.
The magnificent mountain view and nature around make it a perfect honeymoon hotel. Since the location is in the main town of Gulmarg, it is easy to travel and discover new places nearby.
"Dal View Resort"
Want to overlook the beautiful Dal Lake and spend your honeymoon days? Then, "Dal View Resort" will fulfil your dream. Not only you can enjoy the view of Dal lake but also the majestic mountains.
If you like to be around nature and feel the luxury, then this hotel is your best choice. The hospitality of this hotel has the best reviews, and the interiors and cuisines are outstanding.
Honeymoon days are all about sweet memories. So plan your best days that match your comfort and offer a romantic atmosphere. The best hotels in Kashmir for honeymoon from our list will give you the taste of Kashmir better. So, when are you planning a romantic trip to Kashmir?
---
---
STAFF'S PICKS &
Related Posts