Plan Your Holidays in Rajasthan India
Posted On April 7th, 2022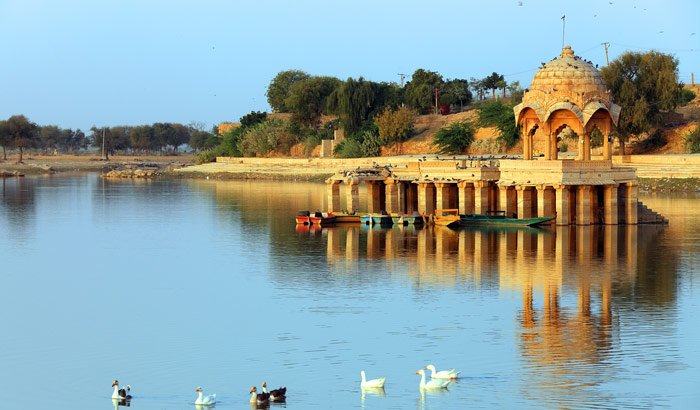 Plan Your Holidays in Rajasthan India
Rajasthan tours bring some of the top places of the country with a major focus on favorite Rajasthan destinations. It is famous for its tradition & colorful culture. Rajasthan is the land of flair & festivals. If you are an adventure lover, there is no better country than India to experience all kinds of thrills & adventure activities.
You can enjoy the loveliness of land which is full of amazing Palaces & Havelis. Japji Travels budget Rajasthan tour gives special attention to the mesmerizing desert to take you closer to the uniqueness of the land & its charm. You will feel delighted among colorful people & age-old culture to warm the soul for an unforgettable experience.
Rajasthan has a lot of places to visit that are ideal for family vacations. You can choose the ideal place for your Rajasthan tour based on your interests, schedule, family size, and age of family members from some of the following destinations:
It is the city of a lake or a romantic city. It is a good place to go and the best place to visit in the Monsoon Season i.e., July to September. Your trip to Udaipur would take a maximum of 2 days. If you manage to wrap up visiting the places in just one day, you can even move forward to Chittorgarh. It is just 113 km away from Udaipur.
Jaisalmer is the Golden City of Rajasthan. Jaipur is the Pink City and the capital city of Rajasthan. Both places are considered to be the best places to visit in the winter, i.e., late October till February. You need 2 to 3 days to explore the 'Golden City and Pink City of India.'
You can visit Jodhpur at any time of the year. You would require 2 days to visit the major sightseeing places and enjoy yummy food.
Mount Abu is Rajasthan's only hill station & the best place to visit in summer and monsoon. You would need 2 to 3 days to visit most of the places along with enjoying the beautiful mornings and evenings in the hill station.
A day or 2 would be sufficient for you to explore and enjoy your Bikaner Tour. During the monsoon season, Bharatpur is an amazing place to visit with family & kids. You would need to plan a trip of 2 nights 3 days.
Narlai is a beautiful village of Pali district in Rajasthan which is situated at the Jodhpur-Udaipur highway. It is one of the most ethnic towns in Rajasthan. It is a wonderful place to visit during the monsoon season. When visiting Jodhpur or Udaipur, you can spend an extra day in Narlai.
Ranthambore National Park
It is a vast wildlife reserve near Sawai Madhopur. You can plan your tour to Ranthambore from October- to April. You would take maximum of 3 days to explore the deep jungles and Ranthambore Fort. You will also enjoy safari rides, birdwatching, and so much more.
Feel their tradition and culture like your own!
An entire Rajasthan package comprises the following:
Exploring luxurious palaces
Enjoying camel safaris in golden sand dunes
Shopping time in Jaipur Bazars
Take a tiger safari in the wild forests of the state
You will find architectural wonders, graceful handicrafts, colorful culture, and delectable cuisine in this spectacular state. The magical land of Rajasthan is synonymous with romance and courtesy. Japji Travels Rajasthan holiday packages give you a glimpse of the Rajasthani folk music, dances, cuisine, and puppet show. These also offer various remarkable forts, temples, and the splendid Rajput culture. You will surely make the most beautiful memories by traveling, exploring, and celebrating vacations at Rajasthan.
Plan a Family Adventurous Road Trip by Car
You can hire a taxi from Japji Travels at pocket-friendly prices. As the roads are convenient and easy to navigate, so any of the family members who wish to drive by themselves, they can. You will find various Dhabas that can offer mouth-watering food that satisfies your appetite. The road trip would be the best and memorable with your kids and family, or with friends with snacks & some good music.
We offer plenty of choices in tour packages to Rajasthan. Moreover, we can also assist you to tailor your holiday package for a unique travel experience. Whether you are traveling for your honeymoon or for a family getaway, you have the freedom to customize the accommodation and destinations according to what you like.
There are various travel places for your family & friends holiday in Rajasthan. So, plan your holidays and get good deals on your Rajasthan tour packages such as family travel, honeymoon package, & many more at Japji Travels.
---
---
STAFF'S PICKS &
Related Posts