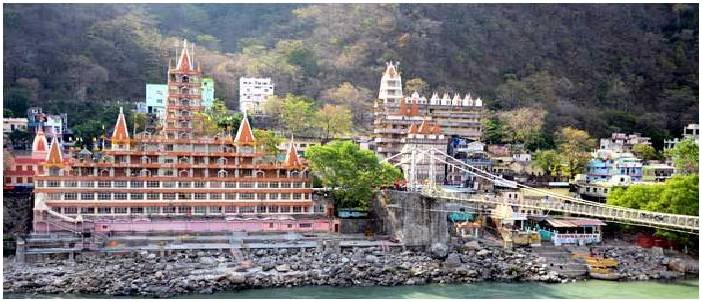 Rishikesh is one of the most popular holy destinations in North India for the Hindu pilgrims.  Rishikesh is located in the foothills of Himalayas in the Indian state of Uttrakhand. In the pages of geography this destination is popular in the name of "Gateway to the Garhwal Himalayas". The River Ganga is flowing through this town and is quite popular for its shrines and yoga ashrams. There are some must to visit places when you are in Rishikesh.
Haridwar is located at a distance of just 20 Kms from Rishikesh and so when you in this town make sure you visit Haridwar. It is another holy destination which is known as the gateway to the world of god. We are sure that visiting here will give you the feel being close to Mother Nature. Visiting rishikesh and not paying a visit to Laxman Jhula will be a mistake. It was in the year 1939 when this suspension bridge was constructed. The length of the bridge is 450 m and having a height of 70 feet right above the river. If you go back in the history we will get to learn that in the same place a bridge of jute was built for Laxman when he crossed the river Ganga.
One of the most important Shiva shrine is located in the Neelkantha Mahadev Temple which is located at a height of 1675 meters, on hill top.  This hill is located above Swarg Ashram. Again as per mythological stories the temple is located right at that spot where Lord Shiva drank Venom which originated at the time of sumudra manthan by the God and demons in search of amrit. If you are a strong follower of Lord Shiva then make sure you drive another 19 kilometers from Rishikesh to reach the town of Shivpuri located on the banks of holy river Ganga.  The famous temple of Lord Shiva is located in this place. This place is also known for adventure games and if you want to experience that then go for river rafting and trust us you are going to love it.
Parmarth Niketan is one such location which you can visit on your trip to Rishikesh. This is an ashram  which was founded in the year               1942 by Pujya Swami Shukdevanandji Maharaj. This is largest ashram of this town having close to 1000 rooms. Pilgrims coming to this holy land from different parts of India and abroad can enjoy a pleasant and healthy stay here.
This is not the end of list of places to visit in and around Rishikesh, but yes, the mentioned ones are definitely the must to visit places. You can also pay a visit to Kaudiyala, Narendra nagar, jumping heights, The Beatles Ashram and many more are there on the list. During the Ganga Festival seasons the rushes are pretty high and so it will be advisable for you to book your travel package in advance to avoid any last minute problem. Reputed tour and travel companies will make the best arrangements for you.