Munnar- The Scenic Beauty: Places, Elephant Passage, Tall & Spice Tree
Posted On September 5th, 2023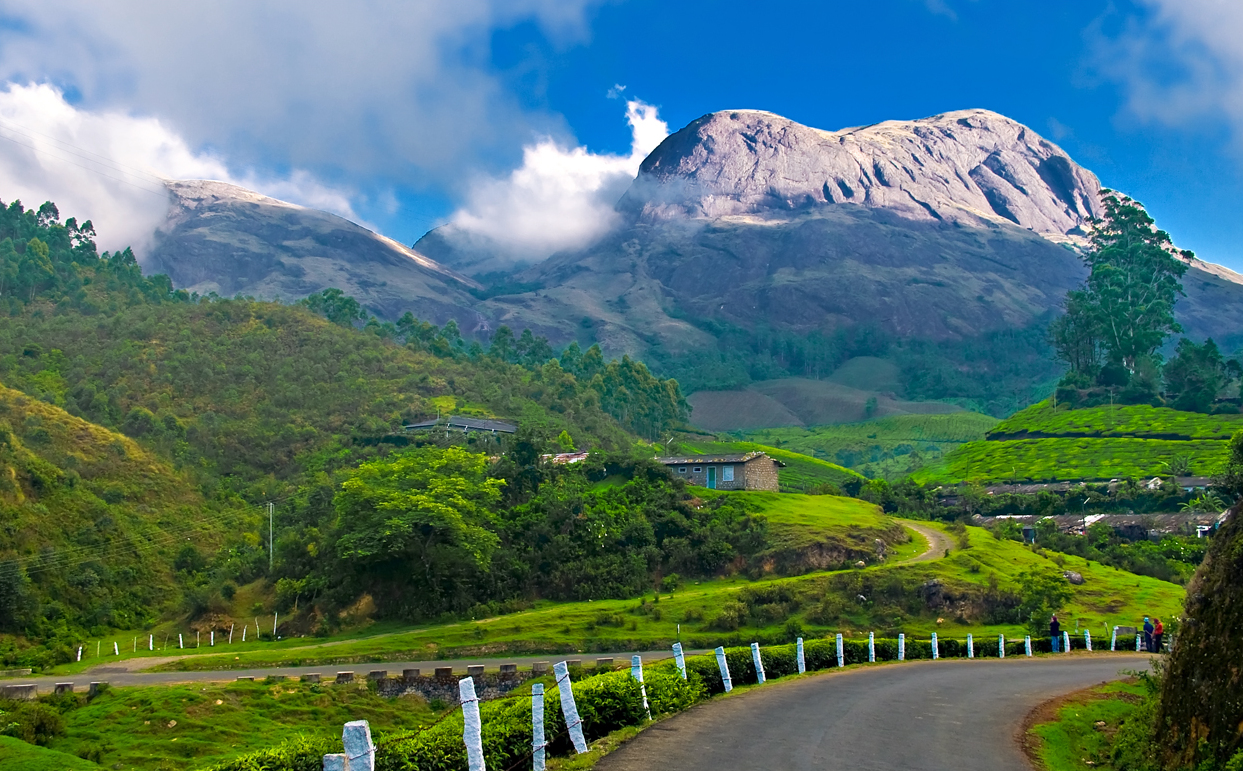 Well, everyone knows about the picturesque beauty of the Indian state of Kerala. Nobody ever misses a chance to go to the most beautiful and charming state in the country. And very surprisingly, the scenic beauty of Munnar enthralls many of the tourists. Munnar is located in the Western Ghats of this beautiful state of Kerala in India. It seems like God has bestowed its special; charm on this state.
Plan a trip to Munnar this New Year and let it be one of the most special till now. Get drowned in the laps of nature and just admire the flora and fauna. Enjoy the moment of peace and serenity at the place.  Visit Munnar in Kerala, India, and spend most of the time with your loved ones without anyone's interference.  The famous Tea Museum, Mosque, St. Anthony Statue etc. are some of the tourist destinations in the Hill station of South India. Just contact Japji Travels, the Best tour operators in India and they will make it much easier to decide. If you have any problem regarding lack of information or if it is your first visit then you can take their help. The journey will for sure be amazing!
Do not miss the opportunity to engulf yourself among the green tea plantations and the rolling hills. The top Mountain View is just so magnificent that you feel as if you are just touching the clouds. On the top of the world!  The greenery all around will attract you more to the place. This is the perfect time and place to make every single moment special and welcome with a warm heart. Capture each and every flash so that it can be cherished for the entire lifetime.
Just contact the Japji Travels and enjoy the benefits of their best service!
Popular Tourist Places Munnar
Munnar is a picturesque hill station in Kerala, India. It is known for its breathtaking landscapes, tea plantations, and pleasant climate. Munnar attracts many tourists every year. Here are some popular tourist places to visit in Munnar:
Tea Gardens and Plantations: Munnar is well-known for its green tea plantations and parks. Tourists may take guided trips to understand tea making.
Eravikulam National Park: The endangered Nilgiri Tahr, a type of mountain goat, can be found in this park. The park is a wonderful location for nature lovers and animal photographers.
Mattupetty Dam: Hills and forests covered in lavish greenery surround this concrete gravity dam. The location is well-liked for boating, and the peaceful lake created by the dam provides a pleasant atmosphere.
Anamudi Peak: It's the highest peak in South India, offering panoramic views of the Western Ghats.
Attukal Waterfalls: Beautiful waterfall with lush green forests, multiple cascades, and perfect for a walk or a relaxing day.
Elephant Passage Munnar Location
Elephant Passage offers lodging with an outdoor swimming pool, free private parking, a garden, and a restaurant in Munnar, 15 miles from the Munnar Tea Museum. There is a tour desk at this five-star hotel. At the hotel, all rooms have the following:
Free WiFi
Air conditioning
A seating area
A safety deposit box
Free toiletries
Tall & Spice Tree Munnar
Nestled in the lush embrace of Munnar's tea plantations, SPICE TREE offers a serene escape where nature and luxury harmonize. With its charming treehouse-style accommodations, guests can immerse themselves in the calmness of the Western Ghats.
Free in-room WiFi
Free self-parking
Smoke-free premises
Luggage Storage
An arcade/game room
Laundry Services
Spa
Bar
Spice Tree Munnar
The beautiful chalets of SpiceTree give the ideal serenity for a true "mountain retreat" with breathtaking views of the luxurious valley below. They are hidden among the most pristine mountain ranges of Kanan Devan and Bison Valley Hills, Munnar.
Pool
Spa
Parking included
Free WiFi
Hot Tub
Popular Resorts & Hotels in Munnar
Munnar is a well-liked vacation spot for travelers looking for peace and refreshment due to its natural beauty. The area has numerous resorts and hotels that can accommodate visitors with different tastes. Some of Munnar's well-known resorts and hotels are listed below:
Windermere Estate
Offering a unique plantation stay experience, Windermere Estate showcases the charm of old-world colonial bungalows. Surrounded by tea and cardamom plantations, this resort provides a peaceful escape.
Free Parking
Free Breakfast
Hiking
Game room
Books, DVDs, and Music for children
BBQ facilities
The Panoramic Getaway
As the name suggests, this resort offers breathtaking panoramic views of Munnar's valleys and mountains. The Panoramic Getaway caters to both leisure and adventure enthusiasts.
Minibar
Private balcony
Non-smoking rooms
Free breakfast
Children Activities
Munnar Tea Country Resort
This resort is a haven for tea lovers, as it's situated amidst tea gardens and offers guided tea tours. The resort's accommodations are designed with a blend of modern amenities and traditional aesthetics.
Free Parking
BBQ facilities
Tea/Coffee Maker in All Rooms
Non-smoking rooms
Facilities for disabled guests
Free WiFi
Ragamaya Resort & Spa Munnar
Ragamaya Resort, which sits on a hillside, provides breathtaking views of the neighboring valleys and green forests.
Indoor play area for children
Bicycle rental
Sauna
Private balcony
Air conditioning
Boating and Fishing
Things to Do in Munnar
Munnar is the ideal location for a quiet and soothing break in the hills of Kerala India. There are many tourist attractions in and around Munnar. Each one is ideal for relaxing on vacation with a hot cup of tea and your favorite book. Discover the top things to do in Munnar by scrolling on.
Tea Garden Tours: Munnar is famous for its lush tea gardens. Take a guided tour of tea plantations like the Tata Tea Museum and learn about the history and significance of tea in the region.
Photo Point: As the name suggests, this spot is perfect for taking photographs amidst tea gardens and beautiful landscapes.
Adventure Activities: Engage in activities like rock climbing, rappelling, and camping to add an adventurous twist to your Munnar experience.
Explore Local Markets: Explore the local markets for spices, teas, homemade chocolates, and souvenirs to take back home.
Ayurvedic Spas: Indulge in a rejuvenating Ayurvedic massage or spa treatment to relax and unwind amidst the tranquil surroundings.
Cycling: Rent a bicycle and explore the scenic beauty of Munnar at your own pace. Some various trails and paths are perfect for cycling.
Local Cuisine: Don't miss the chance to savor Kerala's authentic cuisine. Try dishes like appam, puttu, and traditional Kerala-style seafood.
When to Visit Munnar
What kind of experience you're looking for, and your preferences will determine when to visit Munnar. Here are the several seasons to take into account:
Winter (December to February): This is known as Munnar's busiest tourist season. It's a perfect time to go sightseeing, engage in outdoor sports, and enjoy the area's natural beauty.
Summer (March to May): If you want a little milder temperatures and wish to avoid the scorching sun of the plains, this is an excellent season to travel.
Monsoon (June to September): If you enjoy rain and want to experience the mist-covered landscapes, you can visit during this time.
How to Visit Munnar
The popular tourist destination Munnar in Kerala India is loaded with stunning tourist attractions that offer a variety of things to do and see. There are convenient transportation options through plane, rail, ship, and road that all connect to Kochi, from where you can quickly catch a ride uphill to Munnar.
Rail: The closest train station is at Ernakulam or Kochi. It is a significant interconnection for trains from all across India, including Delhi, Bangalore, Mumbai, Kolkata, Mangalore, and others.
Flight: Around 125 kilometers from Munnar, Cochin International Airport's closest airport. All the major Indian cities are linked to the airport.
Road: You can hire a cab or bus from Kochi, Aluva, or Ernakulam to reach Munnar.
FAQ
Q1. How many days are enough to visit Munnar?
Ideally, 3-4 days are sufficient for a comprehensive visit to Munnar, allowing time for its scenic beauty and attractions.
Q2. Are there trekking opportunities in Munnar?
Yes, Munnar offers several trekking opportunities for outdoor enthusiasts. The trails in and around the area cater to different difficulty levels. 
Q3. What is the package cost of visiting Munnar?
Munnar visit package costs range from around ₹20,000 to ₹40,000, depending on accommodations, duration, and inclusions.
Conclusion
Munnar is a beautiful place that skillfully combines spectacular natural beauty with in-depth cultural activities. Its green surroundings, tea plantations, and peaceful environment draw tourists looking for peace. You are now ready to fully discover Munnar's charms and make priceless memories of its scenic beauty.
---
---
STAFF'S PICKS &
Related Posts