What are your thoughts on spirituality? Maybe you are thinking of getting peace and knowing life deeper. Yes, it is but it's developed in culture. India is a proud place where particularly spiritualism has different cultures. Buddhism is one of them. Gautam Buddha traveled all over the country and taught his teaching people, due to which the spread of Buddhism was advertised and today many monasteries are in India to practice it. Travel the Buddhist places in India so that you get to see the greatest work of cool minds.
It is very difficult to figure out which are best for you. So Japji Travel doing intensive research and analysis and prepare a list of "Buddhist places in India" for you. We definitely recommended it, once you have to just know about Buddhism for your own sake.
1. Bodh Gaya (Bihar)
This pilgrimage site Bodh Gaya is very famous for Gautama Buddha enlightenment. In the Gaya district of Bihar, there is a Mahabodhi temple where Buddha was sitting under a tree in deep meditation and get enlightened.
UNESCO has also declared this place as a world heritage site. Bodh Gaya was earlier known as Uruvela. The foreign countries especially Japan which have helped the Indian government to provide facilities for pilgrims here. Here hundreds of tourists come to pay their reverences to the remnants of the Bodhi tree, monasteries, and stupas.
Buddha Gaya is one of the four important Buddhist sites which includes Kushinagar, Lumbini, and Sarnath in addition to Budh Gaya.
Best Time:
If you want to pay tribute to Gautam Buddha for his contribution, then the best time is between April to May.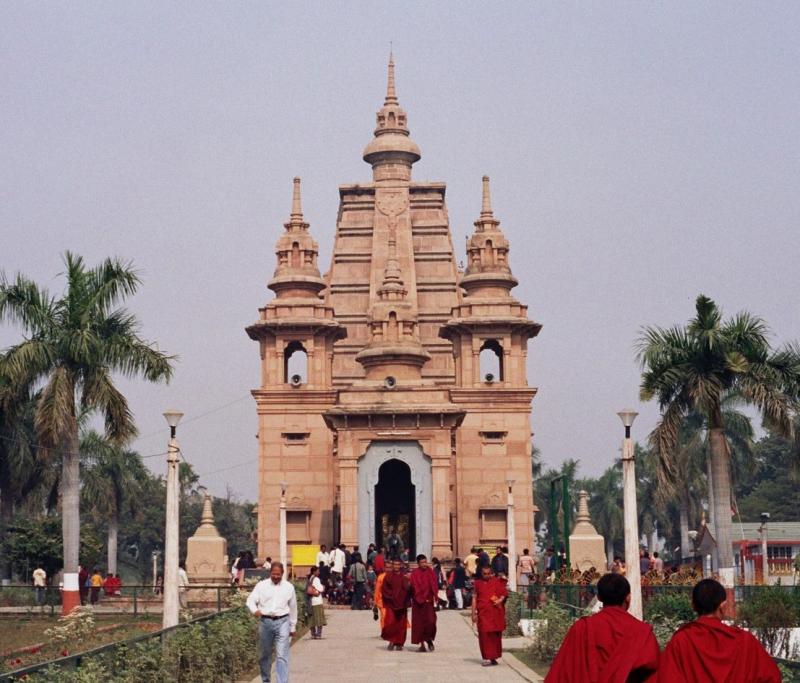 2. Sarnath (Uttar Pradesh)
The biggest feature of Sarnath is the intellectual Buddhist stupas, temples, and museums made of historic gleaming stones. Even after such a dense population of Uttar Pradesh, the city is still holding its spirituality and peace. A large number of Hindu, Jain, and Buddhist pilgrims like to visit the natural environment here.
Sarnath is the place where Gautama Buddha first preached his first sermon. This place has been established in such a way that apart from having worldly importance, it also makes it mysterious. Emperor Ashoka, who ruled almost the whole of India, also had the influence of Buddhism. He also built monuments like Ashoka Pillar and Dharma Stupa etc.
Best Time:
The month of October to March is the most perfect place to visit here. But you must also come here on Buddha Purnima and Maha Shivaratri.
3. Kushinagar (Uttar Pradesh)
Kushinagar is also one of the four important places in Buddhism. This is the place where Gautama Buddha got Mahaparinirvana. Within Buddhism, it is believed that at the time of death, Mahaparinirvana is attained by someone who has attained nirvana in his lifetime. This is the reason that people from India and abroad come here to visit, especially those who believe in Buddhism.
As Emperor Ashoka was a follower of Buddhism, after the death of Gautama Buddha, he built this stupa here and declared it a place of Parinirvana. Math Kuar Tirtha, Nirvana Chaitya, Rambhar Stupa, and small temples adorn this place.
Above the main road in Kushinagar is a temple operated by a Buddhist organization where you can stop and talks with the Buddhism practitioners. This place also gives you unequaled proof of architecture of the Buddhist mind.
Every year during the Buddha Purnia a fair is held here which people come from far and wide to see.
Best Time:
You can come to Kushinagar anytime between November to February, this time the weather is very spectacular and the view here is very pleasing to the eyes.
4. Lumbini (Nepal)
It is a small town situated near the borders of India and in the Himalayan hills. Lumbini is the place where Siddhartha Gautama i.e. Gautama Buddha was born. This is the place which has been included in the UNESCO World Heritage Site which has ancient stupas that are also around 2000 years old. Apart from this, there are many monasteries that have been built by the dynasties of previous generations.
Lumbini in Sanskrit means "Lovely" which is also the place. People come to this place to learn meditation and yoga and study Buddhism. People are also more interested in why Gautama Buddha should move towards meditation and live everything despite being a Prince.
By visiting Lumbini, you can do trekking and also take beautiful views here. All the roads here are adorned with prayer flags and all the monasteries are completely different from each other in architecture and design. As well as 64 historical archaeological sites are also located nearby. Trekkers can also go trekking on the Lumbini circuit and here you will also see the local culture and tradition.
There is a famous temple here in the name of MayaDevi Temple where King-queen of Kapilavastu Shuddhodhana and Mayadevi son Gautam Buddha was born. A stone is placed here to identify their place of birth. Apart from this, there are other places to see here, such as Bodhi Tree in Lumbini Gardens, Ashok Stupa, Pushkarni's sacred pond. All these were built around 249 BC.
Best Time:
Two Seasons are the best for coming to Lumbini. Between April and May, you will find a foggy and gloomy atmosphere here. Between October and November, a little cold starts reading here and the sunsets and the sunrise is worth seeing.
These are the four Buddhist places in India which is very much related to the Gautam Buddha life span. As he was the first advertiser & preacher of Buddhism earlier, you will get a good chance to know Buddhism at these places.
---