Experience Adventure in Ranthambore Rajasthan
Posted On June 9th, 2021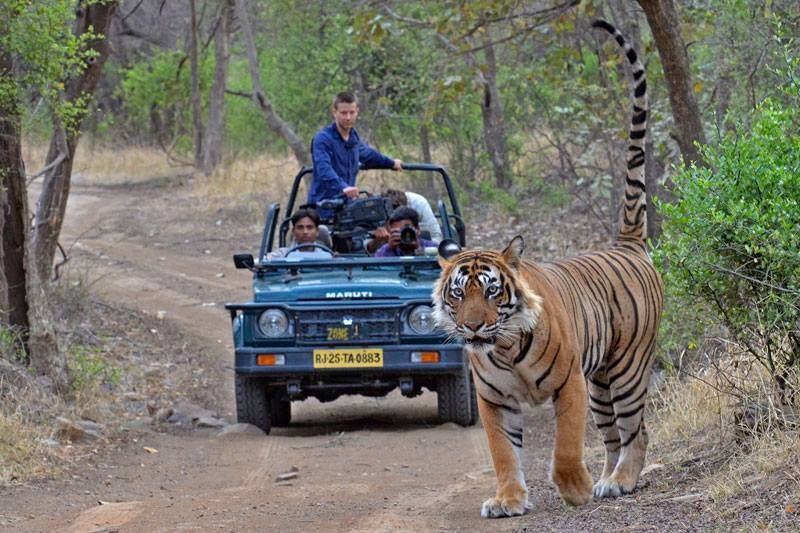 Experience Activities in Ranthambore Rajasthan
Ranthambore is a famous spot for both tigress and tigers. It is such a beautiful place that you will see the kaleidoscopic colours and in-depth sense of culture, and set up your plan and visit this amazing place. You can even check out the delicious food trails and get a customized experience where you can devour its savoury flavours and pay a visit to the majestic monuments. This place has everything for everyone, and you will never get bored while exploring it. 
It is considered a safe shelter for many animal species, and we all know that Ranthambore National Park stands out from other places because of its wonderful location, royal ruins of the great forts and its flora. The place reflects the rich history of this beautiful location, but it is also regarded as the premium destination for the tiger safari. 
Here is the list of beautiful places that you can explore while travelling here:
Trinetra Ganesh Temple: The temple is situated in the Ranthambore Rajasthan, a beautiful location in Ranthambore National Park. It is regarded as the most ancient temple in Rajasthan. Here, one can see the deities of the whole family of Lord Ganesha. The temple was constructed by king Hammer, considered the hardcore devotee of Lord Krishna.
Surreal Lake: This beautiful place is located in the picturesque setting near Ranthambore Park, which is regarded as a wonderful place for sightseeing. This beautiful place is visited by many birds that are often seen catching fishes, specifically during the winter season. You will see a shallow lake here that gets dried down in the summer season. So, you can easily visit during the winter or monsoon season. This is the best place for people who are looking for some peace and solace.
Padam Lake: It is the largest lake that serves as a wildlife reserve. It is the main source of water that can be used for wildlife animals. Early morning is the best time when we can visit this place. You will see a good number of wild animals drinking at that place. People can even get the chance to spot a lovely chinkara animal there. The lake looks extremely beautiful at the time of water lilies season, which is why the name of Padam calls the lake, which means flowers.
Kachina Valley: It is the beautiful valley situated in the Park outskirts, and here you will see bears and panthers. This wonderful location is surmounted with low jagged hills that increase the place's beauty. Here, you will see wild boars and deer in great numbers, and you will see sloth bears that often come here to search for fruit and honeycombs. It is a wonderful place for the photography lovers as they will simply capture these terrific beauty and sizzling pictures in their camera.
Jogi Mahal: It is a beautiful place situated on one side of Padam Lake, where people from worldwide come to pay their visit. Because of its scenic beauty, it has become one of the well-sought destinations in the Ranthambore region. Just beside the Jogi Mahal, you will see a Banyan Tree, the largest tree in the region. People would love to spend their moment and time in these beautiful places. Travellers must include this place into their itinerary whenever they plan to explore its beauty.
Malik Talao: It is a small lake which is situated in the Ranthambore Tiger Reserve. It is a beautiful yet small scenic lake that pays its homage to marsh crocodiles. You will see many amazing birds over there like herons, kingfisher, ibis, cranes, egrets and lots more.
Akula Region: You will get to see thick forests, various water holes, wild animals, dense populations of wild animals, and pools in this region. It always stays cool in the summer season, and this is why it is regarded as the most relevant place for people who love wildlife species.
Anantapur And Lakarda: They are part of the northwestern region of the Ranthambore National Park. Here, you are going to see many animals like porcupines, monkeys and sloth bears.
Raj Bagh Ruins: It is a beautiful place that adds uniqueness to this beautiful place. This place is situated between Raj Bagh Talao and Padam Talao, which tells us about the royal arena of Rajasthan. The beautiful arches, relics, outhouses of the palaces, steps, domes, everything looks commendable and mind-blowing.
Final Verdict
Here, in this blog, we have listed all the beautiful places that a person can visit if he or she is making plans to explore the place. This beautiful place will never disappoint you in any case. You can surely make your plan to this wonderful destination either with your friends or family members and indulge yourself in the charm of this aesthetic place.
---
---
STAFF'S PICKS &
Related Posts