18 Seater Mini Bus Hire for Easy Travelling
Posted On May 12th, 2022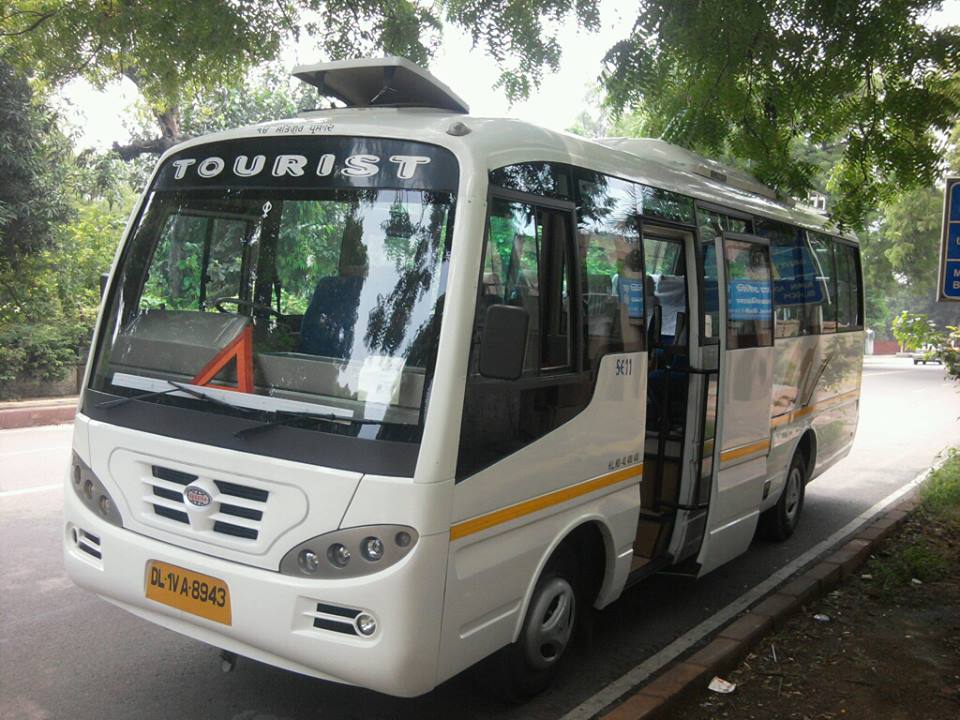 When tourists visit India they want to see historical tourist sites such as forts, palaces, temples, etc. And one such tour where they can see all these is the Golden Triangle Tour package. Here tourists can visit famous Indian cities like Delhi, Jaipur and Agra. These are the most famous cities of North India.
They want to see Hindustani culture when they tour India. And one other thing that they are searching for is a good vehicle for travelling. That is why we have introduced our 18 seater mini bus for hire. Tourists can contact us for booking 18 seater mini bus services. You can enjoy Golden Triangle Tour more by traveling in the comfort of a mini bus.
Normally what happens in a big tour is that you will have to travel for long distances. In the Golden Triangle Tour, you will have to travel to Rajasthan from Delhi or Agra. And these cities are very long distances from each other. So a mini bus or Tempo Traveller is best for that. Like the 18 seater mini bus we also offer Tempo Traveller. You will love to travel in a Tempo Traveller as it will give you security and a comfortable ride. You can just rest or talk on the road journey. In between, you can stop to admire some tourist monuments also. We also offer Tempo Traveller services for our guests who want an alternative to mini bus.
Why do you need a Mini bus?
All the mini bus and Tempo Traveller that we offer for rent have plush seating. The push back recliner seats are best for rest in your journey. You can book an AC mini bus or non AC mini bus if you want. Skilled and experienced drivers operate all our vehicles. They have many years of experience in driving commercial vehicles. And all our vehicles have All India Tourist permit. You will also find other features like charging points, TV, music system in our mini bus. All our vehicles are clean and sanitized regularly from time to time.
Features of our Minibus
Our fleet of mini bus has some spectacular features. Tourists always look out for these features when they book a mini bus with us.
Push back recliner seats
GPS tracking system
Full Air-conditioning
Seating capacity of 18 passengers + 1 driver.
Charging points for mobiles and smartphones.
LCD/LED TV Screen.
DVD video player
Back side luggage space
Seat covers
First-aid box
Music system
Floor carpet

Why rent 18 seater mini bus with us
Japji Travel offers the best mini bus hire service for tours like Golden Triangle Tour. We want the customers to get fully satisfied by booking our 18 seater mini bus service. We offer our 18 seater mini bus hire services at affordable and best rates.
We offer our 18 seater mini bus for 1 day trip and also for intercity travel. You can book our 18 seater mini bus for 4 hours and 8 hours.
All our mini bus is fitted with GPS tracking system.
We have continuous video recording cameras in our bus.
You can make frequent stops during your bus journey.
We offer both AC mini bus and non AC mini bus also.
We offer ample leg room in our mini bus to stretch your legs.
Individual seat belts are available as per model.
Head rest and neck rest offer best rest and sleeping posture.
We offer ample luggage space to store your luggage during travel.
Our drivers are knowledgeable of road conditions. They will take the shortest possible route and avoid bumpy roads which have many potholes.
Our mini bus is low floored so elderly people and disabled persons can easily board them.
Our mini bus has adequate charging points for laptop and phone charging.
Booking our 18 seater mini bus is very easy. You can instantly book our 18 seater mini bus.
There are no hidden charges.
We offer 24-hour booking assistance for booking our mini bus.
How affordable is 18 seater mini bus hire
In fact, the per head cost of a mini bus is very affordable compared to cab rental fare. When you compare a mini bus with a cab rental, the cost is very less and economical. You get relaxed more in a mini bus compared to a cab. You get more leg room in a mini bus than a car. The per head cost of a mini bus is less than a cab.
What is the other seating capacity in a mini bus?
In addition to our 18 seater mini bus hire services, we also offer mini bus in many other seating capacities.
18 seater minibus.
21 seater luxury minibus.
27 seater luxury coach.
Volvo coach.
41 seater luxury bus.
Mercedes Benz coach.
FAQs
How many hours back can I book 18 seater minibus?
You have to book our 18 seater mini bus at least 24 hours before your actual date of traveling. This is because Vehicles get booked very fast and it is always good that you book your Minibus well in advance (subject to availability).
How to make payment for the bus booking?
You have to pay 20-30% in advance for all buses that you book with Japji Travel. The remaining amount you can pay on the First day Pickup Time traveling date via UPI or Bank transfer.
For which trips can I book minibus from Japji Travel?
You can book 18 seater mini bus for local Delhi city tours and also for outstation trips from Delhi. You can book 18 seater mini bus for local Delhi sightseeing tours. You can also book our 18 seater mini bus for outstation trips from Delhi to any other place like Jaipur, Agra, Mathura, Vrindavan, Rajasthan cities, UP, Uttarakhand etc.
---
---
STAFF'S PICKS &
Related Posts