See Memorable Taj Mahal in Agra India
Posted On July 6th, 2021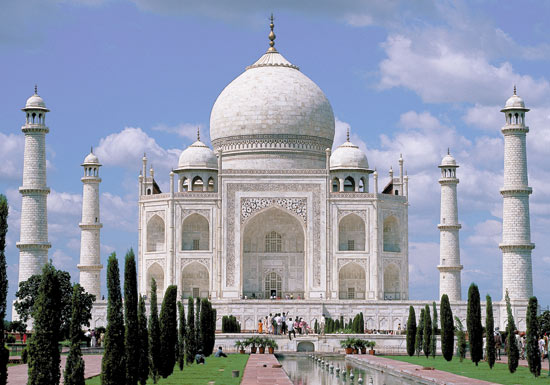 Witness the Magnificent Taj Mahal in Your full-day Agra tour
If you are on wheels across India, to explore its magnificent beauty then leaving the Taj Mahal in Agra behind, is not a good option. Even a full-day Agra tour is a must-have in your list of places to explore in India.
Constructed in 1653, the monument stands as an epitome of love and grace. Its beauty is undeniable and this is the reason why it ranked in the greatest seven wonders of world's list. Visiting India and not seeing the Taj Mahal, is like serving a supper without dessert.
The great words of UNESCO on Taj Mahal.
"The jewel of Muslim art in India and one of the universally admired masterpieces of the world heritage."
How to reach Taj Mahal?
If you are planning for a full-day Agra tour and visiting the great marble in India then the next question for you would be to decide on to how to get there.
If you have just landed in India from international locations, you are most probably to land in Delhi, Mumbai, Bangalore, Chennai like Metropolitan cities.
The Taj Mahal is located in Agra, only 204 kilometres away from New Delhi, the capital of India. Therefore, this place can be easily reached by rail, road and air, from every state of India and can be explore in a full-day Agra tour. Which means you can have a full-day Agra tour by car and explore the most beautiful historical places in Agra.
By Train
There are three railway depots and several high-speed trains connecting the major cities of India with Agra. Agra Cantonment is the main railway station in the city, while RajakiMandi and Agra Fort are other railway stations in Agra. You can take a luxury train into the city from the palace on wheels, Rajdhani, Shatabdi and Taj Express to have a full-day Agra tour. Agra is the crossroads between the metropolises of Delhi, Mumbai and Chennai and can be easily reached by train.
The train to the Taj Mahal will take you through various landscapes. This full-day Agra tour will be interesting when you interact with the locals and learn about the folklore around the Taj Mahal. You will not feel the pressure of travelling on high-end trains such as the wheel palace. From the best modern conveniences to world-class cuisine, train journeys will be unforgettable for a full-day Agra tour.

By Air
If you are short on time and planned only a full-day Agra tour, then you can plan to fly to Agra. Agra has its own airport and military base, 12.5 kilometres away from the city centre making it easier to cover all the places in a full-day Agra tour. If you arrive by plane, you can take a direct flight from New Delhi to Agra. Air India has regular flights to the city. You can book tickets online through the portal or Japji Travels to book tickets.
By Road
Highway to Agra celebrates the wonderful scenery and make a quick stop at the Taj Mahal. There are many taxi services that can take you to Agra for your full-day Agra tour. You can choose a private excursion with a private car and driver for round trips. There are also regular bus routes that can take you into the city. You can take a bus to Agra from Delhi, Mathura, Jaipur and Fatehpur Sikri; compared to planes and trains, buses are always the cheapest way to get to have a full-day Agra tour.
Local transportation:
Taj Mahal is the pride of Agra and you cannot miss it on your full-day Agra tour. There are many vehicles in the town that can take you to reach the memorial. If you want to stroll through the market and feel the local life on the way to the Taj Mahal, you can rent a rickshaw. High speeds, taxis and auto rickshaws are the fastest way to get to the Taj Mahal and makes it easier to explore during your full-day Agra tour.
Make your trip iconic
Visiting the seventh wonder of the world, and not getting best memorable shots to recall this mesmerising experience is not only waste of money but also missing on something really beautiful during your full-day Agra tour.
Here are the 4 best Taj Mahal viewpoints in Agra to capture best memories in your cameras.
Taj Mahal inner grounds
After passing the crimson gate, the mesmerising view of the monument is indeed incredible, the symmetrical ponds reflect the beauty and the dual appearance of Taj Mahal makes it look appealing and gives you memorable shots on your full-day Agra tour.
At this view point there is a lot to explore including gardens, riverside terraces, tombs and more in your full-day Agra tour.
The Moonlight Garden
Moonlight Garden, popularly known as "Mehtab Bagh" is a garden located opposite to the Taj Mahal across the Yamuna River, here you can capture stunning views around sunset and sunrise.
Although it is only a few hundred meters from the centre of Agra, and costs about 150 rupees which is an overprice for a rickshaw ride. You must drive a few kilometres west of the city, cross the Ambedkar Bridge, and then head east back to the Taj Mahal viewpoint while you are on your full-day Agra tour.
Visiting hours- 6am to 6pm
Entry fee- 50- 200 INR depending on nationality.
Agra Fort
It is one of the most popular places in Agra that you must explore on your full-day Agra tour. This fort is the second most significant amongst all Agra monuments.
Taj Mahal can be viewed from decorative balconies, windows of the fort, because of the adjacent fortification of the monument.
Visiting hours- 6AM to 6PM
Entry fee– 35 – 550 INR depending upon nationality.
Boat ride on river Yamuna
The Taj Mahal is located on the banks of river Yamuna. Boating behind this monument on the river, is a wonderful experience serene. The calm environment fills visitors with peace when they are on their full-day Agra tour.
However, this is a bit risky as the law does not allow it.
Visiting Agra and Taj Mahal is must of you are on your voyage in India. Make sure to take a ride to reach the seventh wonder of the world and experience the mesmerising beauty during your full-day Agra tour.
---
---
STAFF'S PICKS &
Related Posts