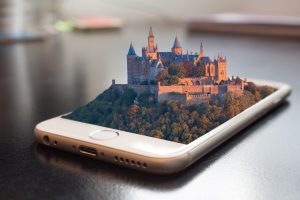 One thing that has definitely been added to our bag pack list is our smartphone. No trip is complete without the smart phone and charger. To make the best use of the smartphone, there are multiple apps available which makes the trip smoother.
IRCTC Connect
India's rail network is largest in the world which makes it the main option for travelling passage into and across India. The Indian Railway Catering and Tourism Corporation Limited, acronym as IRCTC has introduced its mobile app which travelers can use it to book tickets, look the required schedules, and check the PNR status. No doubt, this app of IRCTC will eventually help to integrate train travel.
WeTravelSolo
For solo travelers, the WeTravelSolo is a premium app choice and can be downloaded by any Android user. 'Find Your Soulmate', 'Take A Trip', and 'Unique Trip Ideas' are some of its major features which the app has. To find and meet likeminded travelers, WeTravelSolo is the perfect choice. It is done by checking the respective travel buckets of the travelers.
Trip Planner
This mobile app will help to get all the information about the cities of India that you want to visit. More so, it will help to find the popular and lesser known tourist places across India. The choice of restaurants and hotels at the tourist destination can also be chosen with this app. The funny trivia about certain destinations or other travel spots are also available through this app.
Tripigator
It is one travel-friendly app which has been introduced by Indian government. As the name suggests, it guide the tourists to make their ways in and across the country. It is incredibly easy to use and promises to make the trip better and well versed. Get it integrated with travel search engine so that it can pool up the information based on your interests of tourist places, accommodation, budgets etc.
Make My Trip
One of the best travel booking sites in India, Make My Trip is an all-in-one app which will serve the travel related requirements for tourists of all age. Available on all mobile platforms, Make My Trip app will give the details of all hotels, flights, car rentals etc.
Skyscanner
Flights, hotels, rental cars — Skyscanner has got you covered. The app searches for the most affordable and best options via its travel partners. Like with Google Flights, you can see the cheapest dates to fly through a month view calendar, and you can also get alerts when prices change. If you're not sure where exactly you want to go, Skyscanner offers a category that lets you explore "Top Deals" from your nearest airport, as well as a curated list of destinations at affordable prices.
Uber
Active in about 84 countries and 737 cities, Uber is the global king of ride-sharing apps. The app pioneered on-demand services, and it can be particularly handy when you're abroad. You can quickly request a car directly within the app after perusing an assortment of differing vehicle rates and fare quotes. Afterward, you can connect with your personal driver, track the approaching car's location, and securely pay your fair using a credit card — no cash needed. Rather than trying to find a taxi or a taxi stand, just bring one straight to you.