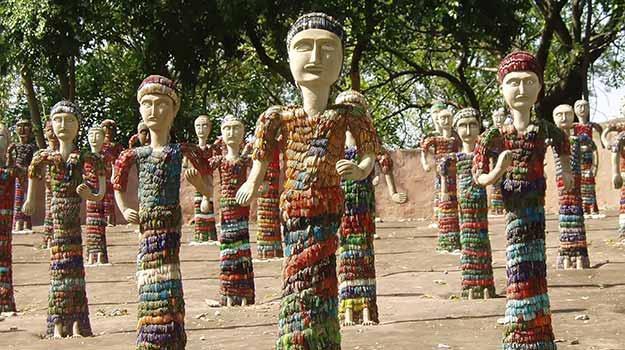 Rock Garden is one of the major places of attraction in Chandigarh.  It is basically a beautiful sculpture garden also popular in the name of Nek Chand's Rock Garden. Nek Chand was the founder of this garden and he was a government official who took the initiative to start this garden secretly during his spare hours in year 1957. The garden is spread across 40 acres and made of industrial and home waste. Late Nek Chand ji was honored with Padma Shri for his creation and having many fans for his work not only in India but also across the globe.
People from different parts of the world visit India to explore the beauty of Rock garden in Chandigarh.  This park is located close to Sukhna Lake and having a man-made interlinked waterfall. Apart from the waterfall there are many beautiful sculptors which are creatively crafted with scrap items. Nek Chand ji used to move around demolition sites and enjoy collecting scrap items in the city in his spare time. He used to work very secretly in a gorge in a forest near the mentioned lake and the area was a buffet zone where there is no permission to build anything and was Nek Chand ji was doing was illegal. The time when his creation got discovered after long 18 years, the zone was already a 12-acre area with beautiful sculptures all around and that too in a systematic way.
Decision was taken that the area will be demolished as it was illegal. He work really hard to grab the support of public massively and in 1976 this got the recognition of a public park. His creativity impressed government and he was given the designation of Sub-Divisional Engineer, Rock Garden with a good salary along with a team of 50 staffs to assist him in his full time job.  Now this garden is a place of pride for the residents of Chandigarh.