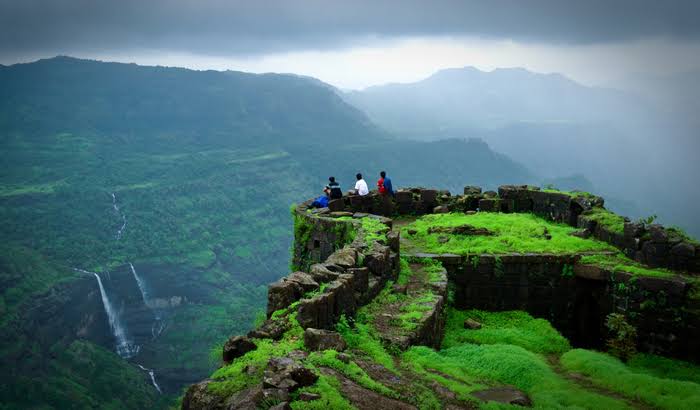 India is blessed with scintillating hill stations. God has bestowed India with picturesque natural beauty. Among so many hill stations, the beauty of Lonavala stands out. A little far away from the noisy and fast moving life of Mumbai Lonavala is a hilly region where one can find peace and immense relaxation. The peaceful nature and its serenity is quite inviting. While the hilly region is quite fetching for adventure enthusiasts.
A trip to Lonavala will be best for you if you visit Lonavala during monsoons as the rain refreshes up the greenery of this place and the cooling effect gives immense pleasure to your eyes. Or you can also visit this place during October to march when the temperature of this place is best.  Lonavala is blessed with bewitching hills, milky waterfalls, lush green ecosystem, amazing forts, and many other amazing tourists spots. Some of them are-
Bhaja Caves – These Buddhist caves are old and are in existence from around second century.
Koregad Fort – Situated amazingly on a hillock amidst a pond and beautiful greenery this fort is a special attraction of Lonavala.
Karla Caves – These caves were built by Buddhists in around 100 A.D. These caves are a fine example of Buddhist culture and architectural styles. And the Karla Caves temple is the largest temple in India.
Bushy Dam – This is an amazing tourist site of Lonavala. During monsoons the water from the dam falls down gushing like a waterfall.
Koli temple – Dedicated to the native tribal Goddess Aai Ekvira this temple is a special attraction of Lonavala.
Lohagarh fort – An iron like strong fort.
Lonavala lake – Gives amazing picturesque veiw.
Ryewood park – Another must see tourist spot of Lonavala.
There are many more tourist sites for you to cover up during your short trip to Lonavala. So why to wait, pack up your luggage and contact Japji travels who are the best tour operator India. They will do the rest for you. Your ideal short trip is waiting !